Archive Page - 12/1/12 39 years, 2,079 covers and 53,260 stories from PEOPLE magazine's history for you to enjoy
On Newsstands Now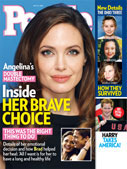 Angelina: Inside Her Brave Choice

New Details on the Ohio Three

Prince Harry Takes America!
Pick up your copy on newsstands
Click here for instant access to the Digital Magazine
People Top 5
LAST UPDATE: Sunday May 19, 2013 05:10PM EDT
PEOPLE Top 5 are the most-viewed stories on the site over the past three days, updated every 60 minutes
Frosh Prince
Part Swinger, Part 'Swot' (Bookworm, to You and Me), Prince William, St. Andrews' Very Uncommon Undergrad, Negotiates—So Far, Successfully—a Difficult Course
Prince William
issued a warning: "People who try to take advantage of me and get a piece of me," he said in an official interview, "I spot it quickly and soon go off them." His regal wits were quickly tested. As the 19-year-old future king chatted with friends one night at a local bar, a passing coed grabbed a piece of princely posterior. William immediately shot the young woman a look of sharp disdain. Says a fourth-year student who was there: "He was not impressed."
Pickup strategies aside, the encounter illustrates the dilemma confronting William, 19, as he tries to balance his craving for Joe College anonymity with his rock star popularity. Acclimating to university life is tricky for most freshmen (called "freshers" in Britain); for an apprentice monarch it can be a royal pain. The issue for William is how best to quietly fit in when he so clearly stands out. "I'm sure it will be difficult," says Peter Archer, Britain's Press Association royals correspondent. "He remains a private young man and at times is extremely shy."
Wary too. "He is very conscious of being exploited and wants to avoid it," says Archer. "He thinks his mother is still being exploited, and a lot of his actions are based on what happened to Diana." It's hard to blame him. Within days of William's arrival at school, a film crew dispatched by his uncle Prince Edward was the first to violate the British press's unwritten agreement to keep journalists away from campus. "The last thing anyone expected," says royals author Brian Hoey, "is that the gentleman's agreement would be broken by his own family."
In the weeks since classes started on Sept. 24, the heir—who goes by the name William Wales on campus and, unlike his father, Prince Charles, has discouraged others from addressing him as "Prince" or "Sir"—has tried to live like any other freshman at the 590-year-old university. He sleeps in a dorm room and shops (albeit with his ever-present bodyguard) at the local Tesco's supermarket at the center of the town of St. Andrews (pop. 16,000). He attends lectures with as many as 200 other students. Early evenings are spent reading or hanging out with mates over a pint of beer (Britain's drinking age of 18 makes William legal) at the Westport, Ma Bells or other pubs near campus. Despite his low profile, the lines outside local hot spots like Broons bar snake down the block, thanks to a larger student body—a result of William's enrollment. What's more, the regular Friday-night disco, put on by the Students Association and known as the Bop, is selling out by an unprecedented 4 p.m.
William hopes the novelty will soon wear off. "It will get easier as time goes on," he told Press Association reporter Sam Greenhill in September. "Everyone will get bored of me."
Those who don't may have more luck finding William in the college library than on the dance floor. "I saw him there in the second week," says a fellow student. "He must be a bit of a swot [nerd]." The prince is currently enrolled in three courses—art history, social anthropology and one yet-to-be-announced subject (likely to be geography or international relations). He attends four art history lectures a week, mostly in Buchanan Hall, a concrete building just one minute from his residential hall. Once a week William will swap art history notes with other members of his tutorial group, made up of half a dozen students and a lecturer. "I think, quite honestly, he's just a normal student," says one St. Andrews art history instructor. "A normal student with a wonderful private art collection who might be able to say, 'Yes, I know that work. It's hanging in my grandmother's hall.'"
His new home is St. Salvator's Hall ("Sallies" to students), a coed dorm overlooking the iron-gray North Sea. His 15-ft.-by-15-ft. room (a bodyguard sleeps in adjoining quarters) "has very standard issue curtains, carpets," says a former resident. "It is rather drab." The same could be said of Sallies' dining hall. Gripes one third-year student: "I have friends who spend thousands of pounds each year eating out because they don't like the food." William, who stands to inherit a $1.45 billion fortune some day, is expected occasionally to do the same. "I'm not a party animal, despite what some people might think," he said in September. "But I like to go out sometimes like anyone else."
Even at the risk of attracting unwanted attention. At a private party earlier this year, a friend recalls watching a parade of young, aristocratic blondes asking him to dance. "He just wanted to retreat into a side table and chat to his friends," says this pal. Not that he's William the Wallflower. "Weekends at St. Andrews, I've been told, are not particularly vibrant," he told the Press Association. He intends to escape by driving to Newcastle and Edinburgh for big nights out. Alternatively, he could retreat to his grandmother's Balmoral estate, a two-hour drive northwest, where a cottage on the property is being restored for William and Harry to entertain in.
At St. Andrews, a Top 10 school in Britain that is less intimidating than Harvard but still very much on a par with an Ivy League institution, William's social life starts with his so-called "academic family," a group of older students who help guide their assigned first-year undergraduates. William's "mother" is 21-year-old Alice Drummond-Hay of Norwalk, Conn. (Ten percent of St. Andrews students are from the U.S.) Hay is the granddaughter of the 74-year-old Earl of Crawford and Balcarres (who manages the Queen Mother's household); her mother, Bettina, briefly dated Prince Charles in the 1970s. His "father" is Gus McMyn, 22, who, like William, is an Eton College alumnus. Most students team up with their academic parents on a random basis. The Palace denies any involvement, but it's likely William's were handpicked—especially in light of the academic family's unofficial role (attention, Prince Charles: You may want to stop reading here). Says Nicky Cahill, 21, a third-year student: "They take it upon themselves to introduce you to the ways of the world—or the way of life in St. Andrews, which involves partying, parrying, partying, drinking, occasionally working, sleeping and drinking and partying a bit more."
The hedonism culminates in November during the annual "raisin weekend," originally named for the tradition of first-years giving their academic parents a half-pound of raisins as a thank-you gift. These days it's an alcohol-fueled bacchanal marked by egg and shaving-cream fights, amorous overtures and general debauchery. Says Cahill: "It is not known as St. Randy's for nothing."
As for less risqué extracurricular activities, "I'm going to keep my options open until I'm settled," William said in September. Nevertheless he has been practicing weekly with the university's water polo team, staying sharp at a sport he played at Eton. "He is a fast swimmer, has a good idea of tactics and is a good team player," says an observer who has seen William slice through the team pool, located at nearby St. Leonards high school.
William has so far avoided joining any of the university's social clubs. They include the Dead Parrot Society, which performs Monty Python-style skits; the James Bond Society, which meets to drink shaken-not-stirred martinis; and the Kate Kennedy Club (named for the niece of a school founder), a men-only society that has drawn scorn for its exclusivity. "It's not as if I choose my friends on the basis of where they are from or what they are," said the prince, whose campus chums include a few old pals such as upper-crust Emilia d'Erlanger, 19, a fellow art history major, and Annabel Glynne-Percy, a second-year student. "It's about their character and who they are and whether we get on. I just hope I meet people I get on with."
William may have learned from the choices made by his father, Prince Charles, whose membership in the drama group at Cambridge University was derided by some as frivolous. Charles, who went to college during the social and political upheaval of the late '60s, has said he was lonely at Cambridge because other students were reluctant to approach him; in a letter to a friend he wrote, "I feel as though I am in a zoo." That's precisely what William hoped to avoid by choosing a smaller school. Nestled in the Scottish countryside 55 miles from Edinburgh and 170 from Newcastle, the 6,000-student-strong St. Andrews "had a real community feel to it," William has said. Despite speculation that his grandmother, Queen Elizabeth, influenced his decision because she wanted to improve relations with Scotland, William insisted that he simply "wanted to get away and try somewhere else."
William's self-imposed exile has been something of a boon to his younger brother, Harry, 17, who is enjoying his fourth year at Eton, just outside London, 475 miles away from his brother's 6'2" shadow. (At 6 ft., Harry is catching up.) Long tagged as the less studious of the two siblings, Harry is said to be thriving academically. Notes Archer: "Clearly he is no slouch." Aides say Harry's choices regarding college (at least two years away) are still up in the air. "We always knew with William because he said going to college was what he wanted to do," says a Palace insider. "But we don't know with Harry."
Given Britain's involvement in the war against terrorism, both brothers likely are under tighter security. Even before the Sept. 11 attacks, Charles was said to be fearful of allowing William to live at St. Salvator's. His concern can only have intensified after a parcel purporting to contain anthrax was sent to the school administration in mid-October. (It was tested and declared a hoax.) Although William's uncle Prince Andrew flew helicopters during the 1982 war between Britain and Argentina over the Falkland Islands, and his father served five years in the navy, including a stint on the coastal minesweeper HMS Bronington, William will not be called to enlist should hostilities worsen. He is expected to join the Welsh Guards—with whom he briefly trained in Belize last summer—when he graduates in 2005.
In the meantime William is perfecting his camouflage on campus. One St. Andrews resident recently spotted him sitting on a fence near the school with his bodyguard. "I didn't realize it was him," she says. "He was wearing a baggy sweater and baseball cap. He could have been any one of the students." Like many of his fellow freshmen, William is also squarely on the fence when it comes to his postcollege career. Although he is majoring in art history, "I'm much more interested in doing something with the environment," the prince has said, "but I'm not sure what."
In a sense, the feeling's mutual:
Prince William
, growing up, is thinking about the planet, and a good part of the planet is wondering what he will do next.
Michelle Tauber
Simon Perry and Lindsay Bucha in London and St. Andrews
Contributors:
Simon Perry,
Lindsay Bucha.
Advertisement
Treat Yourself! 4 Preview Issues
The most buzzed about stars this minute!