People Top 5
LAST UPDATE: Tuesday February 10, 2015 01:10PM EST
PEOPLE Top 5 are the most-viewed stories on the site over the past three days, updated every 60 minutes
Picks and Pans Main: Tube
Talking With...
Recall tall, broad-shouldered Patrick Warburton, the sly fellow who played that lug Puddy on Seinfeld. Now feast your eyes on Warburton in the photo above, looking like an absurdly overmuscled arachnid. Next imagine him with a pretend beard made of shaving cream, standing before a mirror and intoning, "I am the Man of La Mancha. My dream is impossible." Getting the giggles?
The Tick
is for you.
This new show has been adapted from a comic book that previously served as the basis for a Comedy Central animated series, so to call it cartoonish is less a criticism than a redundancy. In the world of
The Tick
, Warburton's positive-thinking, nonsense-spouting title character is part of a whole subculture of second-rate superheroes, among them the conceited Bat Manuel (Nestor Carbonell) and the curvaceous Captain Liberty (Liz Vassey). Joining this society of would-be world savers in the Nov. 8 premiere is the Tick's new junior partner Arthur (David Burke), an ex-accountant with big dreams whose ill-chosen outfit gives him the appearance of a scared rabbit.
The first two outings are uneven, but watch for a hilarious future episode in which Arthur meets a support group for disgruntled superhero sidekicks. As for the Tick himself, I agree with a military man who remarks, "I'm starting to like the cut of this man's gibberish."
Bottom Line: This Tick will get under your skin
ABC (Tuesdays, 9 p.m. ET)
Andy Sipowicz (Dennis Franz) is mad at the world as this drama opens its season with two episodes on Nov. 6. Since the veteran New York City cop has vented his anger countless times in
Blue
's eight-year history, you may join his colleague Greg Medavoy (Gordon Clapp) in saying, "Andy, gimme a break." But it's impossible not to be moved by Sipowicz's silent grief when police find the body of his slain partner Danny Sorenson (written out of the series when Rick Schroder quit the cast).
After Sipowicz and young narc John Clark (
Saved by the Bell
grad Mark-Paul Gosselaar) perform heroically in a shoot-out with a criminal, it's clear they're the team of the future. Clark doesn't make a strong first impression, but his father (Joe Spano) and Sipowicz have an old feud that flares promisingly. Sic him, Andy.
Bottom Line: Franz still grabs you
UPN (Tuesdays, 8 p.m. ET)
Show of the week




Truly, death has no dominion over Buffy Summers, so a small thing like a change of networks isn't going to get the Slayer down.
Last spring Buffy (Sarah Michelle Gellar) sacrificed her life to save kid sister Dawn (Michelle Trachtenberg) on The WB. Last month her witch friend Willow (Alyson Hannigan) managed to bring about
Buffy
's resurrection on UPN. Buffy didn't gush with gratitude because—in a smart twist—it turned out she had been resting in peace rather than sweating in a "hell dimension" as assumed by well-meaning Willow.
I never thought Buffy or I would live to see the day this series (now in its sixth season) entered the musical dimension, but it happens on Nov. 6 when a diabolical dancer (Broadway star Hinton Battle) casts a spell that has Sunnydale's citizens singing out their secret thoughts. Creator Joss Whedon's original songs are surprisingly decent and his actors remarkably game. The result is an entertaining episode (repeating on Nov. 16 at 8 p.m.) that advances story lines and further develops characters while offering a playful diversion from demon-battling routine. Though Buffy may not sing as well as she slays, surly blond vampire Spike (James Marsters) gives Billy Idol a run for his money.
Bottom Line: Alive and well
FOX (Tuesdays, 9 p.m. ET)
This tense new drama series aims to spend the whole season covering one extra-stressful day in the life of counterterrorism agent Jack Bauer (Kiefer Sutherland). His mission: Prevent the assassination of David Palmer (Dennis Haysbert from
Now & Again
), an African-American senator who is closing in on his party's presidential nomination.
Though distracted by family problems—his wife (Leslie Hope) is on a late-night search for their missing teen daughter (Elisha Cuthbert), who has picked the wrong crowd to party with—Jack must concentrate on finding out who wants Palmer dead. "Don't trust anybody—not even your own people," Jack's boss warns in the Nov. 6 premiere. No wonder Sutherland's character already seems harried under his exterior of cool incorruptibility.
The opener underwent a little post-Sept. 11 doctoring so an airplane explosion could be depicted less graphically. But there can be no changing the fact that this is a dark conspiracy thriller, not an inspiring picture of your government at war with clear-cut villains.
The makers of
24
needn't overuse the split-screen technique to emphasize the onrush of events. Viewers can feel the suspense start to build without seeing the seconds tick off on a digital clock. Give the gimmicks a rest. We're hooked without them.
Bottom Line: Off to a taut start
Sunday, Nov. 11 THE FEAST OF ALL SAINTS Showtime (8 p.m. ET) Gloria Reuben stars in this miniseries based on Anne Rice's novel set in 1840s New Orleans. Concludes Monday at 8 p.m.
Monday, Nov. 12 ABSOLUTELY FABULOUS Comedy Central (9 p.m. ET) Those wild British women return in the first of six new episodes.
Tuesday, Nov. 13 MICHAEL JACKSON: 30TH ANNIVERSARY SPECIAL CBS (9 p.m. ET) All hail the King of Pop in highlights from two New York City concerts taped in September.
Wednesday, Nov. 14 THE BERNIE MAC SHOW FOX (9 p.m. ET) It's the premiere of another family-man series starring a stand-up comedian.
Thursday, Nov. 15 THE VICTORIA'S SECRET FASHION SHOW ABC (9 p.m. ET)
Tyra Banks
and
Heidi Klum
are among the beauties strolling the runway.
Friday, Nov. 16 IRON CHEF USA UPN (9 p.m. ET) William Shatner presides over a Las Vegas cooking showdown.
Saturday, Nov. 17 GEORGE CARLIN SPECIAL HBO (10 p.m. ET) The caustic comedian airs his complaints in a live solo show.
Jeanne Zelasko
Jeanne Zelasko is very popular these days. "Men want their girlfriends and wives to hang around me," she says. "They hope that whatever I have is contagious." What she has is a burning passion for sports, evident each Saturday afternoon when she hosts FOX's Emmy Award-winning Baseball Game of the Week pregame show. Since 1996 Zelasko, 35—who will be a dugout reporter and anchor the pre- and postgame coverage during the World Series—has won fan respect for both her stat smarts and her foresight. "In July I picked the Yankees and [Arizona] Diamondbacks. So I am looking pretty good right now," she says.
Her expertise wasn't honed on a field but on the sidelines—as a cheerleader at her San Diego high school. "Being down there helped me learn football and basketball," says Zelasko, who still lives in San Diego and has also covered football and NASCAR for FOX. She got her professional start in sports radio in 1993, when women were a locker-room oddity. "Players would yell, 'Check her credentials,'" she recalls. "And I got voice mail saying, 'We don't want to hear a woman.'"
But Zelasko, who met husband Curt Sandoval, 37, a local TV sportscaster, at a Padres game in 1996, is particularly amused by the stereotype that "'women reporters are only there to meet the athletes.' I tease that I was there to meet the media."
Contributors:
Ericka Souter.
FOX (Thursdays, 8:30 p.m. ET)
Advertisement
Today's Photos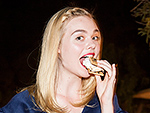 Treat Yourself! 4 Preview Issues
The most buzzed about stars this minute!