People Top 5
LAST UPDATE: Tuesday February 10, 2015 01:10PM EST
PEOPLE Top 5 are the most-viewed stories on the site over the past three days, updated every 60 minutes
Leapin' Wizards!
As Harry Potter and the Sorcerer's Stone Premieres, Its Stars Hang Onto Their Broomsticks and Prepare for a Wild and Bumpy Ride
Harry Potter and the Sorcerer's Stone
, the movie based on the adventures of an 11-year-old boy at Hogwarts, a boarding school for wizards, opens Nov. 16. Like the story's hero, the movie's stars—Daniel Radcliffe as Harry and Rupert Grint and Emma Watson as his pals Ron and Hermione—are ordinary kids coping with big changes. Here, a Who's Who of Hogwarts:
Daniel Radcliffe: A quick rise to wiz kid
For Radcliffe, the night before the London premiere of
Sorcerer's Stone
was akin to Christmas Eve. "I woke up four times," Radcliffe said as he arrived at the Nov. 4 event. "At 1 a.m., 3 a.m., 4 a.m., and ten of 6." Another symptom of his excitement? "My face and my stomach are vibrating!"
He might as well get used to the sensation. A 12-year-old with just a pinch of professional acting experience under his Hogwarts school robe, Radcliffe beat out 16,000 Harry Potter hopefuls to score the role in August 2000. Despite his sudden fame, the young actor isn't much different from most non-wizardly boys: He likes watching the WWF (especially the Rock) and
The Simpsons
on TV, and names science as his favorite school subject—"probably because I'm good at it," he says. He's also good at composing "dirty ditties," according to Bob Hoskins, Radcliffe's costar in a 2000 Masterpiece Theatre production of David Copperfield. "He knows a lot more than I do." His favorite? A playful take on "Mary Had a Little Lamb" that Hoskins deems "quite rude!"
Still, Radcliffe has a reserved side. "He is extremely composed and watchful and self-possessed," says Rebecca Eaton, a Copperfield producer. "He is very well brought up." Although his parents—Marcia Gresham, 44, a casting director, and Alan Radcliffe, 46, a literary agent—both once worked as actors, they discouraged their only child from pursuing showbiz when, at age 5, he first said he wanted to perform. Five years later they agreed, after much pleading, to allow him to audition for Copperfield; that performance caught the eye of
Sorcerer's Stone
director Chris Columbus. "I think at that point the parents felt it was fate," says Eaton, "that it was too big to pass up."
The family lives with border collies Binka and Nugget in a $730,000 home in London's tony Fulham neighborhood, where they try to keep a low profile. So far it seems to be working. By all accounts Radcliffe—currently on leave from his $12,700-per-year private school in London to film the second installment in the Potter series—remains, well, boyish. Asked which Potter power he most covets, he nominates invisibility. "That would be so cool," he says with a smile, "to be able to go anywhere without people knowing." For Radcliffe, going unnoticed after Nov. 16 might just require advanced magic.
Robbie Coltrane: Just one of the kids—only bigger
Exactly how big a gearhead is Robbie Coltrane? Let's just say that when he saw 1997's
Titanic
, it wasn't the doomed romance that moved him. "I rang him up and said, 'Which bit did you cry at?' " recalls John Sessions, a British actor and longtime friend. "He said, 'When the engines started.' He has a passionate love for metal and grease."
Like Rubeus Hagrid, the mountainous, loveable lug of a gamekeeper he plays in the film, "there is a lot of the child in Robbie—he's a big kid," says Lorcan Cranitch, Coltrane's costar in the popular British TV crime series Cracker. Just ask the young Potter players, whom the 51-year-old Scottish actor entertained by pretending to pick his nose and flick its contents at them. Says Emma Watson, who plays Hermione: "He's got the best sense of humor ever."
As a younger man, Coltrane used it to mask a good deal of pain. His father, a police surgeon, died of lung cancer when Robbie was 19; seven years later his younger sister Jane overdosed on pills and alcohol and died at 21. Coltrane—who changed his name from Anthony Robert McMillan in honor of jazz great John Coltrane in 1973—threw himself into acting. Starting with local stage productions, he eventually established himself as a comic in demand for character roles on TV and in films, including 1986's Mona Lisa. But as his star rose, he bottomed out, bingeing on alcohol. "I behaved quite astonishingly badly," Coltrane, who now rarely drinks, told Britain's Guardian.
Wed since 1999 to sculptor Rhona Gemmell, 32 (the pair had previously lived together for 10 years), Coltrane resides in a converted 18th-century cow shed in Dumgoyne, Scotland. These days his vices go no further than smoking cigars, collecting 1950s American cars and indulging the couple's children—Spencer, 8, and Alice, 3. Why the reformation? "Rhona turned him around," says Sessions. "If it isn't too corny a thing to say, he just found love and purpose."
Emma Watson: For a novice, the perfect part
Harry Potter author J.K. Rowling has said that she modeled the character of sensible, brainy Hermione (her-MY-oh-nee) Granger on herself as a schoolgirl, but she could just as easily have been describing Watson. "Hermione sounds like me and behaves like me," Watson, 11, told Britain's
Sunday Times
last month. "She's self-assured, irritating, emotional and loyal. Playing her doesn't involve an awful lot of acting."
Watson, whose previous acting experience was limited to school plays, lives with her mother, Jacqueline, 43, a lawyer, brother Alex, 8, and cats Bubbles and Domino in the college town of Oxford. (Watson's father, Chris, 44, a lawyer, is divorced from Jacqueline.) Her role models, she says, "are
Julia Roberts
, Goldie Hawn, John Cleese." Still, she's in no rush to embrace the perks of superstardom. Asked what she plans to do with her Potter paycheck, Watson replies, "I'm afraid I'm going to stick it in the bank until I'm 21."
Rupert Grint: Four siblings keep him earthbound
"After being in Harry Potter, I believe a bit more in magic than I did before," says Grint. Who can blame him? The oldest of five children of Nigel, 38, a race-car memorabilia dealer, and Jo, 34, a homemaker, Grint lives in Hertfordshire, England, where until recently he was just another soccer-loving schoolboy. That was before he spotted an announcement for Potter auditions on a kids' TV show in May 2000 and composed a rap song promoting himself for the role of Harry's affable buddy Ron Weasley. "My mum filmed it," says Grint, now 13. "It was a bit dodgy [rough]. But it worked."
Easygoing Grint was a good foil for Daniel Radcliffe, with whom he became tight pals, says costar Robbie Coltrane. "Daniel is quite a serious wee boy, whereas Rupert is very rock and roll," he says. At home, Grint's brother and three sisters—ages 3 to 11—provide the reality check. "Every time I come off-set, I am just like a normal kid again," he says. "They just treat me like Rupert."
Richard Harris: The wise elder, on and off the set
When producers approached Richard Harris about playing kindly Hogwarts school headmaster Albus Dumbledore, he balked at the prospect of having to sign on for several planned Potter films. "I run away from commitment," he says. "I loathe it." But he couldn't run from the wrath of his only grandchild, Ella, 12. "She called me and told me she'd never speak to me again if I didn't play Dumbledore."
Ella won that round. But at 71, Harris has earned the right to be picky. A veteran of more than 70 films and countless stage shows, the Irish-born actor is a garrulous barfly who can often be spotted downing a pint of Guinness stout at his two favorite London pubs, the Coal Hole and the Savoy Tup, which he calls "my homes when I'm in town." To the role of sagacious Dumbledore, says director Columbus, "Richard brought hundreds of years of living."
Born in Limerick, where he grew up selling oatmeal in his father Ivan's mill shop, Harris now splits his time between a home in the Bahamas and a river-view suite in London's elegant Savoy hotel. Of room-service living, he says, "You just press a button and it's done. It's cheaper than a wife." The twice-divorced Harris—who is perhaps most famous for his role as King Arthur in 1967's Camelot and played Marcus Aurelius in last year's Gladiator—says he was "totally miscast" as a husband. "As soon as a relationship gets serious, I put on my parachute," he says. "I am utterly unreliable."
Nonetheless, he's still friendly with his ex-wives, actress Elizabeth Harrison and model-turned-actress Ann Turkel. He's also close to his three sons with Harrison (Ella's director dad Damian and actors Jared and Jamie). As for his child costars, they were hardly intimidated. Rupert Grint, upon meeting Harris, promptly announced, " 'I think you'll be quite good in this part,' " Harris recalls. "A little 12-year-old telling me I'll be I good for the part! Smashing."
Advertisement
Today's Photos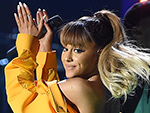 Treat Yourself! 4 Preview Issues
The most buzzed about stars this minute!