People Top 5
LAST UPDATE: Tuesday February 10, 2015 01:10PM EST
PEOPLE Top 5 are the most-viewed stories on the site over the past three days, updated every 60 minutes
Pierce Brosnan
Suave and Sophisticated, Caring and Kind, He's Also a Total Knockout—and a One-Woman Man. Who Wouldn't Bond with This Breathtaking Irishman?
Cue the
007
theme music. It's Brosnan, Pierce Brosnan, acting very much like his alter ego, James Bond. Whether he's saving the world from evil in the movies or battling rocky seas in the environmental movement, Brosnan "has all the sensibilities of his character," says Bond coproducer Barbara Broccoli. "He also has the rugged good looks and the charm. He's manly."
Good deeds. Good looks. Charm. Manliness. Those happen to be the qualifications for this year's Sexiest Man Alive. Now is not the time for dangerous bad boys whom we wouldn't dare bring home to meet Mother. We're looking for a real man with confidence, compassion and a firm belief in commitment. Brosnan has all that—and then some. Just listen to his costars: "He's genuine, he's gorgeous, and he's also funny—like Cary Grant," says
The Thomas Crown Affair
's Rene Russo. "There's a lot of arrogance in show business, and Pierce seems to have none of that. He's a gentle, warm, compassionate guy," attests
The Tailor of Panama
's Jamie Lee Curtis. Barbra Streisand, from
The Mirror Has Two Faces
, says, "What's most compelling is the depth of his commitment to so many causes." And his neighbor Linda Hamilton, who appeared with him in Dante's Peak, adds, "I've seen him in line for cappuccino looking absolutely beautiful. He's a real leading man."
Brosnan's movie star face owes nothing to Hollywood's fountain of youth. While he admits to having had his teeth fixed, he says, "I have not had any plastic surgery in any shape or form. No implants. And my hair is not dyed." Now 48, he'll begin work on his fourth
007
film in January. "I'd like to keep doing Bond as long as I can be plausible in the role physically," he says.
The part offers plenty of fringe benefits. "It's pretty wild playing Bond," Brosnan admits. "Bedding and kissing some of the most beautiful women onscreen. I get to play it out, so I have no need to do it offscreen." Proving his point, on Aug. 4 he took as his bride longtime love and the mother of his two youngest sons, Keely Shaye Smith, 38. "I found a great woman in Keely Shaye," he says. "Not if I searched a million times over would I find one as good." Keely returns the compliment. "He's intelligent, captivating and his real beauty emanates from the soul," she enthuses. "And, like a fine wine, he's aging beautifully."
Fittingly, their lavish wedding reception in Ireland j on the grounds of 13th-century Ashford Castle could have doubled as a movie set. "It felt so storybook," reports the couple's friend, photographer Nancy Ellison, one of 120 guests flown in from London and L.A. "From her, he got this huge ice sculpture of Rodin's
The Kiss
. For Keely, he produced an incredible fire-works display. It blew us all away."
The couple's home life in their $7 million-range Malibu ranch house overlooking the Pacific is equally idyllic. There, Brosnan and Keely bike, beachcomb and share child-care duties for Dylan Thomas, 4, and 9-month-old Paris Beckett. "Pierce changes diapers I and loves connecting with the baby," says Keely's best friend, jewelry designer Cynthia Wolff. "He's very involved with his kids. And that makes a man that much more a man."
There's a reason family comes first for Brosnan. His own father, Tom Brosnan, a carpenter who died in 1988, walked out when Pierce was 2. "Having not known my dad, having met him only once," he says, "I suppose that's why I enjoy family life so much and being the father I am."
Born in rural County Meath, Ireland, Brosnan was raised by his grandparents and, later, his aunt, after his mother, May, headed to London to train as a nurse in 1957. When he joined her there at age 11, he was teased, bullied and called a "Paddy," 69-year-old May Carmichael (she married Bill Carmichael in 1968) recalls. "He'd come home and say, 'Mammy, why do they laugh when I say "tirty"?' And I'd say, 'Because you're dropping your aitches. It should be "thirty." ' "
Brosnan quit school at 16 to work as a commercial artist. "He was very good," his mother says. But a love of films led him to London's Oval House, an experimental arts center where "there were poets, actors, musicians and Black Panthers," he says. "I began to read, find literature, figure out who Jean-Paul Sartre was. When I didn't know what to say, I'd keep my mouth shut and nod sagely."
Deciding to focus on acting, he enrolled in London's prestigious Drama Centre. Lizzie Spender, now married to Australian comedian Barry Humphries (better known as Dame Edna Everage), was a classmate. "He wasn't the blow-dried Pierce we know now," she says. "He wasn't as thin as he is now, and I don't think his teeth were quite as straight. But he has always had that fundamental attractiveness and power onstage. We all went to him for a hug when we were feeling down."
After graduation, Brosnan snagged his first West End role in the 1977 stage production of
Filumena
. During the show's run, he met Australian actress Cassandra Harris, a mother of two small children who was separated from Dermot Harris (brother of actor Richard). At a party she was giving, Brosnan wandered into her kitchen and was caught red-handed eating chicken that Harris had planned to feed her kids the next day. "Pierce got told off," but sparks flew anyway, says Jay Benedict, his Filumena costar. "It was one of those eyes-across-a-crowded-room scenarios. Except it was in front of the refrigerator." The couple brought out the best in each other. "Pierce was a working-class boy from Ireland," says Benedict, who served as best man at the couple's 1980 registrar's office wedding. Harris, who had worked as a model and acted in TV roles, "introduced him to sophisticated things and got him dressing the right way."
Between acting jobs, Brosnan worked at a greengrocer's, as a barman, waiter and taxi driver. He also adopted his two stepchildren, Charlotte, now 30, and Christopher, now 29. Says Benedict: "He put them through school, fixed their teeth, sent them on holiday and paid for everything." Harris landed a part as a Bond girl in 1981's
For Your Eyes Only
. Soon after, the family moved to L.A. for Brosnan's role in
The Manions of America
, a TV miniseries described as an Irish
Roots
. On the strength of his performance, he was signed to an NBC detective series in 1982, playing the title role of Remington Steele. "Play it with a wiggle," director Robert Butler told him. "I asked, 'What do you mean, "with a wiggle"?' " Brosnan recalls. "He said, 'Do that thing with the eyes.' I think he meant twinkle. So I did. I did the twinkle as much as possible." It didn't work on everyone. Brosnan's costar Stephanie Zimbalist felt upstaged. In one interview she admitted that hearing him complimented made her go "ouch." Brosnan responded, "She says 'ouch' too much."
In 1983 Brosnan and Harris celebrated the birth of their son Sean. "Cassie was a very vibrant, vivacious woman and theirs was a very close, loving family," says friend Nancy Ellison. But their happiness was to be short-lived. In 1987, after complaining of fatigue and a swollen stomach, Cassie was diagnosed with ovarian cancer. Despite rounds of chemotherapy and eight surgeries, the disease proved relentless. Brosnan stood by her throughout her ordeal, says Ellison, and in December 1991, "he held her in his arms and she died."
The healing process, says Brosnan, "is hard to talk about. There was only time. The children helped enormously, and I threw myself into work. And good old faith and prayer. But there's no escaping the pain. You have to sit in it, accept it, then you have to move out of it."
It was in Cabo San Lucas, Mexico, two years after Cassie's death, that Brosnan met Smith, a TV correspondent who had been sent to a celebrity fund-raiser to interview Ted Danson for the
Today
show. When he was called away, she says, she noticed Brosnan looking at her, "and he was captivating. Tall, dark and handsome—everything that everybody would immediately be attracted to. He had this mischievous sparkle in his eyes. I thought, Wow! Wow!"
On their first date a few nights later, "we sat down under the stars and he held my hand. There were fireworks going off over our heads, and Kenny Loggins was singing. We talked until 3 in the morning," says Keely. "I understand why women find him sexy, because he is an appealing man. He really likes and appreciates women." Shortly after they began dating, Brosnan was tapped for the role of James Bond in 1995's
GoldenEye
. "He's a natural James Bond," says Barbara Broccoli. "I like to say to him, 'We want to get you stripped to the waist and wet.' Because he looks fantastic wet, and dry. He's got a great chest and physique."
He also shares the Bond sense of humor. Rene Russo, 47, whose character fell for him in
The Thomas Crown Affair
, recalls getting ready for their big love scene. "We both had to be pretty much nude," she says. "He walks in with a silver tray with champagne and two glasses. This was not part of the script. 'Okay,' he says, 'let's have a little drink.' Oh, it was great!"
No diversion, however, could take his mind off Smith, who, in turn, calls him "earthy, poetic and sensuous, with a phenomenal sense of humor." Says Brosnan: "Wherever I went in the world I missed her, and I'd send her tickets to come so we could be together. We just seemed to fit." In January 1997, Dylan arrived. Paris followed last February. The couple had planned to marry in May 2000, but postponed their wedding after Brosnan's son Sean ended up in intensive care when a friend's Chevy Blazer plunged some 130 feet down a ravine in Malibu. "I want my boy to be able to dance at our wedding," Brosnan told reporters.
He did. In fact the wedding was a spectacular family affair, with all five children attending—even 5-month-old Paris. As a parent the second time around, "I think Pierce is more tender now," says Keely. "He's at a point in his life when he doesn't want to miss a moment. He can't wait to come through the door and see what they're doing."
This fall, the family has been staying in a three-story brick house in Dublin. Brosnan is there filming
Evelyn
, a true story about a down-on-his-luck bloke who cleans up his act and tries to win back the family he has lost; it's the third film he has produced with his company Irish Dreamtime. Julianna Margulies plays his love interest—and admires the man she has observed in action. "When you meet him, he'll immediately start talking about his kids and about Keely—they're his priority," she says. "And when you see a gorgeous man holding hands with his wife and holding his baby, there's nothing more sexy in the world."
Joanna Powell
Nina Biddle and Simon Perry in Ireland and Pamela Warrick in Los Angeles
Contributors:
Nina Biddle,
Simon Perry,
Pamela Warrick.
Advertisement
Today's Photos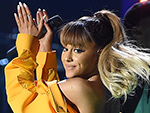 Treat Yourself! 4 Preview Issues
The most buzzed about stars this minute!