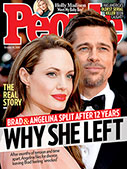 This Week's Issue!
People Top 5
LAST UPDATE: Tuesday February 10, 2015 01:10PM EST
PEOPLE Top 5 are the most-viewed stories on the site over the past three days, updated every 60 minutes
Picks and Pans Main: Screen
Now Playing
One comes to praise
The Lord of the Rings: the Fellowship of the Ring
, not to bury it. There is so much to admire—the look, the special effects, the expert acting by Englishmen McKellen, Bean and Ian Holm—in director Peter Jackson's loving, virtuoso transfer to the screen of J.R.R. Tolkien's fantasy novel. In this epic three-hour installment of a planned trilogy, Frodo (Wood), a hobbit (like a leprechaun but with oversize, hairy tootsies), and eight pals battle an evil wizard and monsters for an enchanted gold ring. The problem? All this plays like a giant game of Myst, with
Ring's
mythical characters never making the leap from virtual reality to real. Onscreen it's still for teenage boys, in age or at heart. (PG-13)
Bottom Line: Fails to enchant
Will Smith, Jada Pinkett Smith, Jamie Foxx, Jon Voight, Nona Gaye
The extended opening sequence of Ali cuts feverishly among scenes, including boxer Muhammad Ali (then known as Cassius Clay) pounding on the speed bag as he trains in Miami for his first title fight in 1964; women at a nightclub going crazy for sexy crooner Sam Cooke; Ali as a boy in Louisville, Ky.; and Malcolm X preaching at a mosque. This beginning is so exhilarating and sets up such high expectations, it's a disappointment when much of the rest of director Michael Mann's biopic fails to live up to its promise. Ali tracks the champ from '64 to '74, during which time he converted to Islam and had his title lifted after refusing the Vietnam War draft. What's missing is a point of view. Smith is impressive, but at the end of
Ali's
2 hours 34 minutes, we know a lot about Ali but have even more questions. (R)
Bottom Line: Misses scoring a knockout
Jim Carrey, Laurie Holden, Martin Landau, Bob Balaban
This movie comes so heavily sugar-dusted, you'll need to brush yourself off upon leaving the theater. Carrey uses his sincere face to play a blacklisted Hollywood writer who in 1951 suffers amnesia and then is embraced as a long-lost war hero by a small California town. He helps his supposed pop (Landau) reopen an old film palace, and gosh darn it, happiness flows through the burg.
Majestic
, as sappily directed by Frank Darabont (
The Shawshank Redemption
), would even make Frank Capra cringe, despite its constant grandstanding about what America really stands for. (PG)
Bottom Line: E pluribus pabulum
Tom Cruise
,
Penélope Cruz
,
Cameron Diaz
, Jason Lee
When
Vanilla Sky
appears on video, it could start a new drinking game similar to the old "Hi, Bob," in which players swigged a beer every time anyone greeted Bob Newhart on TV's Bob Newhart Show. In my proposed "Whoa, Tom" game, one would chug each time Cruise goes shirtless in the psychological thriller
Sky
. Better lay in a six-pack.
Sky aims for the heavens but falls short—and not just due to Cruise's needless shirt-doffings. Director-writer Cameron Crowe's listlessly faithful remake of
Open Your Eyes
, a 1997 Spanish film, is self-consciously trippy as it takes on the meaning of life. Cruise (acting with his usual strained intensity) is a promiscuous rich brat who falls for an aspiring dancer (Cruz, reprising her role from the Spanish version). Before true love can conquer, he's badly scarred in a car crash involving a vengeful ex-bedmate (Diaz). Then things get really complicated. The final scenes prove affecting—maybe because they include glimpses of the World Trade Center towers—but
Sky
quickly drifts from memory like a wispy cloud. (R)
Bottom Line: Tom loses his shirt and our interest
Meg Ryan,
Hugh Jackman
With the exception of
Bridget Jones's Diary
, it has been a lousy year for romantic comedies, so here's to
Kate & Leopold's
passing muster—if just barely. Ryan, going exactly where she has gone too many times before, plays Kate, a busy market researcher who surprises herself by falling in love with the stodgy but charming Leopold (Jackman), an English duke. His old-fashioned ways come naturally: Leo has traveled to contemporary Manhattan straight from 1876 and still stands each and every time a lady enters the room. Jack-man is the draw here, a dapper dreamboat with timeless appeal. (PG-13)
Bottom Line: Charming enough
Russell Crowe, Jennifer Connelly
Featured attraction




John Nash Jr.'s story seems a natural for a movie, and yet it's a tricky one. How exactly do you show a brilliant mathematician—one who was awarded a Nobel Prize for his economic theories in 1994 and who still works at Princeton today—going mad and spending decades of his life a delusional prisoner of schizophrenia?
A Beautiful Mind
does it deftly, thanks to a brilliant theatrical ploy (to say more would give away too much) that draws viewers into Nash's madness. And kudos to Crowe, who can go over the edge without going over the top.
In chronicling Nash's tale, Mind also tells that of his loyal wife, Alicia (Connelly), who clings to the belief that the man she loves is still in there. Crowe is superb (though his West Virginia accent flirts with a Sean Connery parody), and Connelly adds more than mere decoration. Ably directed by Ron Howard and based on author Sylvia Nasar's 1998 biography of Nash, Mind gets sentimental at the end, but why the heck not? (PG-13)
Bottom Line: Beautifully done
Amélie
Sprightly French comedy about a winsome waitress (Audrey Tatou). (R)
Harry Potter and the Sorcerer's Stone
Magic for fans but drags on way too long for the rest of us. (PG)
Lantana
Check all wedding rings at the door. Marriage and infidelity are explored in an intriguing and well-acted Australian mystery drama. Stars Anthony LaPaglia and Barbara Hershey. (R)
Ocean's Eleven
Jackpot. Entertaining fun with a talented all-star cast. (PG-13)
Piñero
Benjamin Bratt gives the performance of his career as ex-con Miguel Piñero, a writer, actor (
Miami Vice
) and junkie who died in 1988 at age 41. (R)
Elijah Wood, Ian McKellen, Viggo Mortensen, Sean Bean
Advertisement
Treat Yourself! 4 Preview Issues
The most buzzed about stars this minute!