People Top 5
LAST UPDATE: Tuesday February 10, 2015 01:10PM EST
PEOPLE Top 5 are the most-viewed stories on the site over the past three days, updated every 60 minutes
Britney Spears
—and her male impersonator—gear up for their films
Focus
At a Jan. 19 press conference in Cannes—where she was promoting her film debut,
Crossroads
—
Britney Spears
revealed a tantalizing tidbit: She and 'N Sync beau
Justin Timberlake
, 21, planned to marry "in the future." No specific dates, though. "We're both really busy right now," says Spears, 20. Not nearly as busy as Lucy, Spears's character in
Crossroads
, who travels to meet her long-lost mom (Kim Cattrall) and reportedly manages to get a little drunk and lose her virginity to an ex-con along the way. The plot may be a bit grown-up for younger fans, says Ruben Garay, 19, founder of the worldofbritney.com Web page, but "older fans know that she's just expanding her talents." Is Spears afraid the mature story line will irk her teeny-bopper followers? "Actually," she says, "I thought the movie was kind of squeaky-clean." Such line-toeing brings to mind the plaintive ballad Spears sings in the film, "I'm Not a Girl, Not Yet a Woman." So then, what is Britney? "Well," she hedges, laughing, "I'm not a man!"
She may not be, but Robert Stephens, a self-styled Britney impersonator from Glendale, Calif., is. Stephens, 26, just unveiled his own movie at Sundance, a comedy titled
Britney Baby, One More Time
, based on a very brief meeting between the two in 1999. A BBC report said the film "has drawn a few laughs." It may not keep Stephens in showbiz, though. He notes, "A week from now I'm going to be like, 'Hi, welcome to Bath & Body Works. Would you like to try some of our new lotion?' "
Limbaugh Happy with Hear-After
On Jan. 21 radio talk show host Rush Limbaugh announced—with signature bravado-that it was great to hear his voice again. Completely deaf from an autoimmune disease that began last May, Limbaugh, 51, received a cochlear implant in his left ear in December (he had read caller questions from a TelePrompTer after the onset of the disease). Since the electronic implant, which stimulates the auditory nerve, was activated last week, Limbaugh estimates he has regained 90 percent of his hearing. "I hear the surf on the ocean," he elatedly told his 20 million listeners. "I hear paper clips falling." Perhaps, but Christa Spieth, of L.A.'s House Ear Clinic (where Limbaugh had the operation), cautions that it's "too early to determine" exact results. Most implant recipients (there were 3,500 in 2000) regain from 30 to 50 percent. Still, she says, "he's had wonderful results so far."
Starry Starry Nights
Lately, big-screen fish are testing the sitcom waters.
Matt Damon
,
Rosie O'Donnell
, Glenn Close and Michael Douglas will appear on new episodes of
Will & Grace
; Michael Keaton is a guest star on
Frasier
; Luke Wilson has taped
That '70s Show
; and last November Sean Penn popped up on
Friends
. What's going on? "Sometimes," says
W&G
co-creator Max Mutchnick, "it comes down to the fact that they love the show." And sometimes it's who you know.
W&G's
Sean Hayes plays baseball with Damon. Keaton and
Frasier's
co-creator Peter Casey share the same business manager. Says Mutchnick: "It's certainly not that we give them lots of stroking and fancy bottled water."
Scarred, and Suing
Lights! Camera!...Lawsuit? Claiming she was "coerced" into posing for a photographer in such a way as to reveal surgical scars resulting from a catastrophic car accident that nearly killed her last year, model Niki Taylor, 26, is suing Condé Nast, publisher of
British Glamour
, to prevent publication of the photos. The lawsuit contends Taylor would "suffer irreparable harm to her career as a fashion model." A
British Glamour
spokesperson says Taylor "posed very happily all afternoon." Photographer Steven White, who calls Taylor "a lovely girl," says he's baffled too: The shots don't show only the scars, he says. "It's not like we were doing some gory medical detail shot."
[This article contains a table. Please see hardcopy of magazine or PDF.]
Barbra's Art Throb
Among the places where George Washington presumably never slept: Barbra Streisand's Malibu beach house. His likeness, however, should be gracing her walls by Presidents' Day. At a Sotheby's auction last May, the singer, 59, outbid all interested parties—including the Mount Vernon Ladies' Association in George's hometown—to acquire a vintage 1790s portrait of our Founding Father. The oil-on-canvas by Charles Peale Polk, which she purchased for $412,750, depicts Washington as a young commander in chief at the 1777 Battle of Princeton. A gracious victor, Streisand, who collects early American furniture and antiques, lent the piece to the George Washington Museum in Mount Vernon, Va., where it has been on display. By January's end, though, George, who famously grew up with cherry trees, will go west and begin sampling life among the palms.
A Very Troubled Ant
Things are not going well for British New Waver Adam Ant, 47. After being refused service at a North London pub, the rocker—born Stuart Goddard—allegedly hurled a car's alternator through the establishment's window and waved a fake gun at the staff. Arrested on Jan. 12, he was held in custody until authorities deemed him unfit to plead (a hearing is set for Jan. 31). He was also banned from the pub for life. Two days later authorities escorted Ant to a psychiatric hospital "for his own protection" after relatives expressed concern. The '80s star has suffered sporadic depression in the past, according to press reports, and will be held for up to 28 days while doctors assess his mental condition.
POP QUIZ
with Ben Vereen
This week marks the 25th anniversary of the TV miniseries
Roots
, a personal tale of slavery's role in American history. Among its stars: Ben Vereen, who played a slave named Chicken George. Vereen, 55, is touring in a revival of
I'm Not Rappaport
. He spoke with Scoop from Miami—where, coincidentally, the local police honored him last week for chasing a purse snatcher.
What did
Roots
mean to you in 1977?
Patriotism. Growing up, there was only a paragraph in the history books about the African-American story. So it was important getting that story on film.
What does it mean now?
It's a reminder that slavery happened and will never happen again.
Has TV changed because of
Roots
? How so?
It has. But it has a long way to go. We've had
Cosby
and
Diff'rent Strokes
, but I think the quality of new shows needs to be examined—I don't want to see a color, I want to see a situation.
When did you realize that
Roots
was a massive hit?
I went to the American Music Awards that year [1977] and walked onstage with Merv Griffin to present an award. I got a standing ovation. It has been an unseen blessing, and it still is.
Is there anything like it on the air today?
Yes. [Last November] I was in the Showtime adaptation of the Anne Rice book
Feast of All Saints
, about the Creoles. It was interesting because it checked out what the other side of the African-American society was doing during slavery. There were some bankers and prominent businessmen and big travelers. It told a piece of history.
On Jan. 15 the Miami police gave you an award for chasing a purse snatcher. [The culprit got away.] Is there a
Law & Order
episode in your future?
(Laughs) I just acted. If I took the time to think, I don't know if I would have done it.
ON THE BLOCK
BRICKS, WALLS AND MORE
For Pink Floyd's David Gilmour, charity begins at home, with his home. The 55-year-old guitarist sold his London mansion to Charles Spencer, brother of the late Princess Diana, and says he will donate the entire $5.1 million proceeds to Crisis, a charity that provides food and shelter for homeless people. Why did he sell? Gilmour, who is reported to be worth $86 million and who also owns a farm in West Sussex, England, and a house in Greece, told Britain's
Sunday Telegraph
, "Life gets very complicated. And eventually, at least in my case, you think, 'I don't need this stuff.' And suddenly life gets simpler."
Contributors:
Ting Yu,
Liza Hamm,
Ron Arias,
Lindsay Bucha,
Michael Cohen,
Caris Davis,
Lanie Goodman,
Cathy Jones,
Julie Jordan,
Marisa Laudadio,
N.F. Mendoza,
Lori Rozsa,
Pamela Warrick,
Ashley Williams.
Not That Innocent
Advertisement
Today's Photos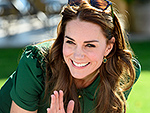 Treat Yourself! 4 Preview Issues
The most buzzed about stars this minute!