Archive Page - 12/1/12 39 years, 2,079 covers and 53,260 stories from PEOPLE magazine's history for you to enjoy
On Newsstands Now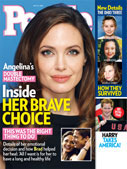 Angelina: Inside Her Brave Choice

New Details on the Ohio Three

Prince Harry Takes America!
Pick up your copy on newsstands
Click here for instant access to the Digital Magazine
People Top 5
LAST UPDATE: Saturday May 18, 2013 06:10PM EDT
PEOPLE Top 5 are the most-viewed stories on the site over the past three days, updated every 60 minutes
At the National Weight Control Registry, which monitors about 3,000 individuals who have lost at least 30 lbs. and maintained their new size for a year or longer, doctors are proving what has long been suspected: The only way to lose weight—for good—is by committing to a combination of regular exercise and a low-calorie, low-fat diet.
That's no surprise to Gina Franano (see opposite) and the six others on the following pages who have dropped from 66 to 184 lbs. each and kept them off. "I'm more on a lifestyle change than a diet," says Franano, who lost 84 lbs. over the past 12 months. When it comes to weight loss, that's the right outlook, says Dr. Peter Vash of the American Obesity Association. "Small steps can get you there," Vash says, "so long as you're patient."
From too thin to too heavy to just right
Gina Franano
Was 248 lbs.
Size 24
Now 164 lbs.
Size 10
For years, starting as a teenager in Belleville, N.J., Gina Franano found thinness in diet pills, popping them constantly, especially after the births of her children Jennifer and Alan Jason in 1973 and 1975. "I didn't want to be a fat Italian lady," she says.
She starved herself as well—down to 81 lbs. in 1981. "I would eat one peach and take six enemas and water pills for the day," she says. That same year Franano, now 53, widowed and twice-divorced, was diagnosed with Crohn's disease, a chronic inflammation of the intestines. Two years later her eyesight began to deteriorate and doctors discovered she had glaucoma and Graves' disease, an autoimmune disorder that causes overstimulation of the thyroid and, in her case, required its removal. Without the gland, which helps regulate the body's metabolism, her battle of the bulge began in earnest.
"If I drank water while brushing my teeth, I gained weight," quips the 5'2" Franano, who packed on 100 lbs., eventually reaching 248. A celebrity press representative based in West Palm Beach, Fla., she found herself becoming the butt of jokes. "Someone commented that I weighed as much as two of my clients, [ex-NFL player] Lawrence Taylor and [saxophonist] Clarence Clemons." Another client, Bon Jovi drummer Tico Torres, recalls seeing her struggle to get out of the backseat of a two-door car. "She was too heavy to move," he says.
"I wanted so badly to go back on diet pills," says Franano. But she resisted the quick fix. Instead, in February of last year she went to Dr. Seth J. Herbst, director of Palm Beach County's Institute for Women's Health and Body. For $600 he gave her a full physical evaluation, then devised a customized weight-loss plan that, he says, "fits into her busy lifestyle."
Franano began a diet rich in fruits, vegetables and lean meats, which she continues to this day. She eats instant oatmeal for breakfast, salad or sushi for lunch and low-cal frozen meals for dinner. She snacks on rice cakes and bananas and swims an hour a day in her pool. "She was extremely motivated," says Herbst.
It has paid off. Franano has lost 84 lbs., going from a size 24 to a size 10. And medications helped improve her eyesight. "She's a different person," says Torres. "She's not inhibited by motion." And after years of shortcuts, Franano, who hopes to get down to a size 6, is now patient. "I've learned I don't have to be obsessive-compulsive," she says. "Things can successfully be done in moderation."
She battled her own biochemistry
Tina Addison
Was 314 lbs.
Size 28
Now 173 lbs.
Size 12
Women expect to gain weight during pregnancy. But for Tina Addison, who already weighed 200 lbs., having a baby pushed her 5'5" frame over the 300-lb. threshold and made caring for her son Courtland, now 4, that much harder. "I couldn't hold him on my lap," she says, "because I didn't have a lap. I felt a lot of shame."
That feeling wasn't new. Growing up in Newnan, Ga., Addison struggled with low self-esteem. Mom Roberta, a dietitian, encouraged Addison to eat better, but, she says, "we didn't understand what Tina was struggling with."
In 1997 Addison discovered a clue to her weight problems. After four years of failing to conceive, Addison, now 32 and a secretary still living in Newnan, and husband Chris, 31, a grocery clerk, consulted fertility specialist Dr. Mark Perloe, who discovered that Addison's body didn't use insulin properly. "The more fat you put on, the more insulin you have," explains Perloe. "The more insulin you have, the more fat you accumulate. We don't know which predisposition causes the other." The excess insulin suppressed ovulation.
Perloe prescribed Glucophage, a drug that helped Addison process insulin. Within two months she dropped 20 lbs. and in the spring of '97 became pregnant. But when Addison continued to put on pounds postpartum, Perloe sent her to Atlanta weight-loss specialist Dr. Lonny Horowitz in March 2000. At a cost of $1,000 for a consultation and lab work and about $75 per visit thereafter (insurance covered it), he prescribed a low-carbohydrate, high-protein diet.
Exercise played a role as well. Every day Addison walked two miles. By the end of 2000 she had lost 90 lbs. Now she weighs 173. Her reward: lifting Courtland onto her lap. "I feel," says Addison, who still sees Horowitz monthly, "I'm becoming the mother I want to be by getting healthy."
Working out worked best
Tina Marron
Was 195 lbs.
Size 18
Now 129 lbs.
Size 4
When 19-year-old Tina Marron married her husband, Richard, in 1990, she learned that, at 130 lbs., he weighed 20 lbs. less than his 5'4" bride. Although Richard, now 30 and a carpenter, wasn't fazed—"I fell in love with her the way she was," he says—the disparity devastated Tina. "It just wasn't right," she says.
Still, Marron kept gaining—often taking a box of doughnuts to the bank where she works as a financial services rep and eating them all by the end of the day. In 1996, when she became pregnant, Marron ate continuously to quell her nausea. "The more I ate, the better I felt," she says. Six months after the birth of her only child, Nicholas, Marron weighed 195 lbs. and was still wearing maternity clothes.
Shortly after, at a mall near her Houston home, Marron, 32, recalls, "I tried to buy a size-16 dress and it was too tight. I said, 'I'm fat. I've got to do something to change it.' " She put herself on the Atkins diet in December 1998, restricting carbs and eating high-fat foods like bacon and sausage. She began walking every day too. At first, she says, "I could only go for about 15 minutes." Two months later she was working out with Denise Austin fitness videos.
By May Marron had lost 30 lbs. but had tired of Atkins. "I wanted more variety," she says. Richard's mom, Mary, 51, had joined Weight Watchers, so Marron followed the plan with her. Meals consisted mostly of vegetables, grilled meats and fruit smoothies, and cravings were satisfied with sugar-free chocolate bars and low-fat ice cream. In April 2000 she joined a gym and added weight training to her routine. By September she was down to a svelte size 4 and 129 lbs.
Marron has successfully maintained the loss. "I'm so proud of her," says Leah Capello, 23, her youngest sister. That means a lot to Marron; Leah and her other sisters Anita Herring, 35, and Lisa Alvarez, 29, were all "beanpoles," she says. "I was the only chubby one." Now "I notice all the looks she keeps getting," says Richard. But there's another kind of attention Marron gets that means just as much to her. "A lady at the gym," she says, "told me I was her inspiration."
She swam her way to slimness
Olga Arias
Was 260 lbs.
Size 26
Now 130 lbs.
Size 6
While walking along San Francisco's Fisherman's Wharf in 1993, Olga Arias decided to stop and savor the view from the top of a low wall. "I pushed myself up—and almost went all the way to the other side!" she says. "It was such a cool feeling to be able to do such a thing."
Only a year earlier Arias, 44, couldn't have accomplished the feat. At 260 lbs. and a size 26, the 5'5" executive assistant in San Francisco's Department of Public Works had trouble getting up off her couch. Once, while taking a young cousin to an amusement park, "she was unable to fit on one of the rides," says her sister Delia Arias-Cruz, 47. "She had to wait at the gate."
It was the kind of humiliation Arias was all too familiar with. The second of four children raised in San Francisco by Mexican immigrant parents—Elias, 78, a retired laborer, and Celia, 73, a homemaker—Arias says she was "always on the heavy side," thanks to hefty portions of such family specialties as beans refried in bacon fat; by her 20s she was a chronic binger. "Food," she says, "was comfort."
Attempts at losing weight—Arias once went to an Overeaters Anonymous meeting—failed. Then in 1992 "something clicked in my brain," she says. Arias, who enjoyed swimming, drove to a local pool 15 minutes before closing time. "I couldn't swim a lap without stopping to catch my breath," she recalls.
Undeterred, she returned to the pool day after day, eventually working up to 30 minutes of nonstop swimming. Inspired, she began walking and lifting hand weights at home; she also cut out fried and fast food from her diet, as well as alcohol, red meat and heavy desserts, all of which she still avoids (except for red wine or the occasional Scotch).
After two weeks, Arias was down 15 lbs. When additional weight proved harder to lose, she began adding different activities—hiking, mountain biking and even surfing—to her routine.
Today the 130-lb. Arias, who is single, grabs exercise wherever she can, whether it's using her lunch break to take a 60-minute walk or sprinting up three flights to her office. Sometimes, when she returns to her desk, she'll eat one of the chocolates she keeps there in a jar. "People say they don't know how I can resist eating them all," she says. "But there's no way I'm going back to where I was before."
He shaped up after a stroke
Cedric Williams
Was 350 lbs.
Waist 60"
Now 200 lbs.
Waist 38"
When Cedric Williams weighed 350 lbs., he needed a special extension to make airplane seat belts fit around his 60-in. waist and daily insulin shots to keep his diabetes in check. Still, aside from wishing "I could buy clothes off the rack," the 5'9" Williams says he had resigned himself to a life of obesity. "I knew what I was—and I was big."
A stroke in 1998 changed all that. In the hospital for a week while doctors tried to stop the bleeding in his brain, Williams, then 43, suffered partial paralysis in his right leg. For a man who at the time worked two jobs in his hometown of Washington, D.C.—as the print-shop manager at Howard University and as a counselor to troubled teens at the Iona Whipper Home for Girls—the thought of being disabled was terrifying. "I was determined," he says, "not to live like that."
Williams made good on his promise. In November 2000 he paid out of pocket for a six-month, $3,408 Howard University weight-loss research program aimed at African-Americans and not only shed 150 lbs. but learned how to maintain his new frame. "I am trying to eat to live," he says, "not live to eat."
Adopting that philosophy wasn't easy. As a boy in Norfolk, Va., his great-grandmother showed him love with home-cooked meals of fried chicken and pot pies. By his 30s eating had turned into an obsession, and fast food and butter pecan ice cream were diet staples.
Not surprisingly, the Howard program proved a shock: Each day Williams was allowed only three low-fat, low-salt meals, such as oatmeal for breakfast and oven-fried catfish with rice and green beans for dinner, totaling 2,000 calories. A self-described "couch potato," his 40-min., three-times-a-week treadmill workouts were also a strain. But after the first week, when Williams became an outpatient, he had dropped 18 lbs.
Over the next year he continued to visit Howard for thrice-weekly exercise sessions. He also met regularly with nutritionists and counselors who taught him how to cook healthy foods, so that after six months he could switch from Howard's prepackaged meals to ones he prepared himself. By then Williams was closing in on his current weight of 200 lbs. "People who hadn't seen him for a while didn't recognize him," says program director Dr. Otelio S. Randall, who notes that half of the program's patients lose at least 30 lbs. in six months.
Today the single Williams—who no longer needs insulin shots—stays in shape by walking up to 10 miles a day and practicing portion control. Breakfast might be a boiled egg and one strip of bacon, dinner a grilled hamburger with salad. More than his new physique, it is a second chance at life for which he is grateful. "The stroke was God's way of saying, 'You're out of control. You need to get yourself together,' " he says. "At first I was angry, but God woke me up."
A caretaker finally takes care of herself
Judy Wood
Was 329 lbs.
Size 32
Now 145 lbs.
Size 12
For 30 years Charles Pruitt has practiced medicine in Magee, Miss., often suggesting diets to folks whose weight had spun out of control. Few followed his advice like Judy Wood. "Something in Judy made her want to stick with it," he says.
Wood, now 53 and a bookkeeper for husband Howard's electronics repair business, weighs 145 lbs., 184 lbs. less than she weighed in 1998. Months of caring for her ailing mother had triggered the gain. "I slipped into a routine of eating badly," says the 5'4" Wood. Her increased weight aggravated an old hip injury. If she and Howard, 62, went shopping, she says, "my body would give out before I completed my list."
Five months after her mother's death in May 1998, a bronchial infection, made worse by Wood's obesity, wreaked havoc on her immune system. On Oct. 5 she fell into a coma. "Dr. Pruitt told my husband that I would likely never come out of it," Wood says. Fortunately she awoke after two days. "I tell Judy she is a genuine miracle," says Pruitt. But Wood decided she needed another miracle—one of her own making. "The incident scared me into changing my life," she says.
Working with Pruitt, Wood kept records of the caloric count of everything she ate and how much exercise she needed to do to metabolize what she consumed. "The first few weeks I ate about 900 calories a day," she says. She gave up pork, beef, white flour, sugar, mayonnaise and carbonated drinks. She also bought a treadmill, a stationary bike and dumbbells and taught herself simple exercises.
After three months Wood had lost 39 lbs; 97 more came off by October 1999. Hoping Wood's success will rub off on others, Pruitt refers patients to her for counseling. They don't always want to hear what she has to share. "Too many people are looking for a quick fix," she says. "That doesn't work with obesity."
Once fat, she found fitness
Karen Brown
Was 194 lbs.
Size 20
Now 124 lbs.
Size 2
Several years ago Karen Brown sat alone in a McDonald's near her Centennial, Colo., home eating a cheeseburger and ignoring the jeers from a group of nearby teens. "They were joking about what a pig I was," says the 5'3" Brown, who at the time weighed 194 lbs. Brown tuned out the taunts but couldn't shake the growing fear that her obesity—and a family history of diabetes and heart disease—would leave her four children motherless. "I was having heart palpitations, was borderline diabetic and anemic," she recalls. "It hit me that I wanted to be here awhile."
In September 1996 Brown, then 30, took action. She embarked on a low-calorie, high-activity plan of her own design, cobbled together from nutrition information she had gathered over the years. By March '97 she had lost 70 lbs., going from a size 20 to a 2. So dramatic were the results that in 1998, the health club Brown belonged to hired her as a part-time aerobics instructor. Today Brown, who is also a hairstylist, has such a sculpted body students call her "Abzilla." "I love everything about my life," she says.
That wasn't always the case. Growing up in L.A., one of five children raised by David Harsha, 73, a retired machinist, and homemaker Louise, 70, Brown began gaining weight after her 1984 wedding to Randy Brown, now 38 and a training manager for a restaurant chain. Bingeing on bags of Oreos didn't help. Nor did she shed all of the weight gained while pregnant with her kids (Cameron, now 14, Jamie, 12, Lyndsie, 8, and Jordan, 7).
By fall '96 Brown's failed attempts at dieting—she once ate nothing but soup for a week—convinced her to take control. That meant cutting her caloric intake from 4,000 to 1,000 a day. Typical meals included a container of low-fat yogurt for breakfast, an orange for a snack, a low-calorie frozen meal for lunch and half a croissant in the afternoon; if she hit her calorie limit by 4 p.m., Brown skipped dinner. "She warned me she would be hungry and a little irritable," says her husband, Randy.
Helping her through those moments was her "one bite" rule, which meant she could have the occasional mouthful of her favorite fatty foods, like cheeseburgers. Also motivating was her exercise routine, going from 30 minutes of aerobics three days a week to hour-long sessions—mixing a treadmill run with weights—six days a week.
Today Brown works out two to five hours a week in addition to the 10 hours she teaches. The activity allows her to eat what she wants—in moderation. But just because Brown is fit doesn't mean strangers have stopped talking about her body—only now it's compliments she hears. "I had to learn to say, 'Thank you,' " she says, "and not, 'Did you know I used to be really fat?' "
Written by Galina Espinoza and Sophfronia Scott
Reported by Vickie Bane, Alice Jackson Baughn, Andrea Billups, Michael Cohen, Anne Lang, Penelope Rowlands, Debbie Seaman, Jill Sieder and Patricia B. Smith
Contributors:
Vickie Bane,
Alice Jackson Baughn,
Andrea Billups,
Michael Cohen,
Anne Lang,
Penelope Rowlands,
Debbie Seaman,
Jill Sieder,
Patricia B. Smith.
Advertisement
Treat Yourself! 4 Preview Issues
The most buzzed about stars this minute!