Archive Page - 12/1/12 39 years, 2,079 covers and 53,260 stories from PEOPLE magazine's history for you to enjoy
On Newsstands Now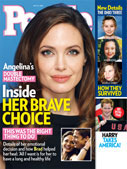 Angelina: Inside Her Brave Choice

New Details on the Ohio Three

Prince Harry Takes America!
Pick up your copy on newsstands
Click here for instant access to the Digital Magazine
People Top 5
LAST UPDATE: Sunday May 19, 2013 06:10AM EDT
PEOPLE Top 5 are the most-viewed stories on the site over the past three days, updated every 60 minutes
Shelter from the Storm
Forced from Their School by the Sept. 11 Attacks, the Teachers and Kids of P.S. 234 Bravely Remake Their World
Indeed, there were tears aplenty—happy ones—on Feb. 4, the day P.S. 234 reopened for business. As the 600 students and 80 staff returned to their old building for the first time since the terrorist attacks, kids and adults jammed the courtyard, hugging and beaming. The kindergarten class sang "This Land Is Your Land." Some trepidation lingered too. "I'm scared," said Ronnie Goodrich, 5, before his mother, Linda Mills, 44, and his kindergarten teacher, Abby Kerlin, gently took his hands and led him inside with his class. "It's miraculous what's happening here today," said Kerlin, 25. "It's like a rebirth."
Barely five months earlier the children had been filing into the building when the first plane slammed into the Trade Center. They fled through the streets, led or carried by parents or teachers. Amazingly, no one connected with the school was killed, but the horrors the kids saw that morning—blazing towers, plummeting bodies, stampeding crowds—were enough to fuel a lifetime of nightmares. In the aftermath, says principal Anna Switzer, 234's staff faced one challenge above all: "Our job has been to turn this into an opportunity for learning."
By all accounts her team has succeeded—and the primary lessons have been in resilience. Many P.S. 234 families were uprooted from their homes, in some cases for months, and their school was moved to two different locations. Yet the faculty still found ways to teach—and comfort. Kerlin, for example, describes how her pupils grappled with their fears by rescuing toy animals from a fallen tower of blocks. "The terror I felt on the 11th," she says, "has been overpowered tenfold by the inspiring moments I've had with the kids."
The loyalty of 234's parents has been inspiring too. For many, standing by their school—ranked as one of the best in town—was tantamount to standing their ground. Only 40 children left 234 to go elsewhere. Among the stalwart parents is Danny Hochman, 41, a day-trader who was at work on the 83 rd floor of the north tower when the first plane hit about 20 floors above. During his 70-minute escape down the stairs, his main worry was that debris might hit the school where two of his kids were enrolled. Yet he remained determined to keep Chase, 9, and Carly, 5, at 234. "Part of me thought if you jump ship, there will be no ship to come back to," he says. "We're trying to hold our turf here."
That was no easy matter. The building suffered no structural damage, but dust and smoke from Ground Zero raised fears of contamination, and no one wanted children to have to cross cordons of police and National Guardsmen on their way to school. So P.S. 234 moved into 10 borrowed classrooms at P.S. 41, two miles uptown, sharing space with that school's 700 students.
On the morning of Sept. 20, when classes resumed, parents and children were still distraught. "I didn't see one mother's dry eye," says social-work professor Linda Mills, mother of kindergartner Ronnie. Carly Hochman clung to her mother, Mara, 42. And Mara, a homemaker, clung back. "I wanted to be near them if something happened," she says. She stayed all day and helped out in the cafeteria.
During the following weeks P.S. 234's staff worked to calm families' nerves. The faculty encouraged students to draw and write about their experiences. Parents flocked to weekly counseling sessions, and a psychologist met with each class. First-grade teacher Shanon Greenfield, 26, talked her way into the old school building, where only cleaning crews were allowed at the time, to rescue a teddy bear from her classroom. "That bear was in their class photo last year," says Greenfield. "It soothes the kids when they get hurt."
Still, the quarters at P.S. 41 were too crowded for long-term occupancy. In October, when it became clear that P.S. 234 would require extensive cleanup to remove potential health hazards, the Catholic Archdiocese offered up St. Bernard's, a vacant five-story parochial school in Greenwich Village. Teachers, administrators and parents spent two days setting up school, moving hundreds of boxes of supplies out of P.S. 41 and onto trucks bound for St. Bernard's, where a round-the-clock force assembled furniture and painted hallways. A local architect, whose firm includes a P.S. 234 mother, sent a crew of 30 volunteers; they painted paw prints around the school and hung enlarged class pictures to make the children feel at home. Assistant principal Caroline Thaler even recruited singer Tom Chapin to perform a free concert for the kids.
Just as important, teachers had to reestablish comfortable routines to counter the disruptions in the students' lives. "I wanted them to know that there are certain things we do that they can rely on no matter where we are," says Kerlin, who posted a sign listing daily activities—snack time, reading, block building. The school resumed the round of field trips that had been one of its hallmarks. "We sent our kids off to museums, aquariums," says principal Switzer. Those efforts had the desired effect. At St. Bernard's, says fourth-grader Chase Hochman, "our class was exactly as it would normally be."
But their lives were not. Teacher Sheila Browning, 57, was reading
Make Way for Ducklings
to a group of kindergartners when a child asked why one of the ducks in a picture looked so much smaller than the others. When a student explained that it was farther away, another child chimed, "That's like the Twin Towers—when people were jumping, they were so, so tiny." Says Browning: "There is so much inside these kids that we have yet to find out."
Bit by bit, fragments have emerged. Some children were initially afraid to leave home in the morning. Many complained of bad dreams. "If we take the bus," said one mom, "my daughter covers her head with her jacket so she doesn't have to see the Trade Center site." Low-flying planes still make everyone jittery. School psychologist Bruce Arnold, 54, has counseled the teachers to use restraint in discussing the attack. "We need to maintain a balance," he says, "between giving kids the opportunity to talk about their experience and not talking about it too much."
For children displaced from their homes, the school proved an anchor. Dashiell Lieberman, 5, and his brother Gabriel, 9, moved four times after Sept. 11, commuting to school by cab or public bus for as much as 45 minutes from temporary housing they shared with parents Beth, 46, a homemaker, and Paul, 50, a computer analyst. (A third brother, Lucas, 11, is a P.S. 234 graduate.) Yet pitching in with the rest of the P.S. 234 community gave them strength. "We're not a school because of a building," says Beth, now back at home. "We're a school because of the people."
As adaptable as they were, however, the students were eager to get back to their old stomping grounds. "I miss the schoolyard and my classroom," Avalon Jackson, 7, told his mother, LeAnne Iverson, 39, an artist who runs a Brooklyn bed-and-breakfast. He got his wish on Feb. 4, when the school district—after exhaustive testing for toxic residues and extensive debate over the reliability of the tests—reopened P.S. 234. That morning Switzer hung a big red bow on the front gate, where she stood alongside cheerleaders from nearby Stuyvesant High to greet the arriving children. Paul Lieberman lifted son Dashiell up to cut the ribbon and the children ran into the yard. At 8:40 Switzer stepped into the bell tower to signal the start of classes. "The bell hadn't been heard in five months," she says. "It was really saying, 'We're back!'"
As Avery and her friends disappeared into P.S. 234, mom Kristen Frederickson clutched the hankie her daughter had provided. "I'm a little shell-shocked," she said. Still, she added, "it feels like a huge weight off our shoulders." Nearby, Danny Hochman watched Chase and Carly troop inside. "It's time to reoccupy," he said. "We're just happy to get back to normal."
Thomas Fields-Meyer
Sharon Cotliar in New York City
Contributors:
Sharon Cotliar.
It was not an ordinary morning for Avery Curran, 5, so her dad fixed her an extraordinary breakfast: raisin toast cut into pieces that spelled out "P.S. 234," the name of the New York City elementary school three blocks from the World Trade Center that she had been forced to vacate on Sept. 11. But the kindergartner was too excited to eat. Instead she presented her parents, Reuters news-service executive John Curran, 38, and art historian Kristen Frederickson, 37, with a pair of handkerchiefs. "My teacher told us the grown-ups will probably cry today," Avery said. "But it's not because they're sad."
Advertisement
Treat Yourself! 4 Preview Issues
The most buzzed about stars this minute!