Archive Page - 12/1/12 39 years, 2,080 covers and 53,257 stories from PEOPLE magazine's history for you to enjoy
On Newsstands Now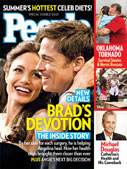 Brad's Devotion: The Inside Story

Oklahoma Tornado: Heroic Rescues

Michael Douglas on Catherine's Health
Pick up your copy on newsstands
Click here for instant access to the Digital Magazine
People Top 5
LAST UPDATE: Wednesday May 22, 2013 11:10AM EDT
PEOPLE Top 5 are the most-viewed stories on the site over the past three days, updated every 60 minutes
Oh by the Way...
Rosie O'Donnell Never Hid Her Love Life from Friends and Family. Now She's Going Public to Help Change a Law Barring Gays from Adopting
The View
that talk show host
Rosie O'Donnell
is gay, the news may have caught some of O'Donnell's fans by surprise. But for her lifelong best friend, Jackie Ellard, the revelation packed about as much punch as one of the comedian's signature Koosh balls. "I went into Rosie's office and went, 'Oh my God! You're a lesbian!'" says Ellard, to whom O'Donnell confided her sexual preference in 1980. "She said, 'Oh my God, I never told you?' We laughed."
Yep, she's gay—and nope, O'Donnell insists, she was never hiding it. But if there were any doubts about her sexuality, they're being put to rest—first in a March 14 televised interview with ABC's Diane Sawyer and then in the pages of O'Donnell's memoir
Find Me
, to be released in April. Five years after comedian Ellen DeGeneres landed on the cover of TIME magazine as the country's first openly lesbian TV star, O'Donnell is trying a more stealthy approach but is still left shaking her head at all the fuss. "I don't know why people make such a big deal about the gay thing," she declared onstage at Caroline's comedy club in New York City on Feb. 25. "People are confused, they're shocked, like this is a big revelation to somebody."
In fact, O'Donnell's homosexuality has long been regarded as one of show business's open secrets. She has frequently attended WNBA games with her girlfriend of 4½ years, former Nickelodeon marketing executive Kelli Carpenter, 34, and she thanked Carpenter at the Daytime Emmy Awards last May with the words, "This is for Kelli.... I love you." O'Donnell, who turns 40 on March 21, "was not hidden at all," says Ellard, 39, a married mother of two who helps raise money for O'Donnell's children's charity. "[Her homosexuality] was always known."
To those around her, perhaps. But to the public? Despite occasional hints—in 1996 she and a still-closeted DeGeneres joked on O'Donnell's show about being "Lebanese," and O'Donnell referred to actor Nathan Lane as her "beard" at the 2000 Tony Awards—her on-air chattiness has never extended to her love life. Instead, viewers of her syndicated show—which, after six seasons, will tape its last episode in May—were regularly reminded of her infatuation with
Tom Cruise
(she calls him "my Tommy") and of her life as a single mom raising three adopted kids: Parker, 6; Chelsea, 4; and Blake, 2. When the cameras were rolling, "she never mentioned Kelli," says Ellard. "That was just a part of her private life that she wasn't going to discuss with everyone."
Until now. While O'Donnell's cautious public coming-out has been less controversial than DeGeneres's declaration, homosexuality, to some people, remains a sensitive issue. "More than half of Americans say that they think homosexuality should be an acceptable alternative lifestyle," says Jean Johnson of the nonpartisan opinion research firm Public Agenda. "But you still have some portion of the population that's a little uncomfortable with the idea." An informal poll conducted on PEOPLE.com showed that 85 percent of the 15,000 respondents said they were "not surprised" by the news that O'Donnell is gay. But in a separate question, 15 percent said that the news makes them regard her less positively. About that, well, O'Donnell doesn't much care, say pals. "She has never been ashamed," says Ellard. "Never."
If that's the case, some members of the gay community wonder why O'Donnell didn't come out sooner. "Naturally I wanted her to do so years ago," says Michael Musto, a columnist for New York City's
Village Voice
newspaper. "But we're all welcoming her into the community, wishing of course it was when the show was still on top and wishing it wasn't to sell a book. But better late than never."
Why come out now? "I think that Rosie has this relationship with Kelli that is incredibly loving and positive and nurturing, and I think she wants to live a normal life," says actress Rita Wilson, a pal since O'Donnell costarred with Wilson's husband, Tom Hanks, in 1992's
A League of Their Own
. Rarely apart since they started dating in 1997, O'Donnell and Carpenter (who has been a full-time stay-at-home parent since last summer) divide their time among their five-bedroom home in Nyack, N.Y., a brownstone on Manhattan's Upper West Side and a $6.75 million Star Island retreat near Miami. "Rosie has a very strong personality and is very, very outgoing," says Heidi Safer, Carpenter's stepsister. "Kelli is more reserved, more calm." In her emotional Emmy speech last May, a grateful O'Donnell—called "Ro" by her inner circle—thanked Carpenter for sticking by her during the comedian's life-threatening staph infection last April, sleeping on the floor by her hospital bed for four days straight. "I visited her every day," says Ellard, "and Kelli was there." Whether riding O'Donnell's Honda Magna motorcycle through South Beach near Miami or munching on the blue-cheese-crusted steak at Casa del Sol, a favorite restaurant in Nyack, the couple "go out places all the time and have for years," says Ellard. "They're, I think, together forever."
For her part, O'Donnell says her decision to talk about her sexuality was triggered by Steve Lofton and Roger Croteau, gay foster parents who are challenging a Florida law barring gay people from adopting. (O'Donnell herself served as a foster parent to a Florida toddler for 18 months, but because of the girl's emotional problems, O'Donnell asked to have her placed with another family.) Last month O'Donnell hosted Lofton, 44, a pediatric nurse turned stay-at-home dad; Croteau, 46, also a nurse; and their foster children—Frank, 14; Tracy, 14; Bert, 10; Wayne, 8; and Ernie, 5—at her midtown Manhattan offices. "She brought pizza in for all the kids, and they sat around the coffee table having burping contests with her," says Eric Ferrero, an ACLU spokesman. Says Croteau, who, with Lofton, seeks to adopt their foster children: "I think that Rosie will help people understand that gay parenting is not a bad thing."
Helping people understand that parenting of any kind is better than none is something O'Donnell has been championing for years. Growing up in a large Irish Catholic family, the third of five children born to Edward, an Irish-born spy-camera engineer for a defense corporation, and Roseann, a homemaker, O'Donnell and her siblings (Eddie Jr., 42, now a marketing executive; Daniel, 40, a lawyer; Maureen, 38, a homemaker; and Timothy, 34, the owner of a security-guard firm) were raised in a middle-class household in Commack, N.Y. A natural clown—"She would do silly things like write her name in poppyseed-size letters on her exams," recalls Pat Maravel, 52, O'Donnell's math teacher at Sawmill Junior High—she also nursed a deep pain following the death of her mother from breast cancer when O'Donnell was 10. "She felt that loss very, very deeply," says Maravel. "It took a long time for her to talk about it."
Nor did she have much support from her father, who withdrew emotionally from the family after his wife's death. In September 2001 O'Donnell acknowledged suffering from depression since childhood. Discussing the benefits of antidepressant medication, she wrote, "They work. I know because I take them. There was a time when I was too ashamed to admit that."
Publicly admitting her sexuality clearly took longer, though close friends say that she confided in them early on. "We were in our late teens when she told me," recalls Ellard. "She wasn't timid about telling me. She said she felt that this was the way her life was meant to be." Still, anyone interested in knowing details about O'Donnell's sexual awakening—and her romantic history—won't find it in
Find Me
, which focuses primarily on her platonic friendship with an abused young woman. The word "gay" doesn't even appear in the book, and O'Donnell makes only passing references to Carpenter, as well as to two earlier romantic relationships, one with a man and one with a woman.
In 1997 she and Carpenter were introduced by O'Donnell's brother Danny, who is also gay. Carpenter—the daughter of Charles, 57, a retired chemical engineer, and Melanie, 57, the owner of a dancewear store—grew up in Baton Rouge. Her parents divorced when she was 3; in 1975 her mother married dentist Joel Safer, 62. (In addition to a younger brother, Carpenter has two stepsiblings: Heidi, 34, an editor-at-large at O'Donnell's monthly magazine
Rosie
; and JJ, 32, a computer-business owner.) Passionate about ballet, the 5'4" Carpenter ultimately gave up dancing ("It takes longer legs than she had," says Melanie Safer) to study communications at Southern Methodist University in Dallas, where she was a member of Tri Delta sorority. When she was in her late teens, her parents learned she was gay. The revelation, says Safer, "was hard at first, but it's not anymore."
When Carpenter introduced O'Donnell to her parents in 1998, they welcomed her into the Safer family. "She told us she loved Kelli," Safer recalls. Last Thanksgiving, when Joel was recovering from bypass surgery, "I went into the laundry room and Ro was in there folding clothes," says Safer. "I said, 'Does this remind you of your poorer days?' And she laughed, 'It sure does.'"
As parents, "Kelli's probably more strict and Ro's more easygoing," says Safer. Parker, she notes, "is sensitive. He loves books. Ro calls him her minister-to-be, because I gave him a beginner's Bible to read." Family cutup Blake "is hilarious," says Safer, whereas Chelsea "is more aloof, but she's also articulate and sweet. And she loves to eat."
In February, Carpenter and O'Donnell—taking a brief break from their mothering duties—boarded a cruise ship, where O'Donnell entertained a predominantly gay crowd with a loose, free-flowing stand-up routine. "I'm told we have 2,000 gays and lesbians on board," she said. "That probably means 1,940 gay men and 60 chubby lesbians."
But despite appearances like that and her January guest-starring turn as a gay mom on NBC's
Will & Grace
, friends say O'Donnell has no plans to become a gay icon a la DeGeneres. Instead, after wrapping up her show in May (it will resume in the fall with comedian Caroline Rhea as host), O'Donnell will continue her child-advocacy work, along with her editorial duties for
Rosie
and producing responsibilities for Rhea's show. Mostly, though, she plans to spend more time with Carpenter and her kids—free, she hopes, from criticism. "When I told my daughter, who's 8, that Rosie was going to be in the papers about this, she said, 'Why do people care?'" recalls Ellard. "And I thought, 'You know, that sums it up. Why do people care?' It's just so normal to Ro and Kelli and their kids. They live life as a normal family."
Michelle Tauber
Mark Dagostino, Fannie Weinstein, Rachel Felder and Mary Green in New York City, Lori Rozsa and Michael Cohen in Miami and Pamela Warrick in Los Angeles
Contributors:
Mark Dagostino,
Fannie Weinstein,
Rachel Felder,
Mary Green,
Lori Rozsa,
Michael Cohen,
Pamela Warrick.
Advertisement
Treat Yourself! 4 Preview Issues
The most buzzed about stars this minute!