People Top 5
LAST UPDATE: Tuesday February 10, 2015 01:10PM EST
PEOPLE Top 5 are the most-viewed stories on the site over the past three days, updated every 60 minutes
Picks and Pans Main: Tube
Talking With...Jami Gertz
When I heard Ted Danson would be playing medium James Van Praagh in this miniseries, I had a disturbing vision of Becker Sees Dead People. "Leave me alone, ya stupid stiff," the irascible doctor snaps to a friendly specter. Oooh, scary.
In truth, the actor ranges far from his sitcom image in Living with the Dead, which CBS describes as "inspired" by the real-life story of psychic and bestselling author Van Praagh. Danson is highly effective in Part 1 as an outwardly ordinary man confused and frightened by unwanted visions of his late mother (Diane Ladd) and numerous deceased strangers. The drama's first half is spooky, to be sure, but it has an air of wonder that induces even the skeptical viewer to consider supernatural possibilities.
Unfortunately, the script increasingly turns its attention to a fictional murder investigation in which Danson's Van Praagh aids a police detective portrayed by the star's wife, Mary Steenburgen. Part 2 starts to resemble a pilot for a psychicsleuth show, and the ghosts of the serial killer's victims hound Van Praagh so relentlessly that you wouldn't blame him for giving them a Becker-style brush-off.
Though Steenburgen walks through her role, Danson gets stronger support from Jack Palance as Van Praagh's hard-headed father and
Queen Latifah
as a simpatico friend.
Bottom Line: Medium quality
HBO (Sat, April 27, 8 p.m. ET)
Show of the week




In the second scene of this historical drama Winston Churchill (Albert Finney) gives us a glimpse of his bare behind, then rehearses a speech while relieving himself. Well, there's a side of the great statesman we've never seen before.
Finney's Churchill is larger than life but also flawed, eccentric and surprisingly vulnerable. The story begins in 1934—six years before he becomes prime minister—and the renowned orator feels rejected and irrelevant after his denunciation of the Indian independence movement draws yawns in Parliament. "I'm finished, a ghost witnessing my own demise," he says with a typical touch of self-dramatization. Gradually, though, he returns to the forefront with his dire warnings against German militarism. As his political fortunes improve, his domestic life shows signs of strain. His beloved wife, Clemmie (Vanessa Redgrave), is off on a months-long trip abroad, and she may be taking undue interest in one of her male companions. Finney makes Churchill's loneliness and jealousy an endearing counterpoint to his vast ego.
The film spends a disproportionate amount of time on the mental anguish of Ralph Wigram (Linus Roache), a nervous ally in the Foreign Office who leaks information to help Churchill's cause. Oscar winner Jim Broadbent (Iris) and nominee Tom Wilkinson (
In the Bedroom
) are underutilized in supporting roles. But Finney's colorful performance is not to be missed.
Bottom Line: Finney earns V for Victory
PBS (Sun., April 28, 9 p.m. ET)
Don't expect this documentary on John Forbes Nash Jr. to resolve the controversy surrounding his depiction in A Beautiful Mind, which some have criticized as a whitewash.
The American Experience
profile doesn't address the accuracy of the Oscar-winning movie, but the documentary is a valuable complement to the drama. A Beautiful Mind took us inside the head of the schizophrenic mathematician; A Brilliant Madness allows viewers to step back and consider Nash's story more dispassionately but no less sympathetically.
The highlight is the interview with Nash himself. Now 73, the Nobel Prize winner reflects candidly and sometimes wryly on his struggle with mental illness, still exhibiting a reluctance to embrace normality if it entails conformity. The comments of Nash's wife, Alicia, and his academic colleagues round out this picture of an often arrogant but admirably perseverant genius. Too bad there's only a brief mention of his younger son Johnny, who is described in this film as a mathematically gifted schizophrenic.
Bottom Line: Compelling portrait that more than adds up
Sunday, April 28
EVERYBODY LOVES RAYMOND
: FIRST SIX YEARS CBS (8 p.m. ET) An hour-long special traces the sitcom's progress with clips and comments from celebrity fans.
Monday, April 29
FRONTIER HOUSE
PBS (9 p.m. ET) Modern families try wilderness living in the debut of a six-part reality series.
Tuesday, April 30
TONIGHT SHOW WITH JAY LENO
10TH ANNIVERSARY NBC (10 p.m. ET) It's a prime-time hour of highlights with the ratings king of late night.
Wednesday, May 1
THE BERNIE MAC SHOW
FOX (9 p.m. ET) Billy Crystal has a guest shot as Bernie takes Jordan to a basketball game.
Thursday, May 2
GREAT BOOKS
: WUTHERING HEIGHTS TLC (1O p.m. ET) Madeleine Stowe narrates a study of Emily Bronte's gothic classic.
Friday, May 3
AMERICAN BANDSTAND'S 50TH...A CELEBRATION!
ABC (8 p.m. ET) Spring chicken Dick Clark takes a look back.
Saturday, May 4
WOODY ALLEN: A LIFE IN FILM
TCM (8 p.m. ET) The Woodman actually sits for an interview in this career retrospective.
Wigs and makeup helped actress Jami Gertz nail the looks part of her starring role in the April 29 ABC movie
It's Always Something: The Gilda Kadner Story
. The rest came naturally. "Gilda and I were both Jewish girls from the Midwest," says Gertz, 36, of the
Saturday Night Live
comedian. "We shared this tradition of family and laughter."
But it was the film's serious moments that struck the biggest chord with the actress. Based on Radner's bestselling 1989 autobiography, the movie details the comic's nearly three-year battle with ovarian cancer. (She died from the disease at age 42 in 1989.) Gertz's spouse of 13 years, financier Tony Ressler, 40, was diagnosed with a benign brain tumor in 1995, and Gertz could identify with the way Radner's husband, Gene Wilder, used humor to help Gilda deal with the pain. "Gene said, 'Get off yourself!
Think about something else!' And through it all she was able to find things to laugh about," she says. "I did whatever I could too. It was a tough time, but I'd say laughter has a lot to do with getting through things."
With Ressler healthy and in good spirits, Gertz has been taking on more acting roles. (She won an Emmy nomination for a guest appearance on
Ally McBeal
in 1997.) But she says she's happiest when home in Beverly Hills in the house she shares with Ressler and their three sons Oliver, 9, Nicky, 7, and Theo, 3. "As an actor, it's all about you," she says. "As a mother, it's not about me anymore—which is a relief!"
Contributors:
Cynthia Wang.
CBS (Sun. and Tues., April 28 and 30, 9 p.m. ET)
Advertisement
Today's Photos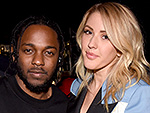 Treat Yourself! 4 Preview Issues
The most buzzed about stars this minute!