People Top 5
LAST UPDATE: Tuesday February 10, 2015 01:10PM EST
PEOPLE Top 5 are the most-viewed stories on the site over the past three days, updated every 60 minutes
Cheat Wave
School Officials Let Plagiarists Off Easy, So Teacher Christine Pelton Quit—Sending Her Town into a Tizzy
It would seem so. Nonetheless, when her 118 sophomores turned in their assignment—they were to collect 20 leaves and describe their characteristics and origins—Pelton, by checking Web sites and textbooks, discovered that 28 students had plagiarized. True to her word, she said she planned to give them no credit for the assignment, which was to count for half of that semester's grade.
After that all heck broke loose. Parents, outraged when Pelton stuck to her guns, rose up in protest, sparking an ongoing scandal that has divided the town, pitted teachers against the local school board and brought national notoriety to this small community on the outskirts of Kansas City, Kans. Pelton has resigned in protest, and by May 15 nine of her 37 colleagues had followed suit.
At the heart of the matter is a raging debate over academic dishonesty. When the cheating was discovered, Pelton, backed by the principal and district superintendent, offered offenders a chance to boost their zeros with an alternative project. They were not enthused—nor were their parents. "I would get calls at 2 a.m.," says Pelton, "from people calling me 'bitch.'"
Then came the Dec. 11 meeting of Piper's school board, where several angry parents spoke out against the young teacher. "C'mon, how many ways can you write, 'The oak tree lives to be 200 to 500 years old?'" asks one mother, who declines to be identified. "We weren't asking for A's and a lollipop. We just wanted to be heard."
That they were. The board ruled the project would count for only 30 percent of the grade and that students would get credit for any unplagiarized portions. Pelton taught two sections the next morning. "The kids were all whooping and hollering," she says, "saying, 'We won! We don't have to listen to teachers anymore!'" At lunch Pelton called her husband, John, 29, a video duplication supervisor, and announced she was quitting. Along with the nine teachers, principal Mike Adams and vice-principal Terry Gerstenberger have also left. "I won't say this is why I resigned," says Adams. "But it's difficult to be an administrator if you don't have support above you."
Now pro-Pelton parents are circulating a petition to oust three school-board members. Meanwhile the school has a smudged reputation. At March's state basketball playoffs, Piper's rivals held up signs that read, "Cheaters." A proctor supervising a recent SAT session warned a girl in a Piper High T-shirt that he would be watching her. Kansas State University's deans wrote the school board cautioning that Piper grads must "buy into" the university's honor code. Says language-arts teacher Leona Sigwig, who remained at the school: "It's going to affect student loans and scholarships for years."
The Piper flap has drawn renewed attention to the prevalence of cheating nationwide. According to a recent study of 4, 471 U.S. high school students by Rutgers University management professor Donald McCabe, more than half lifted sentences and paragraphs from Web sites last year, while 15 percent turned in papers copied entirely from the Internet. The scandal has also raised questions about how far parents should go to shield children from the consequences of their actions. "They're not giving kids the opportunity to learn responsibility," says Rebecca Jacobs, 40, whose 17-year-old son Kyle aced Pelton's leaf project last year—without cribbing. "In the real world Mommy and Daddy aren't going to be there."
Still, many of Pelton's ex-students insist they got a raw deal. "I failed last semester because of this," says Jamie Wright, 16, who claims she copied "maybe a sentence or two. But I didn't know it was plagiarism."
As for Pelton, she says she had no idea she would unleash such a tempest. The daughter of Mike, 50, a farmer, and Cathy, 47, a secretary, she hopes to return to teaching, her lifelong ambition. Pelton has received letters from supporters all over the world, including a fifth-grade class in New Hampshire. "They said, 'Thanks for standing up against cheating'—only some of them spelled it 'cheering,'" she says. "So I guess I'm still affecting kids, even if I'm not in the classroom."
Richard Jerome
Pam Grout in Piper
Two years ago Christine Pelton, a biology teacher at Piper High School in Piper, Kans., suspected that a few students had cheated on a major assignment. And so last year she was sure to emphasize a policy requiring both students and their parents to sign a document acknowledging that anyone who plagiarized would receive a zero for the project. "I made a big point of telling them this would cause them to fail," says Pelton, 27. "I gave them ample warning."
Advertisement
Today's Photos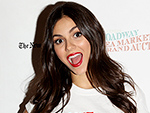 Treat Yourself! 4 Preview Issues
The most buzzed about stars this minute!