People Top 5
LAST UPDATE: Tuesday February 10, 2015 01:10PM EST
PEOPLE Top 5 are the most-viewed stories on the site over the past three days, updated every 60 minutes
Next on the Tee
Today's Topic: Natalie Gulbis—Golf's Next Big Thing, or Just Anna Kournikova with a Club? Debate & Discuss
"I know who I'm betting on."
He's in good company. Although Gulbis, 19, ranks only 56th on the money list a third of the way through her rookie LPGA season, plenty of people are banking that her combination of power play and California-girl good looks will turn the 5'9" stunner into a Tigerette. Or, at least, golf's answer to Anna Kournikova—which would suit her just fine. "I don't understand why people sneer at her," says Gulbis. "Jealousy maybe." A top contender for the LPGA's rookie of the year award, and recently proclaimed golf's "It Girl" by SPORTS ILLUSTRATED, Gulbis already has endorsement deals worth more than $300,000 annually from sponsors including Adidas—as well as contracts with the William Morris Agency to find her film and TV acting jobs (she has taken lessons). But back to golf for a moment. "Her potential is unlimited," says Butch Harmon, Tiger Woods's swing coach, who has recently signed on to aid Gulbis in the same capacity. "Natalie has a tremendous amount of talent."
That much was evident early. Raised in Sacramento, she learned the game at age 4 from her father, John, a rabid golfer. "He worked the graveyard shift as a probation officer," says Gulbis. "After school he'd pick me up and go to the golf course with his friends. I'd tag along." Even as a 7-year-old, she "was winning everything, beating kids that were four or five years older than her," recalls John, 54, now retired. (He served as her sole instructor until a few months ago, when Harmon joined the team.) "We had it figured out by the time she was 7 or 8 that this is what she was meant to do."
Natalie took somewhat longer to reach the same conclusion. As a youngster she also competed as a springboard diver and gymnast. Emphasis on compete. "When she was 10, Natalie broke her finger in the middle of a floor routine," remembers her mother, Barbara, now 51, purchasing director for a medical lab. "She kept going until she finished." Then, at 14, Natalie played in her first LPGA tournament. "Before, golf was just something I wanted to do," she says. "After that, it was something I had to do."
While her middle-school classmates were hanging at the mall, Gulbis was averaging a daily 3½ hours on the links, a situation which made her "a little bit of an outcast," her mother says. But that changed when, at age 14, she switched to Granite Bay High School—and joined the boys' golf team there. "She was so good, you really couldn't say anything," remembers Gabriel Garcia, 20, a Granite Bay teammate of those days. "Probably half the team had a crush on her," he adds. "Her dad wouldn't have any of that; we all got the hint, so we gave up quick."
Gulbis received a four-year scholarship to attend the University of Arizona, which has one of the country's top golf programs, but she left after two semesters. "I was more passionate about golf than school," she explains. These days she indulges that passion with endless practice rounds and sessions with Harmon, working on simplifying her swing. "I think things happen to people who work really hard," she says. "I'm not sure what the limit is of what I can or can't do. I don't think about that—just about getting the little white ball in the hole."
Still, Gulbis admits some parts of her rookie season have been tougher than others as she learns to deal with problems ranging from finding time for her rigorous exercise routine (90 minutes of aerobics and weights five times a week) to locating the makings for the "very spicy and very healthy" food she likes to cook for herself. And Gulbis's demanding schedule—driving to all tournaments, she and her father won't make it back to Sacramento until the end of the season—rules out much of a social life. "I have a person at home that I see off and on," allows Natalie, who will identify him only as a model who is also athletic. "I think if I had the time, it might be different. But I don't."
You won't, however, find Gulbis complaining. And not just because of the big thrills, like getting one-on-one help from Tiger Woods with her short game. ("The most nervous I've ever been on a golf course," the teenager says.) She would play round the clock if she could. "It doesn't seem like work to me," Gulbis says. "As long as there's daylight, I can be out there all day long."
Pam Lambert
Don Sider in Stockbridge, Ga., and Emily Bazar in Sacramento
Contributors:
Don Sider,
Emily Bazar.
CRACK! Golfer Natalie Gulbis whacks another monster drive; it comes to rest a healthy 290 yards down the 13th fairway at the Eagle's Landing Country Club outside Atlanta. For the uninitiated: 290 yards is BIG, even for top male pros; it's the sort of thing the hometown heroes at your local driving range can only dream of doing consistently. Bobby Ogletree, a Coca-Cola worker making his rounds at the club, stops to watch. Says Ogletree admiringly:
Advertisement
Today's Photos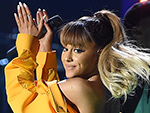 Treat Yourself! 4 Preview Issues
The most buzzed about stars this minute!