People Top 5
LAST UPDATE: Tuesday February 10, 2015 01:10PM EST
PEOPLE Top 5 are the most-viewed stories on the site over the past three days, updated every 60 minutes
Picks and Pans Main: Screen
Now Playing
Matt Damon
, Franka Potente, Chris Cooper, Brian Cox, Clive Owen
Featured attraction
The American intelligence community may be taking knocks lately in Washington, D.C., but Hollywood still loves spies.
The Bourne Identity
is the third film out in as many weeks (after
The Sum of All Fears
and
Bad Company
) to feature a CIA operative as its hero. Despite flaws (a limp love story and awkwardly edited fight scenes),
Bourne
is easily the best of the bunch.
Based on a novel by Robert Ludlum and directed by Doug Liman (Go), this gripping espionage thriller begins when an unconscious Jason Bourne (Damon) is pulled from the Mediterranean by fishermen. He has amnesia and thus can't explain the two bullets in his back or the tiny capsule holding a Swiss bank account number implanted in his thigh. Back on land, when men with guns begin tracking him, Bourne must elude them while figuring out what we know already: He was involved in a rogue CIA operation that failed, and now his boss (Cooper) in D.C. wants him dead.
The closer Bourne comes to learning who he was, the less sure he is that he wants to know, and Damon captures that conflict in a thoughtful, persuasive performance. Potente, as a German fräulein who aids Bourne, shows little of her
Run Lola Run
pep, and there's a glaring lack of chemistry between the two. (PG-13)
Bottom Line: Displays superior intelligence
Nicolas Cage, Adam Beach, Christian Slater, Roger Willie
It's that white-guy problem, again.
Windtalkers
is supposed to be a movie inspired by the stories of the 400 Navajo Indians recruited by the U.S. Marines to use their tribal language as the basis for a military code during World War II. But it spends more time on the angst of its troubled Caucasian protagonist—Cage making like John Wayne if he'd spent time in sensitivity training—than on its Navajo hero.
Cage is Joe Enders, a Marine sergeant who has been assigned to protect Navajo codetalker Ben Yahzee (Beach) during the Marines' drive to capture Pacific islands occupied by Japanese soldiers. Enders, who is plagued by guilt over an earlier battle in which soldiers died while under his command, brushes off Yahzee's repeated attempts at friendship.
By focusing on Enders's self-torment and multiple grisly battle scenes,
Windtalkers
, as directed by John Woo (
Mission: Impossible 2
), throws away some unique story possibilities. A drama that should have been inherently fascinating becomes just another war film. Cage is one big, endless howl of anguish, while the underutilized Beach (
Smoke Signals
) displays an admirably easygoing screen presence. (R)
Bottom Line: Battle weary
Freddie Prinze Jr., Linda Cardellini, Matthew Lillard, Sarah Michelle Gellar
Finding himself pursued by saber-toothed monsters, Shaggy (Lillard), the most unkempt member of the quartet of mystery solvers who hang with the titular Great Dane in
Scooby-Doo
, announces, "This is the opposite of what I wanted to do today." Enduring this movie, we can relate.
A live-action version of the animated Hanna-Barbera series that has been running on TV since 1969,
Scooby-Doo
is loud, garish-looking, sloppily plotted, witless and relentless. An example: Shaggy and the speech-impeded talking pooch compete against each other in both belching and breaking-wind contests. The best thing about
Scooby
is its 85-minute length, but even that seems endless.
The haphazard plot has Shaggy, self-important Fred (Prinze Jr.), glamorous Daphne (Gellar) and brainy Velma (Cardellini) heading to an amusement park to figure out why its patrons are turning into zombies. Each actor has his or her moment, with Lillard's annoying Shaggy getting too many of them and Cardellini—the sharpest of the four—too few. Only when the digitally created Scooby is dominating the action does the film, briefly, amuse. (PG)
Bottom Line: Scooby Don't
Bored with his G.I. Joe dolls at the tender age of 3,
Tom Cruise
craved some real action but soon found himself flat on the ground, eyes wide shut. "I tore the sheets off my bed, tied them around me and jumped" off the garage roof, says Cruise, who turns 40 July 3. "I knocked myself out."
The lesson? To be an adrenaline junkie and remain alive, one needs gazillion-dollar special effects. "We had cable stunts and some other crazy things," Cruise says of his futuristic thriller
Minority Report
. Ironically, "where you get injured is tripping down the stairs" of your own trailer.
Or playing with your kids. (Cruise once dislocated a finger on a playground.) "I see the things my son does and I go, 'That's really good. But we're going to do it safely, okay?' " he says. "I try to have that patience."
It's part of being a divorced dad. His split with
Nicole Kidman
, 35, last year "was the toughest time in my life," says Cruise, who shares custody of Connor, 7, and Isabella, 9. Still, "I don't have any regrets."
Not when he has Penélope Cruz, 28, whom Cruise praises for her "real sweetness, intelligence." As for rumors of a wedding, he scoffs at tabloid reports. "It's '
Tom Cruise
is getting married,' " he says. "And in small print, 'But he denies it.' It's ridiculous."
The Dangerous Lives of Altar Boys
Jodie Foster stomps grumpily about as a nasty Catholic-school nun who torments four comic-book-loving teen boys in this predictable coming-of-age tale. Kieran Culkin (younger brother of Macaulay) is particularly memorable as the smartest of the youths. (R)
Divine Secrets of the Ya-Ya Sisterhood
A mother (Ellen Burstyn) and daughter (
Sandra Bullock
) bicker in a southern-fried comedy drama. It's equal parts amusing and annoying. (PG-13)
The Emperor's New Clothes
Employing the what-if historical premise that a deposed Napoleon escaped captivity and made it safely back to Paris, disguised as a commoner, this charming comedy allows brilliant English actor Ian Holm to give one of his finest, and funniest, performances. (PG)
Contributors:
K.C. Baker,
Alexis Chiu.
Advertisement
Today's Photos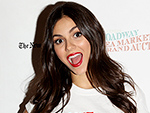 Treat Yourself! 4 Preview Issues
The most buzzed about stars this minute!