People Top 5
LAST UPDATE: Tuesday February 10, 2015 01:10PM EST
PEOPLE Top 5 are the most-viewed stories on the site over the past three days, updated every 60 minutes
Picks and Pans Main: Tube
Talking With...David James Elliott
The Rerun Show
NBC (Tuesdays; check listings)
Meet My Folks
NBC (Wednesdays, 8 p.m. ET)
This is disorienting. Watch
The Rerun Show
and you'll think you mistakenly tuned in Nick at Nite. Try
Meet My Folks
and you'll be saying, "Strange, I don't remember renting that
Meet the Parents
movie."
Rerun
(airing Aug. 6, 13 and 20) offers reenactments of episodes from sitcoms like
The Facts of Life
and
Diff'rent Strokes
, but the casting and direction add irreverence and ribaldry to the original scripts. Mrs. Garrett of
Facts
is played by a guy (Paul Vogt) in housemother drag, while
Strokes
' avuncular Mr. Drummond (Mitch Silpa) now has a hint of the dirty old man. Though the humor is often crude and the cast tries too hard, some laughs are assured.
In
Folks
(on a six-week run till Aug. 28), three bachelors vie for a Hawaiian getaway with a single woman--and her parents pick the winner. (Each episode of the reality series brings a new set of players.) There's a lie-detector test to flush out the suitors' dirty secrets, but a polygraph is pointless here. Everyone involved--including the stern papas--seems to be faking it.
Bottom Line: Better a
Rerun
than low-class reality
Meet the Marks
FOX (Wednesdays, 8:30 p.m. ET)
30 Seconds to Fame
FOX (Wednesdays, 8 p.m. ET)
Something surely smells about
30 Seconds to Fame
, a fast-paced talent contest whose mid-July debut featured such novelty acts as a "nasal flautist" and a "nose dancer." But it's fragrant fare compared to
Meet the Marks
, which follows
Fame
on Wednesdays through August.
FOX describes
Marks
as "a scripted sitcom melded with the reality genre." But who needs a meld minus laughs? The idea is to lure a civilian into a house filled with improv actors and hidden cameras. The pros play a made-up scene designed to embarrass the victim, keeping him or her in the dark as long as possible. In the premiere, a real-life computer instructor walked in to find the man of the house frolicking with a half-dressed woman not his wife. The woman persuaded the sucker to pose as her boyfriend in a desperate attempt to fool her lover's missus, who was just arriving home. So the poor guy did his part by saying little and looking uncomfortable. In a follow-up interview he admitted he was relieved to "get the hell out of there." I could relate.
Fame
is your basic
Gong Show
, where each act has a half-minute to shine or be hooted off the stage by the studio audience. It's fair to assume some entrants are awful on purpose--like the "rappin' granny" with her lyric about constipation--but I dug that dude who tangoed with himself.
Bottom Line: Not a pretty pair Showtime (Mon., Aug. 12, 8 p.m. ET)
Show of the week




Why in the world is Showtime airing a performance by Company of Fools, a nonprofit theater group in Hailey, Idaho? Foolish question. Hollywood luminary
Bruce Willis
is a member of the company's board and starred in its sturdy production of Sam Shepard's play about two warring brothers.
Taped in July 2001, this
True West
(directed for the stage by Willis and for TV by Gary Halvorson) is more than a vanity project. Willis is both menacing and funny as the drifter Lee, and Chad Smith (not a big name outside Hailey) holds his own as Austin, the intimidated screenwriter.
Bottom Line: Truth comes out
Sunday, Aug. 11 EAVESDROPPING WITH ALAN CUMMING Oxygen (10:30 p.m. ET) The Tony-winning actor (
Cabaret
) dishes with
Gwyneth Paltrow
in an interview special.
Monday, Aug. 12 DISMISSED MTV (4 p.m. ET) Singles double their pleasure with two dates at once in the series' third-season premiere.
Tuesday, Aug. 13 WILD ON WANTS YOU E!(10p.m. ET) From the Windy City to the Indy 500, the travel show searches the Midwest for a new host.
Wednesday, Aug. 14 BAADASSSSS CINEMA IFC(10 p.m. ET) This documentary on 70s "blaxploitation" is talkin' 'bout Shaft, Superfly and the like.
Thursday, Aug. 15 LIFE 360 PBS (10 p.m. ET) A sibling-themed hour includes a look at brothers and sisters of Columbine massacre victims.
Friday, Aug. 16 ELVIS MARATHON TCM(10 a.m. ET) Are we all shook up yet? Spinout starts 24 hours of King flicks.
Saturday, Aug. 17 JAZZFEST 2002 Trio (12 noon ET) Host India.Arie serves a big helping of the New Orleans Jazz and Heritage Festival, from Counting Crows to Ellis Marsalis.
After seven years on the CBS military drama
JAG
, David James Elliott knows better than to meet a potential enemy unprepared. So when the actor was invited to don a wet suit and go swimming with great white sharks to kick off Discovery Channel's Celebrity Shark Week (beginning Aug. 11), he made sure to go in with a plan. "I wanted to know what to do if one charged at me," says Elliott, 41, an avid scuba diver. Host Nigel Marven gave Elliott the answer: Carry a metal pipe and poke any shark that gets too close. "They feel how hard the pipe is and move away," says Elliott. "You just don't want them to feel how soft you are."
Fortunately, Elliott managed to keep the sharks at bay. And he says the experience gave him a new appreciation for the toothy beasts—"Sharks are not the wanton mass murderers they're made out to be; they're unpredictable and wary [but] they don't attack out of the blue"—as well as some great fish stories to tell back on the set. "One was about 20 feet long and 5 or 6 feet wide," he boasts. "They look like submarines with teeth."
Lorenzo Benet
Advertisement
Today's Photos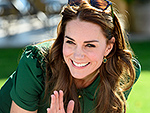 Treat Yourself! 4 Preview Issues
The most buzzed about stars this minute!