People Top 5
LAST UPDATE: Tuesday February 10, 2015 01:10PM EST
PEOPLE Top 5 are the most-viewed stories on the site over the past three days, updated every 60 minutes
Idol Thoughts
So Who Should Take the Top Prize—a Recording Contract—on FOX's Kitschy-Cool Talent Countdown American Idol? With Seven Finalists Left at Press Time, PEOPLE Asked Six Pop Stars Who Know, Firsthand, About Competition, Adoring Fans and the Sudden Rocket Ride of Fame
Griggs: "She came out like she was Tina Turner. I thought, 'Oh, I'm ready to see this!' And she did good. I give her a 99 on her voice."
Tiffany: "Lots of energy. Lots of fun. Very confident with her voice. I'd sign her."
Gibson: "She is in my top three. Beautiful, stylish and confident—this girl is the
American Idol
personified."
Wood: "She'll get signed. She sang flat in some places, but who doesn't?"
Gaynor: "No. Nope. I'd love to have her come sing at my birthday party, you know, with family and friends. But I wouldn't pay to hear her."
Justin Guarini, 23
Tiffany: "Wow! He's gorgeous. And a good showman. He's full of life. I would sign him to a recording contract. He's ready."
Griggs: "He knows how to work the crowd and smile at the camera and smile at the girls, but I wasn't impressed at all by his singing."
Cassidy: "Given the environment with the girls and the screaming—something I can easily relate to—I thought he was a natural. I loved his confidence, his stance. He could be a star."
Gibson: "Since day one he has been the standout. You can visualize him hangin' backstage at the MTV Awards with J.Lo and Janet."
Nikki McKibbin, 23
Gaynor: "She certainly doesn't have much of a range. Funky style, though."
Wood: "Too many flat notes."
Cassidy: "She reminded me of a bad '80s act. She's not going to be a star, and she's shaking her hips too much. I could see her singing in a lounge."
Tiffany: "I like her tongue ring."
Griggs: "I don't sense her as a singing star—more like a great cheerleader. If this were a pep rally, I'd vote for her."
Ryan Starr, 19
Gibson: "She's trying too hard to be hip. Great style and a torso to die for—but we already have Britney for that."
Wood: "She has that rocker thing going, but I don't see a whole lot more."
Gaynor: "Ryan wasn't really working the audience, she was working herself."
Griggs: "This girl walked out like she owned the place, and I was ready to be blown away. But I wasn't. With a name like that, you better be able to sing your butt off."
Cassidy: "She's dreadful. Beautiful girl, but not authentic. She could be on
Baywatch
."
RJ Helton, 21
Gaynor: "He has charisma. Those young girls are going to eat him alive."
Griggs: "There was something about him I couldn't take seriously. I think it's that he's trying to follow the path of 'N Sync. It's already been done."
Cassidy: "He looked like he was really enjoying himself, and he has a great smile."
Gibson: "The voice is smooth and pleasant, but at the moment he's more theme park than Grammy Awards."
Kelly Clarkson
, 20
Wood: "Whoa! She's awesome."
Griggs: "The only one I'd give an A to all around. She hit vocal licks no one else hit."
Cassidy: "A stone star. She sounds like she's been singing professionally for years."
Tiffany: "I love her soul, the texture of her voice. She can give you chills. My favorite."
Christina Christian, 21
Griggs: "Everything about her was an almost but not a star. She's the coolest dresser. But her voice wasn't up to par with the outfit."
Tiffany: "She's off-key a lot."
Wood: "She just isn't there. She definitely has some problems with her tuning."
Gaynor: "Sharp notes, flat notes and no stage presence—but gorgeous. I think you should be a model, honey."
Tamyra Gray, 23
Advertisement
Today's Photos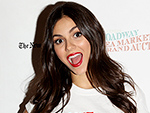 Treat Yourself! 4 Preview Issues
The most buzzed about stars this minute!