People Top 5
LAST UPDATE: Tuesday February 10, 2015 01:10PM EST
PEOPLE Top 5 are the most-viewed stories on the site over the past three days, updated every 60 minutes

"For every year you live, you should get to erase one bad boyfriend from your memory," says Caroline Rhea, 38, whose new syndicated morning gabfest, The Caroline Rhea Show, debuts Sept. 2. "They should be gone just as a prize for aging." Is there one particular memory that the actress-comedian, who has been happily engaged to events planner Bob Kelty since 1999, would like to obliterate? "Well, I was on a date with this guy that I had a total crush on, and I had just seen Gloria Steinem speak that day, so I was feeling empowered," says Rhea. "He would not kiss me, and I said, 'Gloria Steinem said go for what you want and do what you want to do!' So I jumped on him and kissed him, and he literally threw me off. He was like, 'Who is Gloria Steinem?' "

Leg Work
After divvying up her days between Good Morning America and Primetime Thursday, Diane Sawyer crashes as soon as she gets home, right? Not so. "I don't sleep much," says Sawyer, 56, who lives in New York City with her husband, writer-director Mike Nichols. "I watch a lot of infomercials. I have every variation of home-leg-waxing equipment it's possible to have, and not one of them has ever worked," the newswoman says. "I was a walking lint collector because I could never get the sticky stuff off my legs."

Saturday Night Special
Rapper-actor Ice Cube plays a small-business owner who is expecting his first child in the comedy Barbershop, opening Sept. 13. As the father of four kids ranging in age from 2 to 15, Cube, 33, says that his parenting technique is less strict than you might expect, given his tough-guy image. "You've got to be soft with your kids," he says. "As long as they're doing the right thing, I let them have a long leash. My house is pretty kicked-back." He says that his children aren't exactly a chip off the old Cube. "They don't understand all the stuff that I love, which is the NFL, NBA, Cops and World's Scariest Police Chases," says Cube, who admits to another guilty pleasure that might surprise his fans. "You know, I dig that Saturday Night Fever album. The Bee Gees are dope! Sometimes I whip that out. I don't bust out with any dance moves though."

The Write Stuff
His second novel, Ash Wednesday, hasn't received the warmest reception from critics, but Ethan Hawke isn't fazed. The actor turned scribe learned to cope with the highs and lows of the entertainment biz a long time ago. "I did my first movie, Explorers, when I was 15," says Hawke, 31, who begins filming the historical drama The Alamo next year. "I was the lead. I was walking around school all cocky, thinking I was this big movie star, a big shot." However, his ego was quickly deflated. "The movie tanked, and I became the butt of a lot of jokes. I even used to have nightmares that they remade the film without me, and it did fantastic."

Mood Music
Erika Christensen (Traffic), who plays a stalker in the new thriller Swimfan, needed a little Motown mojo to help her get through her racy underwater love scenes with costar Jesse Bradford. "I was nervous, so I took my Marvin Gaye CD to the sound department and said, 'Please, please, please, would you play "Let's Get It On"?' " says Christensen, 20. "I knew it was coming, but I didn't know when. And in the middle of the take, they played the opening riff, dun-dun-dun-duu-unh." But while the languorous beat helped her get in the mood, it didn't have the same effect on her costar. "I kept trying to kiss Jesse, and he said, 'Stop it! I'm laughing, I can't do this right now.' "


Expiration Dates
Advertisement
Today's Photos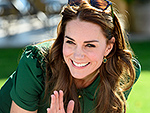 Treat Yourself! 4 Preview Issues
The most buzzed about stars this minute!