People Top 5
LAST UPDATE: Tuesday February 10, 2015 01:10PM EST
PEOPLE Top 5 are the most-viewed stories on the site over the past three days, updated every 60 minutes
Picks and Pans Main: Tube
Talking With...Patricia Richardson
2002 Emmy Picks
You don't always have to stay up way past prime time to catch Conan O'Brien. He's host of the 54th annual Emmy Awards on NBC (Sun., Sept. 22, 8 p.m. ET). Here's who the winners would be if we ruled the TV world.
CSI
(CBS)
Law & Order
(NBC)
Six Feet Under
(HBO)




24
(FOX)
The West Wing
(NBC)
With
The Sopranos
out of the picture–ineligible because it didn't air during the 2001-02 season–this category is a tough call. But
Six Feet Under
, HBO's moody and addictive second-year show about a family-owned funeral home, earns our nod for digging ever deeper into its complex characters.
Curb Your Enthusiasm
(HBO)
Everybody Loves Raymond
(CBS)




Friends
(NBC)
Sex and the City
(HBO)
Will & Grace
(NBC)
We love the hilariously ornery attitude of
Curb Your Enthusiasm
but...well, maybe next year.
Everybody Loves Raymond
still hasn't received the top Emmy despite six seasons of well-crafted, character-based comedy. Honorable mention to
Friends
for getting a second wind in its eighth season.
Michael Chiklis
,
The Shield
(FX)




Michael C. Hall
,
Six Feet Under
(HBO)
Peter Krause
,
Six Feet Under
(HBO)
Martin Sheen
,
The West Wing
(NBC)
Kiefer Sutherland
,
24
(FOX)
While we wouldn't mind at all if Sheen's third
West Wing
nomination brought him his first win in this category, we're backing Chiklis for his supercharged performance as a rogue cop with a bullet head, a nasty gleam in his eye and a soft spot for his family. It's the showiest part in this first-year series, and he plays it full-out.
Amy Brenneman
,
Judging Amy
(CBS)
Frances Conroy
,
Six Feet Under
(HBO)




Jennifer Garner"
,
Alias
(ABC)
Rachel Griffiths
,
Six Feet Under
(HBO)
Allison Janney
,
The West Wing
(NBC)
Known primarily for stage work before
Six Feet Under
, Conroy is superb as a mother who's a bundle of contradictions–generous and withholding, timid and impulsive, malleable and stubborn. Castmate Griffiths runs a close second, playing a cynical sex addict whose depressive side is strangely seductive.
COMEDY SERIES LEAD ACTOR
Kelsey Grammer
,
Frasier
(NBC)
Matt LeBlanc
,
Friends
(NBC)
Bernie Mac
,
The Bernie Mac Show
(FOX)
Matthew Perry
,
Friends
(NBC)
Ray Romano
,
Everybody Loves Raymond
(CBS)




For first-class comic delivery and continued growth as a stand-up performer turned ensemble actor, Romano richly deserves to break through on his fourth nomination in this category. Mac, also from a stand-up background, made a strikingly confident sitcom debut. He may move to the front of the line next year.
Jennifer Aniston"
,
Friends
(NBC)
Patricia Heaton
,
Everybody Loves Raymond
(CBS)
Jane Kaczmarek
,
Malcolm in the Middle
(FOX)




Debra Messing
,
Will & Grace
(NBC)
Sarah Jessica Parker"
,
Sex and the City
(HBO)
Parker and Kaczmarek are pregnant in real life and both are due–for an Emmy. The
Sex
star's charm is her show's biggest asset, but we'll go with third-time nominee Kaczmarek for embodying tough love as a blunt-speaking mother of four. Then again, we wouldn't complain if Heaton made it three straight wins.
WB (Mondays, 9 p.m. ET)
Some guys can't seem to learn, even if they are medical geniuses.
The Sept. 16 opener of this soapy drama quickly establishes that the renowned Dr. Andrew Brown (Treat Williams) concentrates on neurosurgery while neglecting his wife and two children. After his spouse is killed in a car crash, the guilt-ridden doc decides to quit New York City and move the family to Everwood, Colo., where he pictures himself as a caring parent and selfless general practitioner. Unfortunately Brown fails to consult his sullen 15-year old son Ephram (Gregory Smith) on the relocation, and this oversight leads to simmering resentment followed by a screaming fight.
So what does altruistic Dr. Brown do in the second episode? Throws himself into his new no-fee practice and gives his kids short shrift. Result: Ephram tells him off again. Dad had better smarten up soon because this routine gets old fast.
Williams is likable even when his character isn't rational. (Would you trust a doctor who talked to his dead wife?) There's amusing friction between newcomer Brown and supercilious Dr. Abbott (Tom Amandes), who calls himself "Everwood's primary care physician." But the writers have to go and push it: Ephram falls for Abbott's daughter (Emily VanCamp), and the rival doctor's salty mother (Debra Mooney) enlists as Brown's nurse.
Bottom Line: Treacly but tolerable
FOX (Wednesdays, 9 p.m. ET)
You Cannot Be Serious
isn't just the title of John McEnroe's memoir. It's my reaction to the Sept. 18 debut of this hyperactive cop show. Ex-
Beverly Hills, 90210
vixen Tiffani Thiessen is incongruously cast as Billie, a tough police officer who says, "I know what it's like—outmanned, outgunned and out there." If this is tongue-in-cheek, it's bad. If it's on the level, it's terrible.
Billie bosses a pair of undercover operatives named Van (Peter Facinelli) and Deaq (Bill Bellamy). She chooses Van for the secret unit because he's blessed with "a face that can get past the rope and a body good to go all night." The pilot, directed by McG (
Charlie's Angels
), contains so many fast cuts that your eyelids will still be twitching during the late news. Luckily he sets aside a few seconds for Van to have hot sex with a suspect.
Bottom Line: Exit-only lane
Sunday, Sept. 22
COUNTDOWN TO THE EMMYS
NBC (7p.m. ET)
Today
's Katie Couric and Matt Lauer work the red carpet in a preawards special.
Monday, Sept. 23
CSI: MIAMI
CBS (10 p.m. ET)
David Caruso sifts the gory evidence in this spinoff's debut.
Tuesday, Sept. 24
FRASIER
NBC (9 p.m. ET)
Niles and Daphne tie the knot but can't tell the world about it in the 10th season premiere.
Wednesday, Sept. 25
THE BACHELOR
ABC (9 p.m. ET)
Another fortunate man gets his pick of 25 women as the reality hit returns.
Thursday, Sept. 26
FRIENDS
NBC (8 p.m. ET)
Confusion reigns in the ninth season opener, as Phoebe assumes Ross, not Joey, proposed to new mother Rachel.
Friday, Sept. 27
HACK
CBS (9 p.m. ET)
David Morse is an ex-cop turned cabbie in a drama premiere that costars Andre Braugher.
Saturday, Sept. 28
FANTASTIC VOYAGE
History Channel (8 p.m. ET)
Beam yourself up for a two-hour history of science fiction, from Mary Shelley to William Shatner.
Supporting Actress, Comedy Series
Cynthia Nixon,
Sex and the City
(HBO)
Supporting Actor, Comedy Series
Peter Boyle,
Everybody Loves Raymond
(CBS)
Supporting Actress, Drama Series
Lauren Ambrose,
Six Feet Under
(HBO)
Supporting Actor, Drama Series
John Spencer,
The West Wing
(NBC)
Movie
Path to War
(HBO)
Miniseries
Band of Brothers
(HBO)
Lead Actor, Miniseries or Movie
Albert Finney,
The Gathering Storm
(HBO)
Lead Actress, Miniseries or Movie
Blythe Banner,
We Were the Mulvaneys
(Lifetime)
Variety, Music or Comedy Series
Late Show with David Letterman
(CBS)
Patricia Richardson didn't need to do a lot of research to prepare for her new role as former Army doctor Andy Campbell on Lifetime's
Strong Medicine
. For one thing, she grew up with an armed-forces background. "My father was a Navy fighter pilot, so I'm familiar with the way military people think," says the former
Home Improvement
star. Also, Richardson has spent an inordinate amount of time in hospitals over the past few years, tending to her parents. "My mother had three hip surgeries and a hand surgery, and my father had back, hip, knee and open-heart surgery," says Richardson, 51, who lives in L.A. with her psychologist boyfriend Mark Cline and her children from a previous marriage (Henry, 17, and twins Joe and Roxie, 11). "I feel like I know the name of every medication."
Although her parents are still battling health ordeals, Richardson has found time to focus on her career. "I really missed working," says Richardson, who's acted sporadically since
Home Improvement
went off the air in 1999. Not that she had trouble getting back into the swing of things; after all, when you move 11 times as a kid, you pick up tricks on adapting. "You have to befriend the girls right away," she says. "You can't afford to let them think you're out to steal their boyfriends."
Contributors:
Amy Bonawitz.
Advertisement
Today's Photos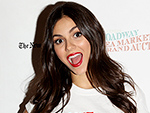 Treat Yourself! 4 Preview Issues
The most buzzed about stars this minute!