People Top 5
LAST UPDATE: Tuesday February 10, 2015 01:10PM EST
PEOPLE Top 5 are the most-viewed stories on the site over the past three days, updated every 60 minutes
The War of the Rosies
Cutie Patootie? Out-of-Control Boss? A Business Fracas Puts Rosie O'Donnell Under a Microscope
Rosie O'Donnell
. Instead, the ex-talk show queen turned to '80s rocker Boy George—or rather, former Boy George backup singer Helen Terry—for inspiration. "She had this exact haircut," O'Donnell says of her shorn, skater-punk look, which she chose as a way of convincing George that she was hip enough to produce his risqué London stage show Taboo on Broadway. "The first time I met him I said, 'I loved the show,' and he said, 'Really? [But] you are so suburban!' So when I went back to see him I had this new haircut, because I wanted him to see that I am not that suburban."
Maybe, as George might put it, O'Donnell is just a "Karma Chameleon." Her actions during the past six months have left many—including business partners, colleagues and some fans—wondering what she's up to. A lot has happened: In March she declared publicly that she is gay. Two months later she quit her six-year-old TV talk show, saying she wanted to spend more time with her family. In June, while performing stand-up at the Mohegan Sun Casino, the woman once known as the Queen of Nice proclaimed herself "a bitch who ain't so nice and just a big-mouthed fat lesbian," peppered her jokes with expletives and took shots at Michael Jackson ("he's a freak") and Bill Clinton ("he disgusts me"). On Sept. 18 she announced she was ditching her 16-month-old magazine,
Rosie
, after months of fighting with her publisher, Gruner + Jahr USA, and amid accusations that she had screamed abuse at her staff. "If I'm going to have my name and my brand on the corner of a magazine, it has to be my vision," says O'Donnell, 40. "They [G + J] tried to say it no longer could be."
While no one from Gruner + Jahr would comment on the record for this story, the company's marketing officer Cindy Spengler issued a stinging statement in the wake of O'Donnell's announcement. "She has walked away from her television show, her brand, her public personality, her civility—and now her fans, the advertising community, her business partner and her contractual responsibilities," the statement declared. G + J says it stands to lose upward of $100 million and may sue the star for damages. As an example of just how bitter the dispute had become, one passage in a 40-page legal complaint drafted by G + J alleges that O'Donnell told a female manager who was a cancer survivor, "You know what happens to people who lie? They get cancer." O'Donnell, who lost her mother to breast cancer in 1973, has campaigned for a cure and written a book on the disease. And while she admits yelling at the manager, she calls the cancer allegation "absurd." Did she blow her top in the office? Sure, she says, but only with top executives. "I am never," she says, "abusive to my staff."
As tensions increased over the summer, O'Donnell put off plans to spend more time in the office, working mostly by telephone and e-mail. In the four months since she left the TV show, she says she has devoted much of her time to such domestic pursuits as planning birthday parties and driving carpool for her three children—-Parker, 7, Chelsea, 5, and Blake, 2½—and tending to her pregnant partner, Kelli Carpenter, 35, who is expecting the couple's daughter in December. "Chelsea said to me, 'Mommy? It's better when you have no job.' I said, 'You are right, honey, it is,'" she says. Even so, "I'm not Suzie Homemaker going, 'I quit my job and show business is horrible and screw the masses.'"
Celebrity soccer mom? Foulmouthed comedian? Boss from hell? Will the real Rosie please stand up? "I have not had a personality change," insists O'Donnell, barefoot and sipping Diet Coke in a hotel room in L.A., where she is spending a weekend. "I don't think that anything I've done recently is inconsistent with what I have done my whole life." To those who have difficulty reconciling her post-TV headlines with the cheery talk show
Rosie
(who earned an estimated $25 million a year), she points out that the show "was afternoon, families, Merv Griffin. That doesn't mean I had a Dr. Jekyll and Mr. Hyde side that I was hiding." And although she has publicly discussed her battle with depression—notably in a
Rosie
cover story last year—she says that, in fact, her condition has improved in recent months. "I'm happy to say that my medicine has been greatly reduced since leaving the show," O'Donnell says. "I will probably need medication for a while, if not forever. But I am not different on it. The thing that's different is that the gray veil that surrounded me was lifted, and life once again was Technicolor."
Carpenter, she says, has also helped. "She is a gift in my life," says O'Donnell, who threatened to sue
The National Enquirer
after the tabloid claimed they were breaking up. "We have not now, nor have we ever considered, nor will we, break up," she says. "I know public figures aren't supposed to say that because, well, what will happen if we do? But I am telling you, inside my heart, I know this to be true."
As O'Donnell tells it, she has needed Carpenter's support more than ever during her fight with Gruner + Jahr, a division of Bertelsmann AG. Initially, O'Donnell says, she rejected the idea of her own magazine, until she saw how it had worked for
Oprah
Winfrey. Then G + J approached her to buy into the flagging
McCall's
magazine, and turn it into
Rosie
. O'Donnell says she made it clear from the outset that she planned to come out, quit her TV show and join a Florida lawsuit fighting for gay adoptions.
But from
Rosie
's first issue in May 2001, O'Donnell clashed with G + J CEO Dan Brewster and his staff—in part because her ideas went against conventional wisdom about what sells magazines. She wanted celebrities on the cover who had something to say even if they were out of the public eye, like her friend Fran Drescher, who has survived cancer, and Christopher Reeve, whom she found personally inspiring (she got Drescher on the first cover; editors balked at Reeve). She wanted social issues she believed in, like adoption, to appear as regular features. She also fought for stories that showcased friends and relatives, like the wedding of Carpenter's stepsister Heidi Safer. "I wanted a magazine that celebrates real women," she says, "that understands that they care about more than their waistline or the latest makeup styles or fashions, that they want to be relevant and help each other and care about the world, that they are smart enough to tackle issues in society that women's magazines think they are too stupid for."
After an initial spike, newsstand sales declined from 875,000 to 300,000. And although many of O'Donnell's ideas sold well—including a July '01 cover story about her staph infection—"sometimes," says one insider, "Rosie would push for covers that weren't good." (Her suggestion of Boy George was rejected.) The acrimony between O'Donnell and Brewster continued to build, reaching a head in July, when the magazine's founding editor, Cathy Cavender, was replaced by Susan Toepfer (a former editor at PEOPLE).
"They got into an absolutely terrible wrangle," a
Rosie
source says of O'Donnell, Toepfer and Brewster. O'Donnell admits screaming at Toepfer via speakerphone on her third day because the editor wanted Rosie to appear with the stars of
The Sopranos
on the cover, and O'Donnell wasn't interested. "She said, 'Fact is, it will sell more with you on the cover.' Fact is, when I am mad, I am mad," recalls O'Donnell, who says she never wanted to appear on covers but was persuaded to by G + J.
Brewster called a meeting and told the staff that Toepfer was in charge of the day-to-day running of the magazine, not Rosie. O'Donnell was incensed, all the more because the meeting was held in her personal office while she was away. "Unfortunately, it escalated, and I yelled at the CEO," O'Donnell says. "I told him this was not the deal we made. I said, 'This is America. You don't own my name.'" On another occasion, insiders say O'Donnell warned staffers, "If there is one more leak to the press, then Rosie is through. All of this affects you a lot more than it affects me. I'm already a f———millionaire." (O'Donnell says she wasn't threatening—or bragging—just pointing out what was at stake.)
Back in her early stand-up days in the mid-1980s, O'Donnell "was always trying to do nice things for people," says longtime friend and comedy-club manager Louis Faranda. "If there was a comic that wasn't getting stage time, she'd tell somebody to put this comic on." On her TV show, though, O'Donnell was notoriously tough to work with. She went through a string of different producers during her six-year tenure on
The Rosie O'Donnell Show
, where "she was known to be very, very difficult," says a source. "But she did things like fight to give her staff incredibly long vacations each summer, which is not the norm in television. So they were very loyal." (Upon announcing her withdrawal from the magazine, O'Donnell dispersed $10,000 checks to more than 30 loyal
Rosie
staffers.)
"Look, Rosie is no shrinking violet," says Jim Paratore, president of Telepictures Productions (part of AOL Time Warner, the parent company of PEOPLE), which produced the
Rosie
show. "She's very demanding of herself and everyone around her. But at the same time she was never anything but a pro. Did we agree on everything? Absolutely not. But was it always a conversation? Did you get to have your voice heard? Absolutely."
O'Donnell knows she's hard work. "What I said to my [TV staff] when we left is, 'I pushed you really hard. But I hope you've raised the level for yourself and that you will jump higher.'" She also knows that fame has allowed her certain privileges. "If you accept being sanctified," she says, "you have to accept being vilified." For the record, O'Donnell says she is happy to walk away from her initial $6 million investment in
Rosie
magazine if it means reclaiming her brand name. "And if a judge decides I owe [G + J] every cent I ever made?" asks O'Donnell. "I'll give it to them. Because I know I am telling the truth."
Has Rosie changed? Not a bit, say her friends. She of the new short haircut—and perhaps even shorter temper—is the same Rosie who shops at Target, rides her Harley-Davidson Sportster to Miami's 11th Street Diner for pita pockets and Diet Coke and leaves the waiters oversize tips; the same angry and articulate political activist who berates politicians in a quest to legalize gay adoption; the same money-spinning icon whose Barbie Doll replica has raked in millions for Mattel but who has given $7.6 million of her own estimated $100 million-plus fortune to charity—including more than $2 million donated to 9/11 causes. "Ro is who she always has been," says her lifelong friend Jackie Ellard. "The TV show was the least of her. Not that she's not funny and generous and always for the underdog. But interviewing celebrities—that's so not her."
So what now? With the magazine behind her, O'Donnell plans to spend more time at her family's five-bedroom home in Nyack, N.Y. She is selling her Manhattan townhouse and is even considering selling her $6.75 million retreat in Miami Beach, to simplify. "One home," she says, "where the kids each have one bike, where they ride Big Wheels and go to block parties." There's the birth of the next baby (conceived by artificial insemination with sperm from an anonymous donor) to look forward to.
And to keep busy, there's always her obsession with Broadway: O'Donnell has already seen the hit revival of
Hairspray
four times, and she's looking for theaters to stage Boy George's show. Despite the bad press, and although it is likely that G + J will pursue a lawsuit against her for financial losses, O'Donnell says she is at peace with herself, her decisions and her behavior. The day she announced her withdrawal from the magazine, "I put on the
Hairspray
CD," she recalls, "and I waited backstage with it blasting. Then I read my statement and went home. That afternoon, when I picked up my kids and we stopped for ice cream, was the happiest I felt in four years."
Michelle Tauber
Cynthia Wang in Los Angeles, Mark Dagostino, Lynda Wright and Liza Hamm in New York City, Linda Trischitta in Miami and Tom Duffy in Boston
Contributors:
Cynthia Wang,
Mark Dagostino,
Lynda Wright,
Liza Hamm,
Linda Trischitta,
Tom Duffy.
Advertisement
Today's Photos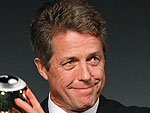 Treat Yourself! 4 Preview Issues
The most buzzed about stars this minute!