On Newsstands Now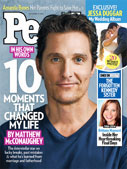 Matthew McConaughey: In His Own Words

Jessa Duggar's Wedding Album

Brittany Maynard's Final Days
Pick up your copy on newsstands
Click here for instant access to the Digital Magazine
People Top 5
LAST UPDATE: Tuesday February 10, 2015 01:10PM EST
PEOPLE Top 5 are the most-viewed stories on the site over the past three days, updated every 60 minutes
Every Reason to Smile
Ten Months After Her Baby's Premature Birth, a Transformed Faith Hill Returns to Her Music
Faith Hill
apologizes for being late. The country-pop diva has a full day ahead of her: interviews to promote her new CD,
Cry
, in the morning; a photo shoot in the afternoon; then the dress rehearsal for her
Saturday Night Live
debut. First, though, she had more important business to tend to: dropping off daughters Gracie, 5, and Maggie, 4, at the makeshift classroom their tutor has set up in another part of the hotel. When Mom tours, the girls get their education on the road, with the tutor guiding them through lessons and field trips. "It's a traveling school circus," says Hill, dressed in purple velour sweats and no makeup, her hair still damp from the shower. "In London they saw every palace and can tell us about all of the queens and which ones got their heads chopped off."
At 35, Hill is a country queen who has her head decidedly screwed on. Following a two-year break, she's back with her first new CD since the multiplatinum
Breathe
and an NBC concert special airing Thanksgiving Day. Her favorite gig, though, is playing Mom to Gracie, Maggie and, most recently. Audrey Caroline, 10 months. "Faith," says her friend and girlhood idol Reba McEntire, "has the balance down pat. She does a great job with her girls and her career." Says singer
Kenny Chesney
, another pal: "It's always baffled me how normal that girl is and how big a star she can be. She switches gears very well."
It's a skill she learned the hard way. A perfectionist who thrives on being in control, Hill found herself facing some of the most frightening moments of her life last Dec. 6. Seven months pregnant, she had turned up for a routine appointment with her Nashville obstetrician to discover that her amniotic fluid was dangerously low. "He said my fluid had just gone," says Hill. "My placenta had stopped working. I didn't know. The biggest sign would've been if I didn't feel the baby moving. But the baby wasn't still."
The doctor told Hill the baby needed to be delivered immediately by emergency C-section at nearby Baptist Hospital. Hill phoned
Tim McGraw
, who was Christmas shopping. "He was there in 10 minutes," she says. While the couple headed to the hospital, staffers picked up Gracie and Maggie at school and Faith and Tim's parents came into town to help however they could. "Everybody just took over, rose to the occasion," she says. Having earlier downplayed reports of Audrey's "fight for life," Hill now admits, "It was an emergency. We didn't know what the outcome was going to be. It was frightening; it was alarming. We said a lot of prayers."
At 4:39 p.m. Audrey arrived—eight weeks early, weighing 3 lbs. 11 oz. "She came out screaming loud," says Hill. "She had this big old mouth on her—this girl was nothing but mouth because she was so little." McGraw, 35, was in the room for the delivery and held the baby briefly before handing her off to hospital staffers, who whisked her into the neonatal intensive care unit. "The toughest thing was seeing her in her little Isolette," he says. "Not being able to feed her and seeing her lose a little weight."
The newborn was 17 in. long—"That's tiny," says Hill, "when you see that up against a baby who's 21 in."—and her parents had to wear latex gloves to touch her because of the high risk of infection. "Her lungs were not developed," says Hill. "Her vitals, everything worked, everything was moving, but it was miniaturized. I'd stick my finger in the Isolette and my first knuckle would be her entire hand."
Audrey spent her first three weeks in the hospital. Initially Hill and McGraw stayed there as well before moving into a hotel across the street. They visited every three hours. "I couldn't hold her for the first few days," says Hill. "That was the hardest thing I ever had to do in my life." She fed Audrey her own breast milk stored in "these little bitty bottles." Lots of bottles. "I had a supply in the freezer for the entire city of Nashville. It was comical around the hospital. But Audrey was totally on my milk and did amazing."
The baby came home on Christmas Eve, and doctors expect her to suffer no long-term effects from her premature birth. As Audrey's first birthday nears, says Hill, the baby, now weighing in at 20 lbs., "is fat and happy, perfectly normal, though not quite up to the size and weight she should be."
Hill is finally down to the size and weight she likes to be—thanks to months of yoga and four-mile treadmill workouts. But that wasn't the case in March, when she sang the Pearl Harbor theme at the Oscars corseted into two "amazing" Versace gowns. "I had been wearing sweats and these were so tight, I couldn't breathe," she says. "It was crazy. I was trying to suck everything in. I have to say, though, it was about the first time I actually looked like a woman. I had hips. I had breasts. Because really I'm built more like a boy."
And her postpartum curves weren't the only thing making her self-conscious. "I was still breast-feeding," says Hill, who worried that might become too obvious, live on global television. "If there's applause or you're in the middle of something, you raise your arms and all of a sudden, 'Hello-anyone thirsty?' You have absolutely no control."
Most days, though, Hill has managed to weave motherhood seamlessly into her professional life. While finishing the CD, she usually scheduled her studio time between 9 p.m. and midnight, so McGraw would be home to watch the girls. When that wasn't an option, she brought Audrey into her vocal booth—placing her in a car seat or rocking her as she sang. "If Audrey giggled or grunted between takes, we used it, but if she screamed over Faith's voice, we'd stop," says her producer Dann Huff. "Faith's all business in the studio, but there's a family vibe."
They keep that vibe on the road, where they've been since September, traveling from Louisiana (where they taped Tim's Nov. 27 NBC special) to L.A. (where they taped Faith's), Europe, New York and, next, Asia.
Back home the family lives a down-home life in a brick six-bedroom house just outside Nashville. Gracie and Maggie attend private school and Faith and Tim faithfully appear at every Christmas program and class party. They've been known to pop into the local Baskin-Robbins for ice cream (Faith's favorite: one scoop each of vanilla and chocolate) or to Dotson's for fried chicken. "She's country; she doesn't think she's better than anybody," says waitress Teresa Smithson. "They don't act like they got a lot of money."
Wed since 1996, the couple also ride horses at their farm 40 minutes away or host home-cooked dinners (Tim's specialty is Italian cuisine; Faith's is southern food, particularly desserts and corn bread dressing). "They are so poster perfect as parents," says Chesney. "I never thought about having kids before until I started going over there." Fellow singer Martina McBride also brings daughters Delaney, 7, and Emma, 4, for play dates. "We talk about the kids," says McBride, "and the girls play dress-up, go in the playhouse, draw, color, swim."
Hill says she and McGraw share disciplining, restrict TV time and form a united front. "Tim does as much work as I do," Hill says. "He gives the girls baths, puts them to bed, reads to them, all those things." Diaper duty? "Oh, gosh yeah." Adds Hill: "They now have this thing against us, where if we deny them something, they'll go, 'Bad Momma, bad Daddy!' It's like, wait, shouldn't we be saying that to you?"
The girls have distinct personalities: Maggie's a bookish kid who, Hill says, "walks out the front door every morning to catch butterflies. Grade's a rock star. We got her a little guitar and she really gets down on it." Neither is easy to get on the phone—even with "Geemaw and Geepaw" (Faith's parents, Ted and Edna Perry) or "Meemaw and Peepaw" (Betty and Joe Trimble, McGraw's mom and step-dad). "They won't even talk to me if I call," says Hill. "I'm working on that."
Family bonding is important to Hill, who was adopted as an infant by factory worker Ted, 72, and Edna, 66, a former bank teller, now both retired. Raised in tiny Star, Miss. (pop. 600), with older brothers Wesley, the education director at the Jackson (Miss.) Zoo, and Steven, a Nashville medical-firm accountant, she learned of her adoption as a child, but didn't meet her birth mother until 1993, after a three-year search.
Today the woman (whom she refuses to name) and her son "are part of the inner circle," says Hill. "I don't talk to her as much as I'd like, but I think about her every day and about my full brother." Hill has introduced her daughters to her as well—"They don't know the story, but of course they will"—but not the Perrys. "She's a great lady. I'd love for them to meet her. Not yet. But hopefully, someday.
"For the moment she is focused on professional breakthroughs. Two years after her $60 million Soul2Soul tour with McGraw, success is far from assured. While Hill calls Cry her "best, most soulful" work to date, country music sales are down, younger Chicks rule, and new releases from Shania Twain (who next month releases her first album since 1997) and husband McGraw will be competing with it at record stores. "The pressures are enormous, intense," she says. And every detail counts, as she discovered in January 2001, when, on the morning of the American Music Awards, she impulsively opted to cut her shoulder-length blonde locks into a razored bob.
"All of a sudden it was like the Scarlet Letter: Your hair is gone!" Hill says of the media frenzy that followed. It hurt "only for a moment," she says. "I'm a reality kind of girl. If that was a career setback, then God help us."
Fortunately McGraw was there to help soothe her wounded ego. "I thought it looked great," says McGraw. " 'Course, I think she'd look good bald-headed. She's perfect as far as I'm concerned."
That kind of unconditional support is what really matters to Hill. "Part of a great marriage is working through any kind of bump in the road you might have," says the singer, who was previously wed to songwriter Dan Hill. (They divorced in 1994.) "We love and respect each other, and this is the union we want to be stronger 25, 30, 40 years from now."
To make sure it is, the two carve out as much time together as they can. "We make the time," says Hill. Adds McGraw: "Whether it's going to a movie together or just eating a bowl of cereal at night in bed watching TV, we find times to stay connected and stay close."
With the stress of dual superstar acts, they admit it's not always easy. But "balance is the wrong word for us," says McGraw. "Balance indicates equality and there's no equality between career and family. Everything finds its place after family."
If nothing else, the past year has taught them that. "Through this whole ordeal we leaned on each other," says McGraw of the drama surrounding Audrey's birth. "When you need a friend, she's somebody you want. She's a strong person." And one not given to giving up easily. "Faith has a very real sense of what she wants out of life," he says. "She wants it all."
Lauren Comander in Nashville
Contributors:
Lauren Comander.
Advertisement
Today's Photos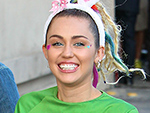 Treat Yourself! 4 Preview Issues
The most buzzed about stars this minute!