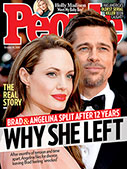 This Week's Issue!
People Top 5
LAST UPDATE: Tuesday February 10, 2015 01:10PM EST
PEOPLE Top 5 are the most-viewed stories on the site over the past three days, updated every 60 minutes
Life After Left Eye
Seven Months After Lisa Lopes's Death, Her TLC Sisters Pay Tribute on a New Album


Nor was finishing the R&B group's fourth—and probably final—album, 3D, which was released Nov. 12. A tribute to Lopes, the CD contains some of the last hip-hop songs she wrote and performed. Her voice is on 4 of the 13 tracks. "Lisa is just really vibrant," says Thomas, 31. "It's like her presence is here." Yet talking about her death while promoting the album "was hard. I'm not going to lie," says Watkins, 32. "People keep saying, 'How did you feel?' It's shoved in your face all the time. But I did it because it was something we all wanted." Adds Thomas: "There's a closeness in this album that we never had before."

In fact, during their 12 years together the trio had weathered some difficult times, struggling through bankruptcy, major illness and trouble with the law. Lopes, who was convicted of arson in 1994 for burning down the mansion of her then boyfriend, former Atlanta Falcons wide receiver Andre Rison, irked her band-mates five years later by issuing a public challenge to see which one of them could do best on her own.

By the time they went to work on 3D the group had long since ironed out their differences. Two weeks before her accident, Lopes had visited Watkins in an Atlanta hospital where the latter was suffering another bout of sickle-cell anemia, a hereditary blood disease she compares to "someone stabbing me with a butcher knife over and over." Lopes was planning to return to a rustic spa in the Honduran mountains. "She came to see how I was doing," Watkins recalls. "She sat there and talked for a while. And then she left."

On April 25 Lopes was driving to a video shoot with a new girl group called Egypt while doing an interview with a documentary filmmaker sitting beside her. As she kept looking to the camera, she failed to notice the vehicle ahead of her had stopped. "Lisa went to swerve around it," says her sister Raina, 28, who was in the back. "The car went out of control and flipped over." Lopes died a month shy of her 31st birthday.

Watkins and Thomas decided to finish 3D, a title credited to Lopes, within two weeks of the crash. Watkins says Lopes's death inspired her to write one of the songs, "Turntable," about how quickly fortunes can change—a theme that could also apply to Aaliyah, the singer who died in 2001. "Nine-11, Aaliyah's fans, my situation in the hospital: We all personally can draw from it."

All three women are Atlanta transplants. Watkins was raised largely by her mother, Gayle, 57, a former UPS truck driver, after her father, James, 60, walked out when she was 3. (They reconciled when she was 25.) Today she and her husband, rapper D'Mon "Mack 10" Rolison, have a daughter, Chase Anela, 2, and two children from his previous relationship. Fortunately, Chase Anela is free of sickle-cell anemia.

Thomas also grew up in a fatherless home. She was raised by her mother, Ava Linsey, 49, a retired keypunch operator, and her grandmother; she didn't meet her father, Abdul Ali, 55, a casino worker in Mays Landing, N.J., until Sally Jessy Raphael tracked him down for a 1996 episode of the talk show. Shortly afterward Thomas started a family of her own. She and her boyfriend at the time, record producer Dallas Austin, had a son, Tron, in 1997. More recently she has been seeing singer-songwriter Usher, 24. Marriage is possible, she says, but nothing is definite.

Watkins and Thomas, who say they have no plans to replace Lopes, find it soothing to listen to her. "When I hear her," says Watkins, "it doesn't make me sad anymore. It's kinda like, you know how you feel when you accomplish a goal together? It's kind of a comforting feeling."

Siobhan Morrissey in Atlanta


Advertisement
Treat Yourself! 4 Preview Issues
The most buzzed about stars this minute!