People Top 5
LAST UPDATE: Tuesday February 10, 2015 01:10PM EST
PEOPLE Top 5 are the most-viewed stories on the site over the past three days, updated every 60 minutes
Moxie Lady
With Tenacity and Talent, Kellita Smith Rules the TV Roost as Bernie Mac's Wife
The Bernie Mac Show
last year, her dilapidated 1982 Volkswagen Rabbit blew a tire. Too broke to call roadside assistance, she waved down a stranger for help. The next morning, steering her crate into the FOX studio lot, "I was really nervous," she says, "and my pathetic-looking car didn't exactly help my confidence." Still, the unknown strode into the audition and snatched the role of Mac's wife, Wanda, away from front-runner Robin Givens. "Kellita was sexy and funny and independent," says the show's creator Larry Wilmore. Adds Mac: "She killed! She took it."
Goodbye, Rabbit; hello, Land Rover. "Getting this job felt like I won a championship," says Smith, 33. Playing a cool-headed corporate vice president on the Emmy-winning sitcom, Smith channels Clair Huxtable, serving as foil for her frenetic comedian husband and mother figure for the nephew and two nieces the couple have taken in. "Wanda's a good role model," says Smith. "Smart, beautiful, and she brings home the bacon."
Not unlike the actress herself. "She's the type of person who remembers everybody's name," Wilmore says of Smith. "She treats all the guys like she has a crush on them and all the women like they're her girlfriends." Just go light on the practical jokes. After a recent shoot, Mac, an incurable prankster, tormented Smith with a fake mouse. "Her whole personality changed," he says, laughing. "That sweet girl went to the 'hood on me, screaming and yelling." With all the on-set mayhem, says Smith, "it's like being with a family."
Family is something the single actress has started thinking about offset as well. "I would love for someone to be the captain of my ship," Smith says. "The other day I suddenly felt I was ready to have a baby. It was a major moment for me. I was like, 'What's going on with me?' It may have something to do with working with kids every day."
Smith's own childhood was a difficult one. Born in Chicago, the older of two children (brother Eric, 32, is a security guard in the Bay Area) of a homemaker and a U.S. serviceman, Kellita was 1 when her father was sent to Vietnam. When he returned 18 months later, says Smith, "it was hard for him to adjust. I couldn't understand why he wasn't happy to see us again." In 1972 the couple split, and Smith's mother, Honey, moved with the kids to Oakland. Smith hasn't seen her father since. "I'm not mad at him," she says. "I just don't know him."
Living on welfare in a rough neighborhood, Honey studied sociology at the University of California at Berkeley. Kellita and her brother went to the Oakland Community Learning Center, founded by the Black Panthers. There, Smith says, teachers "taught me how to have a dream."
Hers was to become a lawyer. But after earning an associate's degree in political science from Santa Rosa Junior College in 1989, Smith "got really tired of school," she says, and quit. A job as a Macy's saleswoman was followed by a stint as an administrative assistant at an insurance company. After complaining that the women there were mistreated, Smith was fired. "It was my Norma Rae rendition," she says.
That same day Smith got a newsletter in the mail about an acting workshop and enrolled. Undaunted despite bombing in her first performance, she continued taking lessons and in 1990 scored a part in the touring production of the play Tell It Like It Tiz, followed by spots on shows like Living Single and Sister, Sister. Still, "sometimes she didn't have money for the rent and the phone bill," says her mother, "so I had to help her out." (Smith returned the favor recently when she helped Honey, 56, a Bay Area social worker, buy a condo.) "I lived in an apartment with no furniture for three years," says Smith, "but I was determined."
Now living in her own modern, three-bedroom house in L.A., Smith is still low on furniture, but this time it's because she's too busy to go shopping. When she's not working or working out—her five-times-a-week regimen includes spinning, Pilates and WuShu fighting—Smith indulges in some forward planning. Lying on her living room floor with her best pal and stylist Tony Briggit, they sketch a dress with a seriously high slit. "We're Bob Mackie and Cher!" she says with a laugh. "I'm predicting this will be my Emmy-nomination dress. If you can picture it in your mind, it can come true. A girl has to have her dreams."
Susan Horsburgh
Ulrica Wihlborg in Los Angeles
Contributors:
Ulrica Wihlborg.
The day before Kellita Smith auditioned for
Advertisement
Today's Photos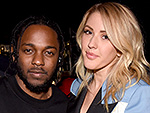 Treat Yourself! 4 Preview Issues
The most buzzed about stars this minute!