Archive Page - 12/1/12 39 years, 2,079 covers and 53,260 stories from PEOPLE magazine's history for you to enjoy
On Newsstands Now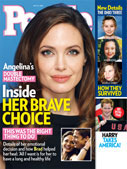 Angelina: Inside Her Brave Choice

New Details on the Ohio Three

Prince Harry Takes America!
Pick up your copy on newsstands
Click here for instant access to the Digital Magazine
People Top 5
LAST UPDATE: Monday May 20, 2013 10:10PM EDT
PEOPLE Top 5 are the most-viewed stories on the site over the past three days, updated every 60 minutes
To Be Continued?
Hold the Latte! Families and Futures Tempt Them, but the Friends Cast May Renew Their Lease on Prime-Time's Penthouse
Friends
assembled in a nondescript conference room at Warner Bros.' Burbank studio to read the script for Episode 195—the first of 25 that would mark the sitcom's ninth and final season. This episode, titled "The One Where No One Proposes," picked up the thread of last season's finale, which had left the audience pondering whether
Jennifer Aniston
's character, Rachel, would marry Joey (Matt LeBlanc) or Ross (David Schwimmer). The script was typical—funny, sharp and deft—which made the tears that much more bittersweet. "Jennifer got weepy, like, 'This is the last time we'll have the first day of the show,' " says costar Lisa Kudrow, who plays Phoebe. "And it was like, 'Okay, don't go there! We can't do this 24 times.' " Soon everyone in the room was so verklempt, says one source, "we decided we had to stop talking about the end of the show just to get through that week."
Fans have been readying themselves for some sniffles to match the 33-year-old Aniston's. Ever since the show's six stars hitched up last winter for one last season at $1 million an episode, Friends has been dangled before the viewing public as Must-See-or-You-Will-Regret-It-for-the-Rest-of-Your-Life TV. "Cherish every episode," urge the NBC promos, as if offering the last drops of a vintage Châteauneuf-du-Pape. The stars themselves have repeatedly-sounded a valedictory note of regret. "We won't get to see each other every day, especially the girls, and have lunch together every day, and that will be awful," Kudrow, 39, said recently.
Courteney Cox Arquette
, 38, would agree: "I hope we will keep in touch, but girls are better at that than guys are generally." Not that Schwimmer, 36, LeBlanc, 35, or Matthew Perry, 33, won't miss
Friends
. "Everyone's thinking it's going to end," LeBlanc said in October, "and it's going to suck."
Well, don't get out your handkerchiefs just yet—or book the living room sofa in advance for a spring 2003 finale. Signals from New York City to Los Angeles increasingly suggest Friends will be back for one more season. Why? Because the cast members still like it—and NBC still needs it. "We don't know for sure yet," says one source close to the show, "but I'd be very surprised if we didn't come back" for a 10th season.
No deal has yet been struck, and all sides—the stars, NBC and Warner Bros., which produces the show (and is, like PEOPLE, owned by AOL Time Warner)—admit things could fall apart. But the sense of a shift toward renewal is hard to miss. When Tonight Show host Jay Leno asked LeBlanc if he'd be up for a 10th season on Oct. 16, he answered, "Uh, I would..." At a children's charity benefit last week in L.A. honoring NBC Entertainment president Jeff Zucker and wife Caryn, Kudrow read a tribute off a Teleprompter, skipping the line, "That doesn't mean Friends is coming back this year." Asked point-blank before the event if the show will be back, she said, "I don't know. But I hope so."
This time around, a bigger paycheck doesn't seem to be the sole motivation for the stars, who in previous seasons threatened to bolt en masse unless their salaries were hiked from $40,000 to $100,000 on up to $750,000, and who committed to a ninth season last year only after winning paychecks of $1 million each per episode. "Money? No, that's not an issue," says one show insider. "They've got the money."
After nine seasons of undiminished success, the stars of Friends would seem to be no more capable of being spooked, intimidated, cajoled, threatened, bluffed, buttered up or snookered into making a deal any more than would six 800-pound gorillas. After all, when it was announced last winter that there would be no Friends beyond 2003, the cast sensed the time probably had come to move on. This fall's Emmy wins—Aniston's for best actress and the show for best comedy—seemed to put the right bow on the package. And they've been anxious not to overstay their welcome. "They want to go out on a high note," says a friend of Cox's. "Coach was on for 100 seasons, and no one even noticed it went off the air. They don't want that."
So why would they stay? In the end, the Friends may simply have realized that life looks pretty good from the vantage of those overstuffed chairs in the Central Perk, the show's main set. As LeBlanc said in October, "It's always a home run, every day." Kudrow, for one, has found sitcom work a stress-free way to raise Julian, 4, her son with advertising-exec husband Michel Stern, 45. "It's a great gig for me," she said recently. "It's closer and often better than a regular 9-to-5. I get to take my son to school and have dinner with him." The cast works only four days a week and only from August to April. That can't have escaped the attention of Cox, wed since 1999 to David Arquette, or Aniston, wed since 2000 to
Brad Pitt
. Both women have talked about starting families of their own but had planned to wait out the series. "Yes, absolutely it will happen," Aniston told PEOPLE in August, "but probably not for a while. Probably Friends will end, close that chapter."
Aniston, more than any of the
Friends
, might seem primed to leave the nest. She earned marvelous reviews in this summer's film
The Good Girl
and shot a comedy, Bruce Almighty, with Jim Carrey. She managed to fit both into her
Friends
schedule—so why split? Conversely, LeBlanc commuted to Prague last season to shoot the recently released
All the Queen's Men
—a film whose dismal performance might make a hit like
Friends
all the more attractive. Says Scrubs star John C. McGinley, whose show follows
Friends
in the Thursday-night lineup: "Those kids own those roles."
And, true to the title, friends they are. "We'll spend the whole day at work and then get out and go get something to eat," says Cox with a laugh. "And I say, 'What are we doing? We should split up and go somewhere else. Let's see some other people.' But we don't." The girls "spend more time with each other than they do anybody else," says Cox's friend. "Jen and Courteney are best buds." (LeBlanc, on the other hand, currently is engaged to model Melissa McKnight, and Schwimmer has been squiring Playboy model Carla Alapont, 24, around L.A.) The whole gang pulled even closer together during Perry's stints in rehab in 1997 and 2001, as well as his 2000 hospitalization for alcohol-related pancreatitis. "Hard doesn't even begin to describe it," said Kudrow in August. "When Matthew was sick, it was not fun. We were just hopelessly standing on the sidelines. We were hurting a lot."
Hurting in a different way is Zucker, 37, the former wunderkind who ran the
Today
show before heading to NBC's L.A. office in late 2000. His quest to save the show is born of love and need: With ad rates of $400,000 per 30-second commercial and domination of the 18-to-49 demographic, "Friends has not only made Thursday the most lucrative night in television," says one network executive, "the show has become NBC's promotional platform." It's also a show without an heir apparent.
Frasier
is aging, and NBC hasn't launched a Top 10 sitcom since
Will & Grace
.
Zucker, who set all the
Friends
speculation going last July when he said it was too soon "to put the nail in the coffin," has made no secret of his quest. He's dared the
Friends
cast to pick anything—anything—and he'd eat it on
Fear Factor
. At last week's charity event, he even bid $10,000 for a
Friends
walk-on role (and got it). Asked during the evening about his more serious bids to win back the show, his wife, Caryn, laughed: "Believe me, he's trying!"
Zucker's biggest problem, ironically, is the show's success. It's the laws of sitcomonomics. Warner Bros., which pays the sky-high
Friends
' salaries, charges NBC close to $7 million per episode. But the studio, which will not disclose any exact figures, says that income doesn't begin to cover all the costs of producing the show. The only-way Warner Bros, can recoup its outlay is by reselling the reruns through the practice called syndication: Local stations around the country fork over millions for the old
Friends
episodes. But those stations don't contract to buy more than 200 episodes—that's plenty for their vaults—meaning there's no incentive for Warner Bros. to keep cranking out
Friends
, which broadcast its 200th episode Nov. 7.
Instead, NBC has to come up with the big bucks to keep it afloat. Can Zucker do it? Not everyone is sure. "Doubtful, very doubtful," insists one studio exec. Zucker says details won't be finalized or announced before January or even February—a potential headache for the show's 13 writers. The prospect of an added season dropping from the sky and mucking up their story arcs, says a
Friends
insider, "scares the dickens out of them."
Cox, for one, says she hasn't felt the sad pangs of nostalgia that made
Jennifer Aniston
weep that day in August. "That will probably happen after Christmas," she says, "when you go into that post-holiday decline." Or maybe, just maybe, not.
Tom Gliatto
Pamela Warrick, Rachel Biermann, Ruth Andrew Ellenson, Todd Gold, Julie Jordan, Elizabeth Leonard and Monica Rizzo in Los Angeles
Contributors:
Pamela Warrick,
Rachel Biermann,
Ruth Andrew Ellenson,
Todd Gold,
Julie Jordan,
Elizabeth Leonard,
Monica Rizzo.
Advertisement
Treat Yourself! 4 Preview Issues
The most buzzed about stars this minute!