People Top 5
LAST UPDATE: Tuesday February 10, 2015 01:10PM EST
PEOPLE Top 5 are the most-viewed stories on the site over the past three days, updated every 60 minutes
Ryder's New Pains
The Trial Over, Winona Faces Fresh Trouble: Prescription-Drug Use
Winona Ryder
debacle has focused on the shoplifting: what she took from the Beverly Hills Saks Fifth Avenue store last December, why she took it, and mostly, where does the two-time Oscar nominee go from here? As superior court judge Elden S. Fox said when sentencing Ryder Dec. 6 to three years' probation, $10,000 in fines and restitution and 480 hours of community service for her double-felony conviction, "There's going to be a need for you to confront certain issues."
A year after a grainy security-camera videotape turned Ryder, 31, into the nation's most notorious haute couture crook, the bigger issue may not be what she stuffed into her bag but what was already there: a syringe and several powerful prescription drugs (see box), "more pain medication," said Los Angeles deputy D.A. Ann Rundle, "than would be given to a person with a terminal disease."
Ryder was charged with illegally possessing painkillers after the Saks arrest; the charge was dropped when prosecutors acknowledged she had prescriptions. But a probation report made public last week paints an alarming picture. Between 1996 and 1998, the Drug Enforcement Administration indicated, Ryder hit 20 doctors to write 37 prescriptions. As recently as last December she relied on one—Jules M. Lusman, whose license was ordered revoked in November (see box)—for a variety of narcotics. Further, according to the probation report, police were inundated with tips about Ryder—including one call that suggested the actress "has had a heroin problem for the past decade."
Police acknowledged the claim was "hearsay," and Ryder's rep Mara Buxbaum called it "false" and "malicious gossip." Indeed, as Ryder told probation officials, she has always stayed away from illegal drugs because she is "terrified of them." As Buxbaum sees it, even the prescription-drug problem, for which she says Ryder voluntarily entered counseling months ago, was irrelevant to the Saks affair: "She is trying to deal with something privately, and [the D.A.] just tore her apart." Nevertheless, Fox ordered drug and psychological counseling as part of her sentence since, as Beverly Hills police detective George Elwell said, "We don't want to find her slumped over in a car with a needle in her arm."
For the goddaughter of '60s LSD guru Timothy Leary, pain-management problems began with the ache of a broken heart. As Ryder told authorities, after "she broke up with her first boyfriend" at age 19, she was prescribed Klonopin to help her sleep. A year later she gave it up only to start taking the antianxiety pill Xanax. After suffering a series of injuries—including a broken arm while filming Mr. Deeds in 2001—she said she began taking a succession of drugs to alleviate pain. By last fall a medical-board investigation of Lusman indicated that Ryder was taking a half-dozen painkillers and sedatives.
And wanting more. According to the board report, on Sept. 24,2001, using the alias Emily Thompson, Ryder first visited the L.A. office of Lusman, who was already doling out painkillers and sleeping pills to her pal Courtney Love. He prescribed Ryder 65 Vicoprofen pills for severe elbow pain. Five days later he prescribed another 30. Over the next two months he ordered her eight different pain and anxiety meds, including the Valium he injected into her 10 days before the Saks arrest. Not surprisingly, Marc Klaas, who has been close to Ryder since she offered a $200,000 reward in connection with the kidnapping and murder of his daughter Polly, is concerned for her "redemption and recovery." As she begins her community service and counseling, says her lawyer Mark Geragos, "she's got her work cut out for her."
Karen S. Schneider
Alexis Chiu and Michael Fleeman in Los Angeles
Contributors:
Alexis Chiu,
Michael Fleeman.
Advertisement
Today's Photos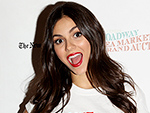 Treat Yourself! 4 Preview Issues
The most buzzed about stars this minute!