Archive Page - 12/1/12 39 years, 2,080 covers and 53,257 stories from PEOPLE magazine's history for you to enjoy
On Newsstands Now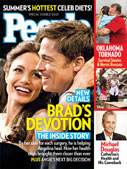 Brad's Devotion: The Inside Story

Oklahoma Tornado: Heroic Rescues

Michael Douglas on Catherine's Health
Pick up your copy on newsstands
Click here for instant access to the Digital Magazine
People Top 5
LAST UPDATE: Thursday May 23, 2013 05:10PM EDT
PEOPLE Top 5 are the most-viewed stories on the site over the past three days, updated every 60 minutes
Giving Large
Driven by Passions as Deep as Their Pockets, These Five Americans Doled Out Up to $150 Million for Their Favorite Causes—From Poetry to a Cure for Cancer
Handing out millions to charity, an ex-professor can't wait until it's all gone
Some years back a hotshot financial planner showed up for a scheduled meeting at Zell Kravinsky's address. When he saw an old Toyota parked in front of a rundown porch, he fled. "I guess he thought I was a fraud," says Kravinsky, 48. In fact, the real estate magnate possessed a $15 million fortune—but his plan was to give it to people who really needed it. "I can't wait," he says, "until there isn't a penny left."
He's getting close. This summer Kravinsky and his wife, Emily, 45, a psychiatrist, donated $6.2 million to the federal Centers for Disease Control and Prevention in honor of Kravinsky's sister Adria, who died of lung cancer in 1984 at 33. The largest gift from individual donors in CDC history, it will fund research into diseases that afflict the poor.
Even C. Charles Stokes, head of the CDC Foundation, admits to being nonplussed by the couple's generosity. "It's counterintuitive," he says, "that at a young age and with four kids, they're giving their wealth away." And not just in the form of checks: In October, a month after their gift to the CDC, Kravinsky gave a $3 million building he owned to a school for emotionally disturbed kids in his native Philadelphia. He has a simple explanation for his philanthropy: "On my deathbed, I don't want any regrets."
Reared by blue-collar parents, Kravinsky set out to be an intellectual, not a mogul. He attended the University of Pennsylvania, earning doctorates in Renaissance literature and rhetoric, and wound up teaching there. In 1991, after marrying Emily, Kravinsky began buying rundown houses near campus and selling them to the university.
Though he soon grew rich and ditched academia, he never changed his lifestyle. He and his family get by on $50,000 a year, from real estate rentals. They live in a modest home in a working-class neighborhood in Jenkintown, Pa., wear thrift-shop clothes and do without cable TV. The kids don't mind, says Kravinsky, whose oldest, 11-year-old Josh, once told him, "I don't need to be rich if it saves another child's life."
Good thing, since Dad is poised to just keep giving and giving and giving. He will donate the remaining $5 million or so to Ohio State University and the CDC for a joint health project. When that's gone, he vows, he'll make more—"and I'll give that away, too."
Ruth Lilly
Her gift is more than even a poet could imagine
Great poets know better than to expect big paychecks. That's how Poetry magazine, long regarded as the top journal in its field, has managed to publish such heavyweights as Carl Sandburg and William Butler Yeats while paying no more than $2 a line. For decades, Ruth Lilly strove to join that pantheon, submitting her own verses to the Chicago-based monthly—only to have them rejected each time. That didn't dim Lilly's esteem for the periodical. "Her opinion," says Lilly's attorney Tom Ewbank, "was that it was the class act of literary magazines."
Now, thanks to the 87-year-old heiress—great-granddaughter of pharmaceutical magnate Eli Lilly—it's the richest, too. In November news broke that she would give the magazine (staff of four; circulation 12,000) an endowment of at least $100 million. "After living on a shoestring for 90 years, we were dumbfounded," says Joseph Parisi, Poetry's editor. He'll spend some of the windfall on a national poetry training program for teachers—and to bump his contributors' fees. Lilly (who hasn't commented) will be pleased, says Ewbank: "She's the most generous person I've ever met. And she doesn't hold a grudge."
Julius Silver
Saved from poverty by his alma mater, he paid back—and then some
Five years ago L. Jay Oliva, then president of New York University, got a visit from a man representing a possible benefactor. "He said, 'What would you do with a large gift?' " recalls Oliva, who replied that he would fund a few professorships. Weeks later the emissary returned with a message: "Mr. Silver says you're not thinking big enough.' "
As it turned out, what Julius Silver had in mind was the largest gift ever to NYU: $150 million, revealed last January when the philanthropist died at age 101. "If he was alive today," says Oliva, now retired, "I would say, 'God bless you, Mr. Silver. You've changed the university forever.' "
As Silver himself was changed by the university. The son of poor immigrants from Eastern Europe, he grew up in a Brooklyn cold-water flat and didn't learn English until he was 5. At 16, he won a scholarship to NYU: a $100 loan, and $77.50 per year. He went on to establish a major law firm and help found the Polaroid Corporation.
Silver's bequest will provide similar opportunities to other needy students and endow close to 150 new professor's chairs. School officials estimate that a century from now the interest alone should cover 500 academic salaries. "Julie said [the scholarship] opened the doors of success," says his attorney and friend, David C. Oxman. "He wanted to make that possible for others."
Jon Huntsman
A two-time cancer survivor pledges millions a year to fight the scourge
This year Jon Huntsman—founder of the world's largest privately held chemical company, which bears his name—took out an eight-digit loan to keep a promise to fellow cancer sufferers. The vow dates back to 1991, when he learned that he had prostate cancer, the disease that killed his father. (His mother died of breast cancer.) After successful surgery, Huntsman—who later survived mouth cancer as well—asked drug companies and government agencies to help him fund a state-of-the-art research center and hospital, but found no takers. So, he recalls, "I said, 'Okay, I'll do it myself.' " He built the Huntsman Cancer Institute in his adopted hometown of Salt Lake City and pledged millions annually to keep it going.
Then came the economic downturn of 2001, which halved his company's operating budget. Rather than beg off in '02, he borrowed, using personal assets as collateral. "Once you start a project like this, you can't stop," he says.
So far he has spent more than $225 million on the institute, which treats about 120 patients weekly. "The doctors treat you with dignity and compassion," says Stephen Garavatti, 52, who credits the center with keeping him alive five years after he was diagnosed with colon cancer. "There's no doubt in my mind that it's because of Jon."
Huntsman, 65, a married father of nine, traces his own sense of compassion to his boyhood in Blackfoot, Idaho, when he helped his struggling parents by picking potatoes for $3 a day. "I'll give what it takes, no matter what," he says, "to rid the world of this horrible disease."
Christina Cheakalos and Susan Schindehette
Cathy Free, Diane Herbst and Barbara Sandler
Contributors:
Cathy FreeL,
Diane Herbst,
Barbara Sandler.
Zell and Emily Kravinsky
Advertisement
Treat Yourself! 4 Preview Issues
The most buzzed about stars this minute!