People Top 5
LAST UPDATE: Tuesday February 10, 2015 01:10PM EST
PEOPLE Top 5 are the most-viewed stories on the site over the past three days, updated every 60 minutes
Picks and Pans Main: Tube
Week at a Glance


"There's no such thing as truth; that's why they call them stories," says veteran reporter Ben Dansmore (Jeff Goldblum). Not a bad line, but by the end of this TV movie we've heard it three times. Voilà—a brand-new cliché.

War Stories, designed to serve as the pilot for a possible series, follows a group of journalists as they cover a fictional conflict between the U.S.-backed government of Uzbekistan and Muslim rebels tied to al Qaeda. The potential is here for a drama that's timely, exciting, even important. But the script cries out for a rewrite. Recalling the day his former photographer stepped on a land mine, Ben says, "I was flossing bits of him out of my teeth." Complaining about the dead man's replacement, Nora Stone (Lake Bell), Ben tells an editor by phone, "If she were any wetter behind the ears, she'd have algae." Fortunately we're spared extensive quotations from the presumably colorful copy Ben files for his Baltimore newspaper.

Though Ben flaunts his cynicism, he seems to be the only guy in Central Asia who's offended by the reality that his sometime lover, magazine correspondent Gayle Phelan (Louise Lombard), proudly sleeps around. Should NBC choose to keep this war effort going, maybe he'll grow affectionate toward Nora, who displays a troubling lack of professionalism but lays claim to audience sympathy based on her sister's death in the Sept. 11 terrorist attacks. A wiser course for the network would be to declare peace and pull out.

BOTTOM LINE: Lacks combat readiness

ABC (Mondays, 10 p.m. ET)

There's no satisfying Paul Callan (Skeet Ulrich), who investigates supposed miracles for the Catholic Church. Early in the Jan. 27 premiere of this solemnly spooky series, he complains that he's turning up no evidence of divine activity on earth. Later Paul finds a certifiably miraculous phenomenon and he's still not happy. "Now I'm afraid we're not alone," he says, "and maybe that's not such a good thing."

Miracles doesn't look like such a good thing either. No one's asking for fun and games in a supernatural drama, but the tight close-ups, half-whispered dialogue, ominous music and weird dreams (whoa, it's raining blood) add up to a mass of pretension. By the end of the opener, when Paul quits his church job and joins a shadowy independent researcher (Angus Macfadyen), we can see through the murk that the devil will be playing a major role on this show. What, God's not scary enough?

BOTTOM LINE: Short of miraculous

Show of the week

PBS (Sun., Jan. 26, 9 p.m. ET)

[STARS 1]

Like the 1995 movie The American President, in which chief executive Michael Douglas was sweet on lobbyist Annette Bening, this British Masterpiece Theatre entry is an entertaining mix of romantic comedy and politics lite. You'll notice it's not realistic, but you won't much care.

Robson Green plays an undercover gossip columnist—pen name Mrs. Jones—who's been ordered to dig up dirt on the married prime minister (Caroline Goodall). Posing as a campaign fund-raiser, Green slips into the PM's good graces, and they quickly fall in love. The film comes to a rather perfunctory conclusion after a less-than-shocking twist, but the two stars have a chemistry that renders quibbles largely irrelevant.

BOTTOM LINE: Keep up with Jones

PBS (Wed., Jan. 22, 9 p.m. ET)

In 1998 three white men from Jasper, Texas, chained a black man named James Byrd Jr. to the back of a pickup truck and dragged him three miles to his death. This revealing P.O.V. documentary, taped during the killers' separate trials in 1999, shows how the small town subtly divided along racial lines in viewing the infamous crime, despite public protestations that Jasper's citizens were as one in condemning hatred. Following up on issues raised in the film, Ted Koppel will anchor a Nightline town meeting from Jasper, airing Jan. 23 at 9 p.m. ET on PBS and at 11:35 on ABC.

BOTTOM LINE: Provocative study

>Sunday, Jan. 26
SUPER BOWL XXXVII ABC (6 p.m. ET)
Shania Twain headlines the halftime show in San Diego.

Monday, Jan. 27
BRIDEZILLAS FOX (8 p.m. ET)
Throw rice at 'em. Brides-to-be behave very badly in this reality special.

Tuesday, Jan. 28
STATE OF THE UNION ABC, CBS, NBC, FOX (9 p.m. ET)
President Bush gives his annual national pep talk.

Wednesday, Jan. 29
POWER, PRIVILEGE AND JUSTICE Court TV (10 p.m. ET)
Dominick Dunne's series on criminals with clout spotlights the Menendez brothers.

Thursday, Jan. 30
SCRUBS NBC (8:30 ET)
Rick Schroder guest stars as a nurse with eyes for Dr. Reid (Sarah Chalke).

Friday, Jan. 31
THE GO-GO'S WE (10 p.m. ET)
The '80s pop chicks perform in a new-to-TV concert taped in 2000 in Manhattan's Central Park.

Saturday, Feb. 1
THE AGENCY CBS (10 p.m. ET)
Brian Dennehy guests as an ex-U.S. President planning to monitor Indonesia's election.


NBC (Wed., Jan. 29, 8 p.m. ET)
Advertisement
Today's Photos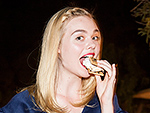 Treat Yourself! 4 Preview Issues
The most buzzed about stars this minute!