People Top 5
LAST UPDATE: Tuesday February 10, 2015 01:10PM EST
PEOPLE Top 5 are the most-viewed stories on the site over the past three days, updated every 60 minutes
Picks and Pans Main: Song
Electric Circus
Apparently Solange Knowles has more in common with big sis
Beyoncé Knowles
than an exotic name and long crinkly tresses. With her credible debut album, the 16-year-old sibling of Destiny's Child's frontwoman shows there's room for more than one pop star in the family. This talented teen even proves she already has chops as both a producer and songwriter on cuts like the pretty, acoustic-guitar-laced ballad "Sky Away."
Even so, Knowles hasn't yet carved out her own musical identity. Many tracks, such as the sinuous, Middle Eastern-flavored first single, "Feelin' You," bear more than a passing resemblance to the sound of Destiny's Child (for which Solange was once a backup dancer). Her vocal phrasing and timbre also bring to mind a younger, less powerful
Beyoncé Knowles
. That is evident when the older Knowles, who coproduced and cowrote three tracks, pipes in on the sister-to-sister duet "Naive," pointedly advising, "Girl, you got time, so slow it down."
BOTTOM LINE: A satisfactory if not stellar Star
Original Soundtrack (Epic)
Kander and Ebb's 1975 musical about two murderous sirens and a shyster in the Windy City of the 1920s is blowing the doors off movie theaters. Given the film's visual razzmatazz, though, the difference between it and the soundtrack is like the difference between a vacation and a postcard.
Renée Zellweger
and
Catherine Zeta-Jones
are adequate vocally (though Richard Gere doesn't so much sing his lines as smirk them), but the problem is John Kander's vaudeville-style Dixieland jazz music. Perfect in context, it serves the punch lines but doesn't make you hum. Best are the bawdy "When You're Good to Mama," sung by
Queen Latifah
, and the pretty ballad "Nowadays," an ode to sin.
BOTTOM LINE: No substitute for the movie
Crazy Town (Columbia)
Crazy Town soared to the top of the charts with 2001's airy "Butterfly," a catchy hip-pop single off the group's otherwise tepid 1999 debut,
The Gift of Game
. On this follow-up the L.A. sextet desperately, self-consciously attempts to avoid becoming one-hit wonders. Their blatantly trend-conscious blend of hip-hop and metal—Bret "Epic" Mazur's lazy vocals alternate with Seth (formerly "Shifty Shellshock") Binzer's affected raps—is as tired as the self-pity they repeatedly display on tracks like "Change" and "Candy Coated." On the latter Binzer raps, "I do dirt to bury shame/ I'm victimized, an institution's no solution," while Mazur drones on the chorus, "Candy coated pain is like a ball and chain." "Drowning," meanwhile, is a shallow rumination on the very celebrity that scored them a bizarre, and ultimately ineffective, guitar cameo by Weezer frontman Rivers Cuomo on the painful "Hurt You So Bad."
BOTTOM LINE: Don't bet on this
Darkhorse
Phish (Elektra)
Phish, a jam band known for its live shows, doesn't usually perform as swimmingly on its studio albums. At times this disc—recorded in only four days in the barn of guitarist and lead singer Trey Anastasio—seems little more than a launching pad for the quartet's first tour since taking a two-year hiatus following 2000's Farmhouse. Songs such as "All of These Dreams" feel slapdash and wilted. But stage-sharp playing works on four energetic eight-minute-plus songs, complete with the band's trademark fluid jams. Best is the tempo-shifting "Walls of the Cave." More important for the group's flower-powered followers, though, Round Room sends an important signal: Pack up the van and pick up some munchies, 'cause Phish has hit the road.
BOTTOM LINE: For phans only
Laura Pausini (Atlantic)
International star Laura Pausini, who has sold 20 million albums worldwide, is Italy's answer to Celine Dion. On her English-language debut album, the singer, who has previously released five discs in Italian (four of which were rerecorded in Spanish), delivers the same mix of VH1-ready adult-contemporary ballads, mid-tempo numbers and dance tracks that we've come to expect from Dion. Although Pausini doesn't possess quite as big a voice as Dion (few do), she still has respectable pop pipes, which she puts to good use over a solid if unspectacular set of 12 tracks. Although her enunciation is a bit stilted at times, Pausini generally seems comfortable singing in English, even handling the rapid-fire lyrics of the lite-R&B cut "I Do to Be." She's best, though, on the feel-good first single, "Surrender," a Eurodance number that successfully mines Cher's "Believe" territory.
BOTTOM LINE: A welcome import
Vivian Green (Columbia)
Album of the week
[STARS 1]
Neosoul newcomer Vivian Green is the missing link between Alicia Keys and Jill Scott. Possessing the retro R&B stylings of Keys and the jazzy, poetic sensibility of Scott (a fellow Philadelphian for whom she once sang backup), Green delivers a compelling Story of her own on her debut disc. Loosely a concept album about a past romance, the elegantly crafted CD reveals a maturity well beyond Green's 23 years. Such true-to-life tracks as the moving ballad (and first single) "Emotional Rollercoaster" will strike a chord with anyone who has ever endured the ups and, especially, the downs of love: "Loving you ain't nothing healthy/ Loving you was never good for me/ But I can't get off/ This emotional roller coaster." Even better is when Green sings the blues on the throwback torch song "No Sittin' by the Phone," which provides a perfect showcase for her nuanced, never-oversung vocals.
Elsewhere Green, who wrote most of the lyrics, is feeling more upbeat on tunes like the breezy, jazz-kissed "Ain't Nothing but Love" and the sexy old-school slow jam "Complete." Throughout, she keeps the focus squarely on herself instead of distracting the listener with bells and whistles. How refreshing to hear an R&B record without any guest rappers or trendy, gimmicky production. This is a classy album by a class new act.
BOTTOM LINE: Green pastures
Common (MCA)
A more apropos title for Common's adventurous fifth album might have been Eclectic Circus. The alternative rapper (real name: Lonnie Lynn) shows uncommon daring on a 13-song set that stretches from hardcore hip-hop to psychedelic rock to jazzy bebop. Much like the Roots' excellent new album Phrenology, this disc is much more than just another rap CD. Roots drummer Ahmir "?uestlove" Thompson even helped Common create his sprawling soundscape, coproducing and cowriting nine tracks. Common also gets all-star support from, among others, Mary J. Blige, Prince, Jill Scott and Erykah Badu. The latter, who is Common's girlfriend, inspired the album's first single, "Come Close," one of the most romantic songs ever recorded by a rapper. "Truth is, I can't hide from you/ The pimp in me may have to die with you," he rhymes in a smooth, chilled-out delivery over a spare, bass-heavy beat. Elsewhere Common experiments with Hendrix-like guitar and trippy atmospherics on the far-out "Electric Wire Hustler Flower." Less successful is his muddling 8½-minute Hendrix tribute "Jimi Was a Rock Star," on which Common, duetting with Badu, makes a forgettable singing debut. Still, you've got to give him credit for taking the risk.
BOTTOM LINE: Run away and join this Circus
Contributors:
Chuck Arnold,
Kyle Smith,
Sona Charaipotra,
Carolyn E. Davis.
Solange (Columbia)
Advertisement
Today's Photos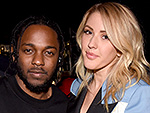 Treat Yourself! 4 Preview Issues
The most buzzed about stars this minute!