People Top 5
LAST UPDATE: Tuesday February 10, 2015 01:10PM EST
PEOPLE Top 5 are the most-viewed stories on the site over the past three days, updated every 60 minutes
So Young, So Rich
From Trust Fund Babies to Self-Made Mini Moguls, a New Generation of Superwealthy Kids Handles Its Money in Styles Ranging from the Prudent to the Party-Ready
Ashley Olsen
&
Mary-Kate Olsen
Age: 16
Total fortune: $76 million
Indulgence: Ice Blendeds at Coffee Bean and Tea Leaf
Directing Mary-Kate and Ashley in
Holiday in the Sun
in the Bahamas in 2001 gave Steve Purcell a glimpse of their huge popularity—especially when guests at the Atlantis Resort learned the twins were on the premises. "It was like being with the Beatles," Purcell says. "They couldn't come out of their rooms."
Parlaying that charisma into cash is the job of Robert Thorne, 48, the girls' partner in the Dualstar Entertainment Group. Along with their straight-to-video movies, the company licenses a line of Olsen clothes, books, electronics, games, bedding, and dolls (second only to Barbie in sales) to Wal-Mart that grossed $1 billion last year.
How do the sisters, in showbiz since they were 9 months old on Full House, handle being the public faces of an empire? Says Purcell: "They are very good examples of how people should be who achieve that kind of success."
At private school in Los Angeles their main concern is prepping for the SAT. They like shopping (for Seven jeans and Marc Jacobs), boys (Ashley has a steady in college) and Jimmy Choo shoes. As for big splurges, they employ a private hairdresser, and Mary-Kate has a horse. Parents Dave, 51, and Jarnie, 48, who split in '96, "raised them not to be impressed with themselves," says Thorne. "They live really normal lives."
Coming Into Her Own
Athina Roussel
Age: 17
Fortune: $800 million
Passion: her four horses
On Jan. 29 Athina Roussel turns 18, a milestone she will mark by taking control of the estimated $800 million fortune amassed by her grandfather, shipping tycoon Aristotle Onassis, and left to her in trust by her mother, Christina Onassis, who died of pulmonary edema at 37, when Athina was 3. Among the baubles: the Greek island of Skorpios, two apartments on Paris's grand Avenue Foch and villas in Geneva and Spain.
Whether the money will change Athina—who buys Donna Karan off-the-rack, likes
Brad Pitt
movies and earns high grades at school—remains to be seen. But there is growing concern about its effect on those around her. Since October, Athina—a talented equestrienne who competes on the international junior circuit and has Olympic dreams—has been dating Brazilian show-jumping champion Alvaro "Doda" de Miranda Neto, 29, who has a 3-year-old daughter with an ex-common-law-wife. Athina's father, businessman Thierry Roussel, 49, "is worried sick" about the romance, says a friend. "It's too early to say if we will get married," de Miranda says. "But I have never been this happy before."
The Billion Heirs
Eric & Ivanka Trump
Ages: 19 and 21
Family fortune: $1.9 billion
First cars: Dodge Durangos
I can't say there was any time in if my life," says Eric, a freshman at Georgetown University, "when I said, 'Wow! My family is a lot different.' " Maybe that's because of the way parents Donald, 56, and ex-wife Ivana, 53, raised him and his siblings. "I taught them what my parents taught me—not to cheat and lie and take drugs," says Ivana. "The most important thing is the work ethic"—including summer jobs as kids. Adds real estate mogul Donald (estimated worth $1.9 billion): "I tried to make them appreciate the value of money."
Which isn't to say they never splurge. Eric's prize possession is a $450 fly-fishing rod; his sister has a weakness for Manolo Blahniks. Both Eric and Ivanka, who gave up a modeling career to enroll in the University of Pennsylvania's Wharton School of Finance, plan to join brother Donald Jr., 25, in the family business. "Before I could read," Ivanka says, "I knew I wanted to build buildings." Words to warm Dad's heart. "I've been lucky," says Donald. "They're workers."
Amanda Hearst & Lydia Hearst-Shaw
Ages: 19 and 18
Family fortune: $5.2 billion
Charity: Penguins and Pearls, to benefit the Central Park Zoo
Diamond pendants and gold watches as graduation gifts are nice, but for Amanda Hearst and cousin Lydia Hearst-Shaw the best part of being a Hearst is visiting Wyntoon, the 67,000-acre McCloud, Calif., estate their great-grandfather, media baron William Randolph Hearst, built. "It's so fun," says Amanda. "We go tubing on the lake."
The rest of the time, Amanda, 19, and Lydia, 18 (whose mom, Patty, was famously kidnapped in 1974), attend separate northeastern colleges—where each plans to study journalism—and model (they're repped by the elite Ford agency). Why would heirs to a family business that grosses $5.2 billion a year need careers? Because the parents still hold the purse strings. "What I really wish I had," sighs Lydia, "is my own car."
Holly Branson
Age: 21
Family fortune: $1.6 billion
Obsession: privacy
There are parallel lives that Holly Branson could be living. She might have been a model—she tried it in 1998, posing for British Cosmopolitan in just a pair of jeans to promote father Sir Richard Branson's Virgin clothing line. Or she could have been a royal hanger-on, partying with the princes and waiting to marry. In fact, rumor had it back in 1999 that she was a guest of
Prince William
's at his father's country estate. But Holly, heir with brother Sam, 17, to the privately held Virgin empire—which includes an airline, trains and a cola division—has chosen a different life. She's studying medicine at London's University College and plans to be a pediatrician. While her flamboyant dad has a passion for big buys—like the Caribbean Necker Island—Holly isn't a spendthrift, for which aunt Vanessa Branson credits Richard and wife Joan. "She's not been denied anything," says Vanessa. "Her parents know she wouldn't abuse money. Privilege itself is not a destructive force."
Paige Johnson
Age: 17
Family fortune: $1.3 billion
Splurge: $1,200 riding boots
As a young girl, Paige Johnson saw the My Little Pony cartoon—and decided she wanted a horse of her own. At 7, she got one (a $12,000 steed named Sailor). Today Johnson, 17—whose father, Robert L. Johnson, 56, sold his Black Entertainment (BET) cable network in 2001 for $3 billion—is a world-class junior rider who alternates her training between family farms in Middleburg, Va., and Wellington, Fla. "When the pressure is on," says Johnson's ex-trainer, Debbie Stephens, "Paige rides with ice in her veins."
The Million Heirs
Paris & Nicky Hilton
Ages: 21 and 19
Family fortune: $300 million
Charity work: Toys for Tots
How to distinguish yourself from all the other young socialities? Dancing on bar banquettes and becoming gossip column fixtures helps, as
Paris Hilton
, 21, and her sister Nicky, 19 (granddaughters of Barron Hilton, who owns 6 percent of the $5.2 billion Hilton hotel chain) have discovered. "The Hiltons are leading the pack," says society chronicler David Patrick Columbia. "They are the ones everybody wants to be like." Not that the girls, who flit between family homes in Beverly Hills, the Hamptons and Manhattan, are all play and no work. Paris is in talks to star in a new reality show for Fox inspired by
Green Acres
(yes, she would live on a farm), while Nicky just launched a line of handbags in Japan. "These girls have realized," says designer Anand Jon, a pal, "that they can't sit back on their last name."
Vanessa & Victoria Traina
Ages: 18 and 19
Family fortune: $50 million
Fun fact: each had her own personal nanny
Shopping for stilettos in Paris? Getting fitted for couture gowns by Christian Lacroix? Sounds like a fantasy from a Danielle Steel novel—or the lives of her daughters Vanessa and Victoria Traina. "The girls are polite," says a family acquaintance, "but incredibly spoiled." Birthday parties where Mom (whose net worth is estimated at $50 to $100 million) gives you 150 presents—as Steel did when they were younger—will do that. Now a senior at San Francisco's University High, Vanessa, 18, "is always dressed to the nines," says a friend, while Victoria, 19, who attends Manhattan's Parsons School of Design, has stepped out toting an Hermès bag and wearing fox fur. "The girls have been attending couture shows for years," their father, entrepreneur John Traina, 71, told W magazine in '01, "and have a great sense of style."
Adam Gracely
Age: 19
Family fortune: $100 million
Passion: his home basketball court
He seems to have it all: a sprawling $10.3 million Houston home with an indoor basketball court decorated with sports memorabilia (including a signed Roger Clemens World Series jersey); a BMW Z4; and 50 pairs of sneakers. But there's one thing Gracely, a University of Texas business major, is missing. "When I think of how my dad made his way with just hard work," says Gracely of father Tony, who built a chain of car dealerships, "I won't have a chance to do that. I'll have to find my own way to make my mark." Not that he's complaining. "I thank God for the things I've been blessed with," he says. "I don't always thank my parents—that's kind of awkward." Okay, there's another thing he doesn't have: a girlfriend. Says the shy heir: "The girls don't seem to notice me much."
Contributors:
Lorenzo Benet,
Nina Biddle,
Gabrielle Cosgriff,
Todd Gold,
John Maier,
Cathy Nolan,
Amanda Orr,
Rebecca Paley,
Vicki Sheff-Cahan,
Don Sider,
Ellin Stein,
Trine Tsouderos,
Toula Vlahou.
Advertisement
Today's Photos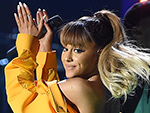 Treat Yourself! 4 Preview Issues
The most buzzed about stars this minute!