Archive Page - 12/1/12 39 years, 2,080 covers and 53,257 stories from PEOPLE magazine's history for you to enjoy
On Newsstands Now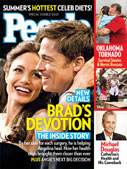 Brad's Devotion: The Inside Story

Oklahoma Tornado: Heroic Rescues

Michael Douglas on Catherine's Health
Pick up your copy on newsstands
Click here for instant access to the Digital Magazine
People Top 5
LAST UPDATE: Wednesday May 22, 2013 05:10PM EDT
PEOPLE Top 5 are the most-viewed stories on the site over the past three days, updated every 60 minutes
Lady Liberty
Joy Hakim's Punchy Take on America's Past Turns Kids into History Hounds
Will this be on the test? Probably not, but such humanizing details have made Joy Hakim the J.K. Rowling of history textbooks. Like the Harry Potter author, Hakim, 72, who wrote the 10-book A History of US series, gets loads of fan mail for her character-driven take on America's past. Wrote one middle schooler: "[The first] night I read...six chapters. I'm saving up my allowance so I can buy the whole series. P.S. I showed it to my parents, and they wouldn't give it back to me until I forced them."
Equally impressed are the A-list stars who give voice to historical figures in Freedom: A History of US, the PBS series based on the books. Tom Hanks is Abraham Lincoln, Susan Sarandon is Susan B. Anthony, while
Brad Pitt
is James K. Polk. Says creative consultant Christopher Reeve, whose son Will, 10, and half brother Jeffrey Johnson, a Vermont history teacher, are Hakim fans: "Hers are the kind of books I wish were in my classroom in seventh grade. Back then it was much more spitting back names and dates."
That was the problem when Hakim, the daughter of Jack, a furniture shop owner, and Ida, a department store buyer, was a kid in Rutland, Vt. "When I was interested I did well," says Hakim. "I didn't care for history." The books, she says, "were dreadful."
She saw the same reaction in her children—Ellen, now 46, Jeffrey, 42, and Danny, 31. Danny, Detroit bureau chief for The New York Times, says that his high school used "books written to please everybody but the kids."
The reason, Hakim learned, is that most are written by committee. "The result," she says, "is a bare-bones fact book devoid of narrative and voice." A 1985 University of Minnesota study that showed kids retained 40 percent more information from passages written by journalists than from ones written by academics proved inspirational. Having taught special education and written for The Virginian-Pilot newspaper, Hakim decided in 1986, she says, "I need to get going."
Writing from her Virginia Beach home and using $60,000 of her own money for expenses, Hakim wrote 10 books in 16 years. Husband Sam, 73, a retired grains broker was "long-suffering," she says. Hakim took chapters to local schools for feedback. Encouraged, she sent the books out—only to hear they didn't "fit the mold" of what a textbook should be.
"If there is a publisher that didn't turn me down," says Hakim, "I should send them an apology for missing them." Finally, in 1991, a friend called in a favor at Oxford University Press, where he was formerly president, which printed 4,000 copies of each volume.
To date the series, which begins with the Ice Age and ends just after 9/11, has sold 4 million copies and is part of the official curriculum in nine states. At San Francisco's James Lick Middle School, which couldn't afford a set for each pupil, one teacher pulled the books apart and laminated every page to pass around in class.
"I don't know what I would do without this woman," says New Jersey eighth-grade teacher Janet Harris. "She titles a chapter [on equality], 'Do Girls Have Brains?' I mean, how provocative!"
Historian David McCullough, who calls Hakim's series "an important event in the progress of education," also points out that, at about 200 pages each, "they're not 10-lb. blocks you lug home at night."
Perhaps the most exciting development is seeing children going beyond their assignments. "I usually read extra chapters," says Lizzie Davies, 13, a student in Harris's class. Kids also like that, rather than dumbing down the language, Hakim defines words they might not know (from a section on LBJ: "Ego: a person's sense of self"). And among her quirky sidebars—research showed kids hate footnotes—are a recipe for biscuits Revolutionary War soldiers ate and an
Oprah
Winfrey bio.
Not everyone, though, is thrilled with her take on history. The books were removed last fall from Florida's Chiefland Middle School classrooms after one parent deemed her explanation of the Vietnam War too liberal. "The back [cover] of Hakim's book writes her up as a master storyteller," says superintendent Cliff Norris, who gave the order to remove the offending books and reshelve them in the library. "Ms. Hakim's book certainly has a lot of colorful elaborations of events that may or may not be factual." Says Hakim: "I killed myself to be balanced, but as hard as you work, some of your ideas are going to come forth."
Unfazed by such criticism in the face of otherwise overwhelming success, Hakim is now at work on a set of six science texts. She had intended to take on world history, she says. "I thought about the Greeks, the Sumerians.... I kept going back and finally hit the Big Bang—and it turned into a science book." Coming soon to a middle school near you: the amazing but true story of E=MC².
Allison Adato
Joanna Blonska in Virginia Beach
Contributors:
Joanna Blonska.
Thomas Jefferson owned America's first pasta machine. Mary Todd Lincoln's 1865 Inaugural ball gown cost $2,000. Young Harry Truman had a pet pig named Carry Nation.
Advertisement
Treat Yourself! 4 Preview Issues
The most buzzed about stars this minute!