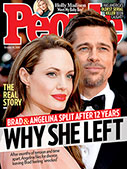 This Week's Issue!
People Top 5
LAST UPDATE: Tuesday February 10, 2015 01:10PM EST
PEOPLE Top 5 are the most-viewed stories on the site over the past three days, updated every 60 minutes
Make My Breakfast [BR] Kevin James was no king of the greens at the recent AT&T Pebble Beach National Pro-Am golf tournament. In fact The King of Queens star couldn't even beat his pal Ray Romano. "It stinks," says James, 37. "Ray always plays well in front of the cameras. The cameras turn on me, and I lock up for some reason." James did get to enjoy a parting gift: having tournament chairman Clint Eastwood cook for him. "Clint and his wife, Dina, invited me and my girlfriend over to their house, and he made us organic waffles," says James. "They were awesome, but they were actually healthy, which I didn't like. But Clint likes them that way, and I wasn't going to say anything different. So I loaded them up with butter." [P] Taking the Plunge [BR] Christina Applegate set the bar high—630 ft. to be exact—when she and her husband, actor Johnathon Schaech, jumped off the Sky Tower in Auckland, New Zealand. "They strap you to these cables and drop you off the side of the building," says Applegate, 31, who costars as a flight attendant in the upcoming comedy View from the Top with [CELEBRITY_LINK "Gwyneth Paltrow"]. "It's not a free fall, so you're not feeling your stomach rushing up into your throat, which I think is the best sensation in the world. You're soaring off the side, rather than plummeting. It was fantastic." The actress's flights of fancy don't include airplane trips. "I'm the worst flyer," she admits. "My poor husband has wounds on his arms from my nails digging into his flesh. I'm such a contradiction, I apologize. [P] Riddle Me This [BR] "Don't look for the original Batman costume in Return to the Batcave: The Misadventures of Adam and Burt: Adam West has it tucked away in a warehouse. "Maybe I'll give it to the Smithsonian," says West, 74, who reteams with Burt Ward for the CBS reunion movie airing March 9. "It might be a tax write-off." So does the actor ever wriggle into the old cape and cowl? Jokes West: "Occasionally I'll put it on after midnight and walk out into the fog on the Santa Monica pier wondering, 'Is there something I can do to solve a crime?' " [P] Backup Plan [BR] He may have won two Oscars, but Kevin Spacey still has to wait in line for roles. "I'm not the guy that gets offered movies first," says Spacey, 43, currently starring in the death penalty drama The Life of David Gale. "In fact I usually don't get a part until someone else walks away, which was true [with David Gale): [CELEBRITY_LINK "George Clooney"] was doing this role. In The Shipping News, John Travolta was supposed to do that role. With K-Pax, it was Will Smith." Not that the actor minds playing second banana. "I love these guys," Spacey says. "I'm so happy they keep deciding not to do these movies." [P]
Advertisement
Treat Yourself! 4 Preview Issues
The most buzzed about stars this minute!