People Top 5
LAST UPDATE: Tuesday February 10, 2015 01:10PM EST
PEOPLE Top 5 are the most-viewed stories on the site over the past three days, updated every 60 minutes
Picks and Pans: Pages
Talking With...Emme
The big news for longtime Spenser fans: After 29 years on the job, Parker's private eye has a new pooch, a pointer puppy to replace his late beloved Pearl. The alpha dog of gumshoes, however, has plenty of bite left in him. This time out, a client asks Spenser to investigate the murder of her mother, who was shot dead during a 1970s bank robbery by a radical revolutionary group. When he investigates the dead woman's checkered past, Spenser discovers the killing may not have been random. Rummaging in the remnants of the flower power era—during which, a dippy hippie source observes, the burly Boston detective was "probably off somewhere doing push-ups"—Spenser gets support with firepower and wisecracks from his superbad sidekick Hawk, as well as a brief helping hand from Paradise, Mass., police chief Jesse Stone, who stars in his own Parker series. There's nothing extraordinary about this Spenser episode, whose highlights include a shootout in an empty Harvard Stadium rendered in taut minimalism. But even an ordinary Spenser—now a bit more introspective at the beginning of the Pearl II era—is enjoyable enough. (Putnam, $24.95)
BOTTOM LINE: Spenser is still the top dog
By Virginia Holman
"Nineteen seventy-four was a bad time to go crazy," Holman writes at the outset of her wrenching memoir. A year after Patty Hearst's kidnapping, Holman's psychotic mother took Holman, then 8, and her baby sister from their Virginia Beach hometown and relocated them to a primitive cottage in the rural part of the state, telling the girls that they were foot soldiers in a secret army.
In lean prose lacking any trace of self-pity, Holman, who sees parallels between herself and Hearst, infuses her nightmarish past with compassion and insight. As in Mary Karr's
The Liar's Club
, another triumphant memoir of a childhood gone awry, abuse stories—her sister was forced to eat a bowl of cereal "crawling with ants"—are tempered with gallows humor. Ultimately, Holman finds a way "to forgive my mother for being so sick." (Simon & Schuster, $23)
BOTTOM LINE: Captivating
By Tim Green
After Jack Ruskin neglects to pick up his teenage daughter Janet from soccer practice, she is kidnapped and tormented for days by a sexual predator. She survives, but Jack, already crazed with guilt, finally snaps when the rapist is caught but sentenced to only four years. He sets out to hunt other sex offenders and ventilate them with a 9-mm Glock. Is he no better than any other serial killer?
Green, a lawyer and sports commentator, adroitly handles the legal aspects of this well-plotted thriller. He also can address thorny moral questions about vigilantism without preaching. (Warner, $24.95)
BOTTOM LINE: Revenge tale with heft
Page-turner of the week
By Dan Brown




How's this for a promising preface? "All descriptions of artwork, architecture, and secret rituals in this novel are accurate," vows Brown, and from there we're off on a pulse-quickening, brain-teasing adventure. A curator at the Louvre has been slain in grisly fashion amid his museum's masterpieces—but not before he had a chance to leave a coded message for Harvard professor Robert Langdon, a specialist in religious symbology. Soon, Langdon and the curator's cryptographer granddaughter are chasing the secrets of a 900-year-old clandestine society (said to be guarding the Holy Grail) while being chased around Paris and London by police and less agreeable types. Filled with wild historical conspiracy theories (think Umberto Eco minus the intellectual heavy lifting) and fun factoids that didn't make Fodor's guidebooks (did you know the world's first prime meridian ran straight through Paris's Church of Saint-Sulpice?),
The Da Vinci Code
nevertheless manages a fast pace and light touch. Besides, you've got to love any conspiracy theory that ties together Da Vinci's
Last Supper
and
Disney's Little Mermaid
. (Doubleday, $24.95)
BOTTOM LINE: A new master of smart thrills
After suffering a miscarriage in 2000, Emme comforted herself by recalling the homespun nuggets of wisdom that her grandmother used to dole out. "She would have said, 'Sweetheart, don't worry. You've just got to get back on that horse,' " says the 39-year-old model and host of E! Fashion Emergency. That led Emme to think, "Wouldn't it be nice to have a little guidebook with advice from a bunch of other women telling it like it is?" The result:
Life's Little Emergencies: Everyday Rescue for Beauty, Fashion, Relationships, and Life
(cowritten with PEOPLE correspondent Natasha Stoynoff). Emme enlisted contributors such as Trisha Yearwood and Camryn Manheim to offer personal tips about subjects both serious and lighthearted, everything from mourning to beauty.
Emme jokes about PMS (which she says stands for "pass my shotgun" or "pardon my sobbing") and tells how to furnish your home on a budget: "There's no shame in going to secondhand stores for your great silver pieces," she says. "I used to be the Queen of Salvation Army."
As for her consort, he is her husband and manager Phil Aronson, 40, who lives with Emme and their 19-month-old daughter Toby in New Jersey. As she prepares a new clothing line and a children's book, she hopes readers will get "a hoot and a holler" out of reading about what she's like away from the camera, "but please don't laugh too hard." To this day, she confesses, "I don't know how to do false eyelashes. My fingers or eyelids always get stuck."
Contributors:
Samantha Miller,
Lori Gottlieb,
Scott Nybakken,
Mary Green.
By Robert B. Parker
Advertisement
Today's Photos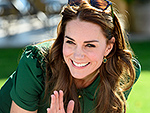 Treat Yourself! 4 Preview Issues
The most buzzed about stars this minute!