People Top 5
LAST UPDATE: Tuesday February 10, 2015 01:10PM EST
PEOPLE Top 5 are the most-viewed stories on the site over the past three days, updated every 60 minutes
Picks and Pans Main: Screen
Now Playing
Canadian birth shouldn't get in the way of Levy's and O'Hara's being declared national treasures South of the Border. Whatever movie they are in, these two comic bon vivants shine—and never so brightly as in
A Mighty Wind
, an often-hilarious mockumentary that pokes affectionate fun at folk music.
Zonked-out Mitch (Levy) and the more emotionally resilient Mickey (O'Hara) are a syrupy '60s folk duo who split up both professionally and personally years ago. Now they're reuniting for a concert, along with two other famous acts, the traditionalist Folksmen and the homogenized New Main Street Singers.
With the exception of scenes involving Levy and O'Hara,
Wind
fails to scale the emotional heights of director-cowriter Guest's 1997 masterpiece,
Waiting for Guffman
. Missed story potential here (why did the Folksmen break up?) leaves one eager for the release of the
Wind
DVD to see its deleted scenes. But any Guest is a welcome Guest, and
Wind
has more than its share of swell moments. Jennifer Coolidge's spectacularly brainless publicist still has me laughing. (PG-13)
BOTTOM LINE: A hootenanny and a holler
Shia LaBeouf
, Sigourney Weaver, Jon Voight
Critic's Choice




Parents and chaperones sit through so many dopey family films, it's a treat when one comes along—like
Shrek
or
Remember the Titans
—that's as enjoyable, and nearly as involving, for older viewers as it is for kids.
Holes
easily makes the cut.
Call it
The Shawshank Redemption
for the junior set. Based on a popular, 1998 Newbery Medal-winning novel, Holes follows the character-building travails of adolescent hero Stanley Yelnats (LaBeouf, of the Disney Channel's Even Stevens) after he's dispatched—for a crime he didn't commit—to a brutal camp for juvenile delinquents in the Texas desert.
Holes is a solid adventure story, complete with 19th-century flashbacks involving a female bandit. It boasts hefty doses of humor; Voight and Tim Blake Nelson, playing bumbling guards, add valuable comic zip. The film also imparts worthy lessons on racial harmony and helping others, medicine that goes down easily. (PG)
BOTTOM LINE: Fine family fare
Jamie Kennedy, Ryan O'Neal, Anthony Anderson, Taye Diggs
Take
8 Mile
, jettison Eminem and his knack for rhyme, move the locale from Detroit to Los Angeles, add a few punchy jokes and a slew of piddling ones, and you've got
Malibu's Most Wanted
. After seeing this puny comedy, "wanted by whom?" would seem the most pertinent question.
The film's central joke is that a spoiled Malibu rich kid (Kennedy, of TV's
JFX: The Jamie Kennedy Experiment
—see p. 138) is a gangsta wannabe, walking, talking and dressing as if he's straight outta Compton. He also raps, execrably. Seth Green (who looks like a diminutive version of Kennedy) already did this same schtick for bigger laughs, and in fewer scenes, in the otherwise undistinguished 1998 teen comedy Can't Hardly Wait. Granted, there's plenty to satirize about privileged white (and black) youth who hang at the mall making like 50 Cent, but
Wanted
comes up wanting. (PG-13)
BOTTOM LINE: Deserves a bad rap
Chow Yun-Fat, Seann William Scott
The single most intriguing aspect of this perfunctory martial-arts thriller is the naming of its two main characters: One is dubbed Monk With No Name (Chow), and the other is Kar (Scott), whose odd moniker and spelling are barely explained. Not that anything in
Bulletproof Monk
merits close examination or curiosity.
Monk is a Tibetan holy man who, blessed with immortality, has been guarding a sacred scroll for 60 years. Figuring he's past due for retirement, he teams up with the reluctant Kar, a pickpocket, to protect the scroll from evil forces. This requires high-kicking fights galore, chases, some gunfire and Kar's flirting with a mysterious beauty (model Jaime King). Chow, an actor of subtlety and charm, is left high and dry here, while smirking Scott (
Dude, Where's My Car?
) continues to register as the poor man's
Owen Wilson
. (PG-13)
BOTTOM LINE: Don't waste your ammo
•
Bend It Like Beckham
A British feel-good comedy that's actually good. (PG-13)
•
Chasing Papi
In a silly, frantic sex farce most notable for its all-Hispanic cast, a handsome ad exec (Eduardo Verastegui) woos three beauties (Jaci Velasquez, Roselyn Sanchez and Sofia Vergara) at once. (PG)
•
Raising Victor
Vargas A teenager (Victor Rasuk) on Manhattan's Lower East Side learns about love and family. A terrific small film. (R)
•
Winged Migration
A documentary on birds stays aloft thanks to stunning photography. (G)
Christopher Guest, Eugene Levy, Catherine O'Hara, Fred Willard
Advertisement
Today's Photos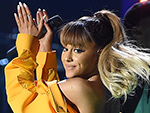 Treat Yourself! 4 Preview Issues
The most buzzed about stars this minute!