People Top 5
LAST UPDATE: Tuesday February 10, 2015 01:10PM EST
PEOPLE Top 5 are the most-viewed stories on the site over the past three days, updated every 60 minutes
Picks and Pans Main: Tube
Talking With...Jill Hennessy
Critic's Choice




It's a tricky business basing a live-action TV movie on a much-loved series of illustrated children's books. Animation is a better bet if you want to get the look just right. But director Kevin Lima, whose credits include
102 Dalmatians
as well as the cartoon feature
Tarzan
, does a commendable job of capturing Eloise's whimsical world in this high-energy comedy from The Wonderful World of Disney.
Like the first Eloise book, published in 1955, the film establishes the 6-year-old title character as the towheaded terror of the swank Plaza Hotel in Manhattan. With her rich mother off in Europe, Eloise (Sofia Vassilieva) joyrides in the elevators and barrels down the halls of the very proper place, with no one to rein her in but a tolerant British nanny (top-billed Julie Andrews in a supporting role) who's as much a chum as a guardian. Lima keeps the camera on the move to convey our girl's full-speed-ahead spirit, and 10-year-old Vassilieva gives Eloise the requisite cuteness without glossing over the fact that this pampered kid drives many grown-ups mad. Call her spoiled but not rotten.
When she's not busy running up the room-service tab or bugging the hotel manager (Jeffrey Tambor), Eloise steers Nanny toward romance and injects a massive dose of excitement into the life of a lonely little prince. The plotting isn't first-class, but a sense of fun pervades the Plaza.
BOTTOM LINE: Family fare with flair
CBS (Saturdays, 10 p.m. ET)
Plausibility isn't the highest priority of this second-year drama about the CIA. I'm still amazed that the agency's director (Beau Bridges) and two key aides (Will Patton and Rocky Carroll) survived a car bombing in the Middle East. I can't believe that two indispensable agents (Jason O'Mara and Paige Turco) seem to be assigned to every case.
Still,
The Agency
deserves credit for consistently delivering twisty plots and real suspense. In the April 26 episode it's spy versus spy when the CIA contends with ex-agents involved in an American tycoon's plan to kill members of the Saudi royal family. On May 3 O'Mara is ordered to kill a Russian émigré scientist suspected of aiding terrorists, but doubt grows as to the man's guilt. I don't get why Patton has to talk even more softly than whispery Daniel Benzali, who plays an agency hard-liner whose every word sounds sinister. But I listen closely for fear of missing something.
BOTTOM LINE: Good spy games
Comedy Central (Mon.-Thurs., 11:30 p.m. ET)
Ten years ago, Politically Incorrect was born on Comedy Central. Now it's back, more or less, in the form of this lively talk show.
Like Bill Maher before him, Colin Quinn (late of
Saturday Night Live
) leads four guests in an informal discussion of topics in the news. But where Maher's panels mixed entertainers, pundits and political figures, Quinn's guest pool is entirely made up of comedians. Not surprisingly, the conversation often gets rowdy as everyone tries to get a punch line in edgewise. Quinn clearly doesn't frown on gamy sex jokes, or Jim Norton wouldn't be a frequent guest. On the other hand,
Tough Crowd
lived up to its advertised promise of "smart comedy" when
Daily Show
host Jon Stewart sat in one night. Quinn's delivery can be sloppy when he steps outside the panel context for solo bits, but the bull sessions produce a fairly steady laugh supply.
BOTTOM LINE: Hey, join the crowd
ABC (Wednesdays, 10 p.m. ET)
This new reality series, following the ratings success of a December special, is virtually an infomercial for cosmetic surgery. But it leaves me humming that old Dionne Warwick song "Don't Make Me Over."
Each week two imperfect Americans get the chance to be remodeled by such miracle workers as plastic surgeon Garth Fisher and William Dorfman, described as "cosmetic dentist to the stars." In the premiere a 40-year-old Florida woman receives a face-lift, an eye-lift, etc., after tearfully lamenting her haggardness. She does look more youthful several weeks after surgery, but it's awfully hard to forget the early postop scenes where her visage resembles bandaged hamburger. Meanwhile, a 29-year-old Chicagoan wants Fisher to operate on her malformed lips, an obvious problem worth correcting. But as long as she's in his Beverly Hills office on the show's dime, she adds abdominal liposuction and a breast lift to her order. When he asks if she'd like her bust "perkier and fuller," I'm thinking this doc couldn't be smarmier.
BOTTOM LINE: It ain't pretty
CBS (Sun., April 27, 9 p.m. ET)
It takes a while to realize that plot is not paramount in this unhurried Hallmark Hall of Fame adaptation of John Grisham's 2001 novel. Luke Chandler (Logan Lerman), a likable 10-year-old, witnesses two homicides in the course of the drama. Will he tell the authorities everything he knows? We're led to think this is a crucial question, but it turns out to be relatively unimportant.
A Painted House
is more concerned with the rhythms of early-'50s life in rural Arkansas, as Luke's grandpa (Scott Glenn) and father (Robert Sean Leonard) try to squeeze a profit out of their cotton crop while the boy develops a crush on a teenage migrant worker (Audrey Marie Anderson). The family-farm tale has unpretentious appeal; the bursts of violence are only a distraction.
BOTTOM LINE: Pretty fair when it's peaceable
Sunday, April 27
TOUCHED BY AN ANGEL
CBS (8 p.m. ET) Randy Travis and Patrick Duffy are among the guest stars as the series ends its nine-season run.
Monday, April 28
BORN TO DIVA
VH1 (9 p.m. ET) It's the start of a talent contest for singers with hopes of becoming the next Cher or Shania.
Tuesday, April 29
FRASIER
NBC (9 p.m. ET)
Dr. Phil guest stars as—who else?—himself.
Wednesday, April 30
PRIMETIME GLICK
Comedy Central (10:30 p.m. ET) Brendan Fraser joins Jiminy on the season premiere of Martin Short's faux talk show.
Thursday, May 1
WILL & GRACE
NBC (9 p.m. ET) Karen hires a goofy young lawyer (guest star Macaulay Culkin).
Friday, May 2
HACK CBS
(9 p.m. ET) Olshansky considers testifying against Marcellus in the season finale.
Saturday, May 3
NASHVILLE STAR USA
(10 p.m. ET) The winner emerges as the country talent competition twangs to a close.
She sees dead people. It comes with the territory when you play a medical examiner, as Jill Hennessy does on NBC's
Crossing Jordan
. But until recently, the actress hadn't come across a lot of ghosts. Then she went to Hollywood's famed Sunset Sound, where rock legends like the Doors used to record. "Jim Morrison's ghost was definitely there," says Hennessy, 34, who was raised in Kitchener, Ont. "I didn't feel like I had the right to even step onto the same carpet."
Actually Hennessy's insecurity is unwarranted. She's an accomplished singer and guitar player who just recorded two songs for the new
Crossing Jordan
CD—covers of Bob Dylan's It's All Over Now, Baby Blue and Tom Waits's Innocent When You Dream. For Hennessy, they're familiar tunes: "I used to sit on the kitchen floor and listen to Dylan and Waits on the record player." And before she got her break on Law & Order (from 1993-96), her guitar helped her make ends meet. In Toronto, "I would be on the streets with my guitar case open for change," says the actress, who's expecting her first child with actor husband Paolo Mastropietro, 37, in October. "I've been singing for my supper for years."
Contributors:
Pamela Warrick.
ABC (Sun., April 27, 7 p.m. ET)
Advertisement
Today's Photos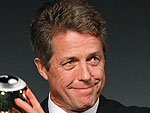 Treat Yourself! 4 Preview Issues
The most buzzed about stars this minute!