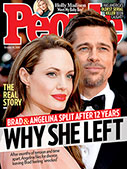 This Week's Issue!
People Top 5
LAST UPDATE: Tuesday February 10, 2015 01:10PM EST
PEOPLE Top 5 are the most-viewed stories on the site over the past three days, updated every 60 minutes
Picks and Pans Main: Song
What I'm Listening To: Ms, Dynamite
Kelly Clarkson
(RCA)
Having made a name for herself covering other people's songs on the
American Idol
stage, last year's champion
Kelly Clarkson
suffers from an identity crisis on her much-anticipated full-length debut. On "Some Kind of Miracle," she is in
Mariah Carey
power-ballad mode. On "Low" she ventures into
Faith Hill
country-pop territory. On "Just Missed the Train," she makes like neo-folkie Jewel. Most glaringly, though, Clarkson, with her powerhouse pipes, is a
Christina Aguilera
clone on tracks like the funklite first single, "Miss Independent," which was cowritten by Aguilera (who had the good sense not to include the cheesy cut on her latest album,
Stripped
).
Still, Clarkson, who cowrote 4 of the disc's 12 tunes, has a solid if unspectacular selection of ballads and midtempo numbers (including the rockish "You Thought Wrong," featuring guest vocals by fellow
Idol
alum Tamyra Gray) to work with. While Clarkson lacks the natural ease of this year's Idol favorite, Ruben Studdard, she can belt it out with the best of them and shows surprising nuance on the soulful standout "What's Up Lonely."
BOTTOM LINE: You'll be mildly appreciative
Darryl Worley (Dream Works)
His new CD smacks of patriotic fervor, but country singer Darryl Worley was waving the flag well before the war in Iraq began. He traveled to the Middle East to perform for American troops last Christmas and, also before the war, recorded this disc's hit title tune, a timely remembrance of Sept. 11 that doesn't resort to the strident jingoism of some country songs inspired by the terrorist attacks. Elsewhere, Worley makes a touching Vietnam-vet tribute on "POW 369," one of 12 songs recycled from his previous two albums. The most moving track, "Shiloh," is a somber hymn to the bloody Civil War battle of April 1862. While Worley manages to be both political and musical at the same time, overall the tone of the album is a bit serious and heavy; it's a relief when he sings "I Need a Breather," a light-spirited, Jimmy Buffett-like song about beaches and margaritas.
BOTTOM LINE: Worthy Worley
Billy Gilman (Epic Nashville)
On his latest, country singer Billy Gilman, 14, teams up with another precocious teenage boy, 13-year-old muscular dystrophy patient Mattie J.T. Stepanek, who has appeared on
Oprah
with his popular Heartsongs poetry books. Unfortunately it would take a more sophisticated singer than Gilman to translate 12 of Stepanek's doggedly hopeful poems into pop music. Stepanek's poems, which he began writing at 3, are a tribute to his courage and determination. As lyrics, though, they often sound pedantic and prosaic ("Every day in some way, we must always remember to play," on "About Things That Matter"). At least "The Gift of Color," with its Caribbean-tinged music, almost makes the usually stiff Gilman sound funky. Most of the time, though, Gilman sounds subdued and inexpressive, especially contrasted with Stepanek, who animatedly recites some of his lines himself.
BOTTOM LINE: An adolescent effort
Ziggy Marley (Private)
He may be his father's son, but Ziggy Marley roams far from his reggae roots on his first solo album after 18 years recording with the Melody Makers. Bob Marley's oldest son, now 34, dabbles in pop, hip-hop, rock, R&B and folk on this eclectic effort, while also incorporating Latin, Middle Eastern and African sounds. The result is a CD that, though reggae-based, defies classification. Purists may be surprised to hear Marley collaborating with producer Scott Litt (R.E.M.) and jamming with Red Hot Chili Peppers Flea and John Frusciante as well as Incubus deejay Chris Kilmore, but the artist should win over new fans by thinking outside of Jamaica. The disc's title track is a breezy, acoustic-guitar-laced ditty on which Marley imagines the deterioration of the environment through the eyes of a dragonfly. "Shalom Salaam" is a more straight-ahead reggae number, addressing the Israeli-Palestinian conflict. Marley also takes a stand against theological warfare on "In the Name of God," proclaiming that "all religion should be wiped out."
BOTTOM LINE: Ziggy earns his solo wings
Kindred the Family Soul (Hidden Beach/Epic)
Critic's Choice




Following in the footsteps of Ashford & Simpson and Womack & Womack, Kindred the Family Soul is the latest husband-and-wife act to take the plunge into R&B. With their rich, '70s-soaked soul Fatin Dantzler and his wife of five years, Aja Graydon, make a perfect musical marriage on this excellent debut disc. Seamless interplay between Graydon's full-bodied alto (which at times brings to mind labelmate Jill Scott) and Dantzler's tough-and-tender tenor gives a warm intimacy to personal lyrics based on their relationship. "I don't wanna forget all the love we captured the day we met," sings Graydon on the sumptuous first single, "Far Away," one of the album's many highlights. Throughout the CD Kindred boasts a robust, live sound, thanks to a 10-piece backup band (including an old-school horn section) that shifts effortlessly from the jazzy syncopation of "Rhythm of Life" to the War-like Latin funk of "Spread the Word."
BOTTOM LINE: Surrender to Kindred
With her critically acclaimed R&B debut,
A Little Deeper
, Britain's Ms. Dynamite is catching fire in the States. So what sizzling discs are in the 22-year-old singer's CD player?
•
I Care 4 U
, Aaliyah. Her voice is beautiful to listen to: relaxing and therapeutic. One of my all-time favorite artists.
•
No More Drama
, Mary J, Blige. All of her albums inspire me; her strength and talent encourage me. Even her saddest songs can lift me up.
•
Acoustic Soul
, India.Arie. Feel-good music that is positive and spiritual. Helps me to stay appreciative.
•
MTV Unplugged No. 2.0
, Lauryn Hill and Lets Get Free, Dead Prez. Brain food. Both of these albums are stimulating to the mind: culturally and socially aware, uplifting and inspiring.
Contributors:
Chuck Arnold,
Ralph Novak.
Advertisement
Treat Yourself! 4 Preview Issues
The most buzzed about stars this minute!