Archive Page - 12/1/12 39 years, 2,080 covers and 53,257 stories from PEOPLE magazine's history for you to enjoy
On Newsstands Now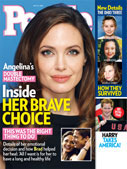 Angelina: Inside Her Brave Choice

New Details on the Ohio Three

Prince Harry Takes America!
Pick up your copy on newsstands
Click here for instant access to the Digital Magazine
People Top 5
LAST UPDATE: Wednesday May 22, 2013 09:10AM EDT
PEOPLE Top 5 are the most-viewed stories on the site over the past three days, updated every 60 minutes
Picks and Pans: Pages
Sounds Off
Critic's Choice




Paul Iverson is desperate to know what happened the afternoon his wife, Lexy, fell to her death from the apple tree in their backyard, but there is no comment from the only witness: Lorelei, a Rhodesian Ridgeback. So Paul takes a leave of absence from his position as a linguistics professor to teach Lorelei to talk.
It would give too much away to tell whether he succeeds, but, in her first novel, Parkhurst does, magnificently. As in last year's
The Lovely Bones
, which had a similar tone, characters come to terms with grief while trying to unravel the mystery of an unexplained death. As Paul researches the history of experiments with canine speech, he also mines the details of his marriage to Lexy, an artist who made masks, for clues. He isn't the cuddliest protagonist, and the author deals with his mourning in stark terms, but readers will feel they are right there beside him.
Parkhurst illuminates the emotional landscape that faces a surviving spouse who is trying to decide how much of life is about the past and how much is about the future. She can be unsparing about love's limitations; at times Paul willfully refuses to see what's in front of him. In the end this is an unforgettable reminder that when you can't change the outcome of events, sometimes understanding is enough. (Little, Brown, $21.95)
BOTTOM LINE: Miraculous
By Boris Akunin
Conspiracy is in the air in 1876 Moscow. On the case is a lowly police department clerk, Erast Petrovich Fandorin, who, after three weeks of desk work in the Criminal Investigation Division, must close the file on a bizarre public suicide. Fandorin's natural sleuthing talents quickly reveal links to Moscow's high society, murderous revolutionaries and London's decrepit Winter Queen hotel.
In his U.S. debut, Akunin (the pen name of bestselling Russian author Grigory Chkhartishvili) has written a novel of intrigue in a genteel style that makes the story feel as if it were crafted in the 19th century. This episode, the first of 10 books in a series, marries old-fashioned manners to a nonstop array of plot twists to rival the best detective tales.
The Winter Queen
is an energetic hands-down winner. (Random House, $19.95)
BOTTOM LINE: This
Queen
rules
By Kathryn Harrison
Novelist Kathryn Harrison's previous memoir,
The Kiss
, was a mesmerizing account of her sexual affair at age 20 with her father, whom she had seen only twice growing up. This follow-up is a series of personal reflections, many of which focus on the lonely interior landscape of a child brought up by her grandparents while her glamorous, selfish mother retreated to the periphery. This time Harrison's father is barely mentioned.
The reader may sympathize with Harrison's eating disorders and other self-destructive behaviors, but the collective dysfunction portrayed in these chapters weighs down the book. Harrison does well when she turns her attention outward, such as in "Renewal," a funny account of how she helped her grandmother cheat her way to success on her driving test, and "What Remains," a fascinating essay about artifacts of the dead, from relics of the saints to Kurt Cobain's bloody guitar. (Random House, $22.95)
BOTTOM LINE: Downbeat but worthwhile
By Augusten Burroughs
Burroughs serves up a potent mix of humor and poignancy in this fizzy sequel to his 2002 memoir
Running with Scissors
. As the book opens he has scrapped his way out of a chaotic childhood into a Madison Avenue ad firm where, by his mid-20s, he's pulling down over $200,000 a year. He's also putting away a liter of scotch each night. So he enters a gay rehab center, where he stumbles back to sobriety.
Dry
is more than a heartbreaking tale; it's a heroic one. As with its predecessor, we finish the book amazed not only that Burroughs can write so brilliantly, but that he's even alive. (St. Martin's, $24.95)
BOTTOM LINE: Horrifying but uplifting
By David Weddle
Back in the early 1900s one could buy quarter-and half-acre lots in the newly founded Beverly Hills for $300 and $400 apiece. Today that amount would barely cover the dinner tab at a chichi restaurant in Southern California's most celebrated playground for the superrich. How did 5.5 square miles of land near downtown L.A. become what Weddle calls "a dream that has captivated the American imagination"? In this discursive history Weddle doesn't offer a convincing answer. His patchwork portrait is part real estate history (how Buster Keaton built one of the first movie-star mansions and what became of it), part scandal sheet (Lana Turner's ill-fated tryst with mobster Johnny Stompanato) and part contemporary journalism (an overly long look at disaffected students at Beverly Hills High School). Connected only by the 90210 zip code, these diverse chapters don't add up to a cogent whole. (Morrow, $25.95)
BOTTOM LINE: There's no there there
By Sherman Alexie
In these nine (not 10) stories, Alexie's writing is wonderfully economical. In "Flight Patterns," when Alexie describes an Ethiopian cabdriver and a Spokane Indian businessman as "two dark men laughing at dark jokes," he perfectly sums them up. In another story a son recalls his mother as "fierce and protective, open and permissive...and a total embarrassment." Alexie, screenwriter of the 1998 film
Smoke Signals
, is a fine distiller of words whose Indian protagonists—they don't call themselves Native Americans—battle liberal goodwill, sentimental stereotyping and the offhand racism of the clueless while trying to feel both normal and individual. This is a stellar collection of full-hearted, energetic stories. (Grove Atlantic, $24)
BOTTOM LINE: Terrific tales
LARRY KING
CNN talk show host Larry King's first novel,
Moon over Manhattan
, has just hit bookstores. King, 69, devised the plot of the madcap New York farce but asked award-winning mystery author Thomas H. Cook to do the writing.
ON GETTING STARTED: "I wanted to do a novel, but I didn't have the patience to sit down and write. I had read a couple of Cook's books. We met in New York and liked each other. The project took off."
ON THE COOPERATIVE PROCESS: "The book took about eight months. Each week I'd throw in my ideas. He did the writing. He'd send me two or three chapters, and then I'd go over them and we'd talk. Most of the ideas were mine. It was a true collaboration."
ON THE PLOT: "Initially I thought it would be a murder mystery. It developed into this really funny story about characters in New York. Since 9/11 there's been a lot of seriousness. I just want to give people a good laugh. I hope it's an antidote for people, that they will smile."
ON FUTURE NOVELS: "I'd like to do a detective yarn. I'd want to do a classic hero and a femme fatale, something like
No Second Chance
by Harlan Coben. If I could get as good as that, there'd be no worlds left to conquer."
ON SLOWING DOWN: "While it seems like I'm doing a lot, I don't think of it as work. I love what I do. The last time I worked was helping out on a UPS truck when I was 21. Now that was work."
Contributors:
Amy Waldman,
Sean Gannon,
John Freeman,
Leah Rozen,
Arion Berger,
Andrea Billups.
By Carolyn Parkhurst
Advertisement
Treat Yourself! 4 Preview Issues
The most buzzed about stars this minute!