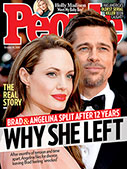 This Week's Issue!
People Top 5
LAST UPDATE: Tuesday February 10, 2015 01:10PM EST
PEOPLE Top 5 are the most-viewed stories on the site over the past three days, updated every 60 minutes
Picks and Pans Main: Screen
Also Playing


If this barely-a-notch-above-routine cop movie about a mismatched pair of police detectives investigating the murder of a rap group starred, say, Sylvester Stallone and Freddie Prinze Jr., the few moviegoers who showed up would probably walk out or at least take a snooze halfway through. But it boasts Ford and Hartnett, each one of moviedom's major hotties for their age group, so attention must be paid. Thankfully, these two manage to give the film a gloss, plus a hefty dose of raffish charm.

Hollywood Homicide teams Joe Gavilan (Ford), a veteran Los Angeles police detective with three ex-wives and two kids whom we never see, alongside the younger, less savvy K.C. Calden (Hartnett). When four members of a popular rap group are fatally shot in a nightclub, the duo is assigned the case. The movie's main joke is that these two spend as much time pursuing their second careers—Gavilan hawks real estate while Calden teaches yoga and studies acting—as they do chasing down perps.

The key problem is that Homicide can't decide whether it's a comedy or a drama, wavering with fitful unease between the two. Director and cowriter Ron Shelton (Dark Blue) keeps piling on subplots, characters and chases, possibly hoping that if enough is going on, you won't notice that there's nothing really happening. Ford (see page 88) proves game throughout and is particularly appealing in his playful romantic scenes with Olin (she's a clairvoyant), telling her, "If I take my ginkgo, I can still remember where I put my Viagra." The moist-eyed Hartnett delivers in his few solo scenes, but he and Ford never develop an onscreen rapport to rival that of classic odd couple pairings like Nick Nolte and Eddie Murphy in 1982's 48 HRS. If Homicide lingers in anyone's memory past 48 hours, it'll be a miracle. (PG-13)

BOTTOM LINE: No hooray for this Hollywood

When Harry Met Lloyd

Eric Christian Olsen, Derek Richardson, Eugene Levy

Does the world really need a prequel to Dumb & Dumber, the 1994 ode to lowbrow silliness and potty jokes? Absolutely not, but in this otherwise tepid exercise in stringing together tasteless jokes (example: a candy bar melts in someone's pocket and is mistaken for excrement), Olsen displays a white-hot comic brilliance. As the teen version of Lloyd, the adult dummkopf Jim Carrey memorably played in the original, he eerily channels the rubber-faced star and yet makes the doltish Lloyd his own. By contrast, Richardson, as even dimmer Harry (a role created by Jeff Daniels), is merely dull, exuding the comic zing of mashed turnips.

Olsen (see page 72) has ample space to cut loose, given that there's barely a wisp of a plot here—something about Lloyd and Harry inadvertently exposing a corrupt principal (Levy). There are laughs to be had, but fewer than in the first Dumb and none of them as soul-satisfyingly stupid. (PG-13)

BOTTOM LINE: Dumbest

•The Hard Word A trio of Aussie brothers pursue a life of crime. This one boasts a certain casual charm and dandy turns by Guy Pearce as the brains of the crew and Rachel Griffiths as his sexpot wife, but it doesn't add up to much. (R)

•The Heart of Me Helena Bonham Carter and Olivia Williams swan about in flattering frocks from the 1930s and '40s in a half-baked period romantic drama about two London sisters who hanker after the same man (Paul Bettany). (R)

•Rugrats Go Wild Nickelodeon crams characters from its kiddie TV shows, Rugrats and The Wild Thornberrys, into one crowded, forgettable cartoon feature. The Rugrats crew is shipwrecked on an island inhabited only by the Thornberry clan, who have pitched camp to make a nature documentary. The best jokes play off popular culture, with references to A Perfect Storm and Gilligan's Island. (PG)


Harrison Ford, Josh Hartnett, Lena Olin, Bruce Greenwood
Advertisement
Treat Yourself! 4 Preview Issues
The most buzzed about stars this minute!