People Top 5
LAST UPDATE: Tuesday February 10, 2015 01:10PM EST
PEOPLE Top 5 are the most-viewed stories on the site over the past three days, updated every 60 minutes
Happiness Granted
Amy Grant Sings of Past Pain and the Joys of Building a New Family with Vince Gill
Besides crediting Corrina as the magic ingredient that helped join two splintered families, Grant says the tot has helped bring a tumultuous, traumatic period in her life to a happy end. Now 42, the five-time Grammy-winning gospel-and-pop star has released a new album,
Simple Things
, her first collection of new songs since she startled fans by divorcing her husband of 16 years, gospel singer Gary Chapman, in 1999 and marrying Gill, 46, the following year. "It was really a cathartic experience," Grant says of composing songs (she wrote or cowrote 8 of the album's 10 tracks) that express her feelings of hurt and guilt, as well as the joys of new love. Writing confessional tunes like "Out in the Open" ("And no one ever really knew the/Darker shadows of my heart"), she says, enabled her to take her "first real steps toward working through shame to forgiveness."
Just how emotionally harrowing that journey has been, Grant has only now begun to discuss in public. "Divorce might be common in some worlds, but it wasn't in mine," says Grant, who was dropped from some radio playlists and excoriated by fans amid rumors that she had committed adultery with Gill. (Both she and Gill maintain their romance didn't begin until after their respective marriages were over.) "It's very, very hard on the children, and oh gosh, however you justify it, there's no answer to all the pain you are causing so many people."
Gill, who divorced his musician wife Janis in 1997, after 17 years of marriage, dotes on their only child, Jenny, 21 and a student at Middle Tennessee State University. He is also now step-father to Grant's three children, Matt, 15, Millie, 13, and Sarah, 10, who divide their time between the couple's Nashville home and their father's house nearby. "I think the girls accepted Vince pretty easily," says Grant's sister Kathy Harrell, adding that "it's still hard with Matt. Gary is still very much their dad, and Vince has been very careful not to try and take his place."
"All those kids had a lot of feelings," Gill says. "They were confused. They were angry. I just felt like we should love them through it all and just be there for them all the time."
The new family began to gel in the summer of 2000, when Grant returned pregnant from a working vacation on Florida's Gulf Coast, where she began composing the songs that became
Simple Things
. "I didn't get pregnant for that reason," Grant says, "but I discovered that having another child made everything feel new again."
Rejuvenation and the restorative power of love are of course mainstays of the Christian faith that has buoyed Grant through times of adversity—and propelled her to stardom as one of Christian music's most successful artists. Born in Augusta, Ga., and raised in Nashville by her doctor father, Burton, and her mother, Gloria, a home-maker, Grant was just 17 when she released her self-titled debut album of Christian music in 1978. The title song of her follow-up,
Father's Eyes
, was written by her future touring partner Gary Chapman, whom she married in 1982. In all, Grant has sold more than 24 million albums, including her 1985 crossover pop hit
Unguarded
and 1994's double platinum
House of Love
, which featured a duet with Gill.
Yet for all her success, Grant hadn't found happiness. "In the dark days of her first marriage, we were really worried about her," says Harrell, 51 and wife of one of Amy's managers, Dan Harrell. While the couple sought marriage counseling, in the end they divorced. "When the circumstances come to the point that somebody says 'I can't do this anymore,'" Grant says, "that's painful for everybody involved."
In an interview with
Contemporary Christian Magazine
at the time of her divorce, Grant described Gill, a prolific singer-songwriter with more than 25 Top 10 country hits to his credit, as "a friend" and "an innocent party" whose presence in her life spotlighted "by comparison, the painful dynamics" of her marriage. Gill "wasn't what broke them up," a family friend told
People
in 1999. "I'd say it was the final straw. They weren't getting along and they hadn't been for years."
When Grant and Gill began dating after her divorce, it was she, Gill says, who took the brunt of the criticism. "I heard her say the most meaningful thing about dealing with people taking shots at her. She said, 'Hey, if everybody did everything right, we wouldn't need a Savior.'"
Wed in March 2000, Gill describes the marriage as "a great fit. The compatibility is really pretty amazing, just the way we balance each other. Just walking by, grabbing her hand, putting my arm around her; she just kind of folds into me. We don't get sideways with each other—ever."
Playing with Corrina on the floor in their very lived-in home—the older children come and go with friends, family dogs Chester and Skittle scamper through rooms festooned with family photos, with musical instruments and toys scattered throughout—Gill, like Grant, finds new parenthood a thrill. "Corrina is a blast," he says. "Amy and I are both so laid back, everybody thought this kid will be so mellow. But she really has a lot of fire."
"I had a lot of friends saying 'Thank God it's you and not me,'" says Grant, who was 40 when the baby was born. "But I loved it. I have always loved being pregnant. I love having big breasts! I wasn't worried about losing my figure. I didn't look good in a bikini in high school. I wasn't going to look good in a bikini at 42."
Though Grant says "It was a little harder bouncing back; I really felt my age," a newfound passion for bicycling—along with golf, volleyball, Ping-Pong and all manner of competitive family sports—has helped restore her trim figure. And the nonstop activity necessary to manage a household full of school-age children helps. "She's a typical mom," Gill says. "It's all family first."
Promoting her album with rounds of radio and television appearances and planning a Christmas concert tour with Gill, who sings duets with her and plays mandolin on a couple of Simple tracks, Grant says that with Gill she has found a form of happiness she never knew before. "It's not about arriving at that big, grand place ('Oh, our dreams have all come true!')" she says. "It's just the day-to-day reaching out for somebody else, assuring them, being friends."
Steve Dougherty
Trine Tsouderos in Nashville
Contributors:
Trine Tsouderos.
"Eee eye eee eye oh!" Strumming her junior-size six-string in the billiards room of her family's sprawling Nashville home, 2-year-old Corrina Grant Gill sings the chorus to "Old MacDonald" in an off-kilter trill only a mother could love. But it is Corrina's talent for a different sort of harmonizing that makes mama Amy Grant beam. Born a year after Grant's headline-making marriage to country star Vince Gill, Corrina is the adorable epoxy that holds the couple's new, if somewhat discordant, family together. "When Corrina is saying her prayers at night, it's 'Mommy, Daddy, Jenny, Matt, Millie and Sarah,'" Grant says of her youngest's four half siblings from Mom and Dad's previous marriages. "Not to put too much pressure on Corrina, but it was in this one little child that all of our blood was mingled. She connected all of us."
Advertisement
Today's Photos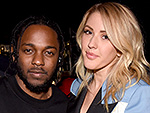 Treat Yourself! 4 Preview Issues
The most buzzed about stars this minute!