People Top 5
LAST UPDATE: Tuesday February 10, 2015 01:10PM EST
PEOPLE Top 5 are the most-viewed stories on the site over the past three days, updated every 60 minutes
Baby, It's You!
Over the Moon About Daughter Rowan Francis, Brooke Shields Opens Up About Her Struggle with Infertility and the Thrill of Finally Becoming a Mom
Brooke Shields
gets to her 9:30 breakfast meeting, she's already been up nearly five hours, thanks to Rowan, her 3½-month-old daughter, who awoke at 4:45 a.m., ready to feed a full two hours ahead of schedule. "She changed her routine this morning," Shields says with a sigh as she arrives at the W Hotel in Los Angeles. Though Shields, 38, sounds like any new mom—fatigued, sleep deprived and bemused by the baby paraphernalia, "all the just-in-case stuff" she totes everywhere-she's still very much Brooke: courteous, well-organized, slyly funny. "I have to nurse in 45 minutes," she warns as she slides into her chair, looking gorgeous in a pale brown blouse and jeans. Precisely three-quarters of an hour later, she asks a waiter to find the woman who's minding Rowan. "Tell her I'm ready," she deadpans. "If you can't find her, just tell all the babies you see that I'm ready to nurse."
But don't let Shields's ready humor and infectious joy fool you. She has achieved her giddy happiness the old-fashioned way: She earned it. The birth of Rowan Francis Henchy, who weighed in at 7 lbs. 5 oz. after a cesarean delivery on May 15, followed a difficult period that began in 1999 with the breakup of the actress's two-year marriage to Andre Agassi and continued with the suicide of her close friend and
Suddenly Susan
costar David Strickland and the cancellation of the show. Even after Shields found new love with sitcom writer Chris Henchy (
Spin City
), whom she married in April 2001, heartache persisted on two fronts. There was her father Frank's protracted battle with cancer—and Shields's own struggle with infertility. Frank, 61, passed away in April, shortly before Rowan was born. Now, Shields and Henchy take no minute of parenthood for granted. "I'm amazed every day, watching Brooke and the baby," says Henchy, 39. "It's amazing to see a living soul that has come from this marriage."
At the time of their wedding, Shields and Henchy already knew that attaining parenthood might be tricky. Nine months earlier Shields had been diagnosed with cervical dysplasia, a condition involving abnormal cells that, if left untreated, can lead to cancer. "The treatment wreaked havoc on my cervix, creating scar tissue," she says. "It's like jumping in a pool with no water. There's nothing to help the little guys swim through." But the complication actually strengthened the couple's bond. "Knowing we wanted children helped us decide we wanted to be married," she says.
With that understanding, Shields and Henchy tried to get pregnant right away. After six months without success, they turned to in vitro fertilization, a method that would join his sperm and her eggs in a petri dish, then return them to her uterus as embryos. In late 2001, after Shields finished a starring run on Broadway in
Cabaret
, they took their first swing at IVF, and seemed to hit a home run. But three months later, Shields suffered a miscarriage. "We were crushed," she says. "Up till then, I thought simply because it was time and I wanted to have a baby, it would work out."
Soon, Shields found herself confronting several hard truths. Beyond the shock of realizing that the most natural thing in the world was not going to be so natural in her case, Shields had to acknowledge her own limitations. "Being a type A personality, I've always believed that if I did my homework, if I worked hard enough, I'd get the results I wanted," she says. "But you can't ensure success unless you're God—and you're not. Neither are the doctors." Like many women in similar circumstances, Shields searched for deeper meaning, and came up empty. "Maybe I'll never know why it happened," she says. "But it made me understand the difference between wanting to have a baby and truly wanting to be a mother."
Over the next eight months, Shields attempted six more IVFs. Henchy helped by injecting her three times a day with ovulation stimulants. "The first time, I kneeled down, carefully put the needle in her butt and almost passed out," says Henchy. "Three weeks later I was doing it with a coffee cup in one hand, not thinking about it." During those long months, they fell back on humor to help keep perspective. "Chris has a way of looking on the lighter side," says Shields. There was, for example, the day she burst into tears in a grocery store. "I just felt pathetic," she says. "I looked around and said, 'I'm crying in the canned food section.' So, he says, 'would you prefer to go cry in dairy?'" (Such moments inspire hope for the new ABC sitcom
I'm with Her
, which is based on executive producer Henchy's experiences as the husband of a celebrity; see box.)
The couple's ability to talk openly also helped Shields endure the physical and emotional turmoil of fertility treatments. "The frustration went back and forth between us," she says. "Sometimes he would have to rally. Sometimes I would." Henchy downplays his own suffering. "If it was difficult on me," he says, "it was because of the frustration and despair Brooke felt when it didn't work out." Shields counters, "It's really hard on the husbands. They watch their wives follow instructions, try to do everything right—and not always end up successful."
In hindsight Shields thinks the miscarriage helped gird her for the hard-ship that followed. "In a way, it was a blessing that I'd started with a positive result," she says. "I told myself it happened once, it can happen again." She also derived comfort from other women she met who had gone on to have children following miscarriages. "It was encouraging in a sad but positive way," she says. "I realized how not alone I was."
Still, by August 2002, Shields was so hardened to disappointment that she held her hopes in check as she returned to an L.A. clinic for the seventh transfer of embryos to her uterus. Until then she'd been vigilant after each implant, maintaining healthy habits just in case the procedure took. This time, she says, she and Henchy were so sure there would be no pregnancy that two weeks later, on the night before Shields was to go in for tests, the couple "got a little self-destructive" and went pub-crawling with friends.
When the doctor called later that day with good news, a stunned Shields woke up Henchy and handed him the phone. "He said, 'Oh. Oh boy. Oh. Thank you!'" Shields recalls, deftly mimicking Henchy's transformation from hungover hubby to happy dad-to-be. As for Shields, it took just seconds for her imagination to drift from ecstatic to full-blown maternal freak-out. "I had one thought: fetal alcohol syndrome!" she says. Panicked, she phoned the doctor back and began to babble about "the possibility I did brain damage," she recalls, laughing. "He was like, 'Oh God, it's starting...'"
Needless to say, Shields was a model incubator throughout her pregnancy, eating well and doing yoga right up until May 14. That morning she rolled over to Henchy and said, "Honey! I think my water's breaking. What does the book say?" After Henchy groggily responded, "The book says to go back to sleep," Shields dozed for three more hours. Later, tucked into a room at New York University Medical Center, she went into labor, but for 24 hours, she says, "nothing happened." Finally, after her doctor ordered a C-section, Rowan emerged looking "so judgmental," says Shields. "She made eye contact with me, her father and the doctor. It seemed calculated. I thought, 'Well, I'm really in for it with this one!'"
So far, though, Rowan has been no enfant terrible. Already she handles long flights as Shields and Henchy jet between their Manhattan apartment in SoHo and their rustic-style, three-bedroom home in the Santa Monica Mountains. Rowan turned on the charm during a recent visit from her grandmother Teri Shields, 70, from whom Brooke was estranged for several years. "She's madly in love with the child," Brooke says. "But she doesn't want to be called Grandma. We haven't decided on the word."
Until now, Shields has declined full-time help, devoting round-the-clock attention to Rowan. But that will soon change as she resumes her acting career. She has a romantic comedy on deck, tentatively titled
The Last Two People on Earth
, and plans to do another TV sitcom. Of course, motherhood remains the biggest work in progress. (Reader, be warned: This anecdote is not for the faint of heart.) Recently she was alternately kissing and holding Rowan high over her head, when the baby produced her first giggle. Delighted, Shields repeated the exercise again and again. "I had my mouth open, and then all of a sudden Rowan threw up—right into my mouth," she says. "It was gross. But I thought, 'You know what? Now I am truly a mother.'"
Jill Smolowe
Todd Gold in Los Angeles
[This article contains a table. Please see hardcopy of magazine or PDF.]
Advertisement
Today's Photos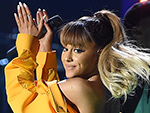 Treat Yourself! 4 Preview Issues
The most buzzed about stars this minute!