People Top 5
LAST UPDATE: Tuesday February 10, 2015 01:10PM EST
PEOPLE Top 5 are the most-viewed stories on the site over the past three days, updated every 60 minutes
And Baby Makes Three
Ready for the Material Mom? Madonna's Pregnant, and Trainer Carlos Leon Is the Expectant Dad
SUPERSTARS, MAN. YOU CAN'T believe a word they say. Just four months ago Her Royal Blondeness took to the national airwaves and announced her plan to find a suitable candidate for "the fatherhood gig" by taking out a personal ad. "I'm sure I'll meet the right guy," she told
Primetime Live
's Forrest Sawyer. "I'm sure of it." Across the planet, the scratchy sound of otherwise sane men scribbling applications filled the air. But was
Madonna
even considering the advantages of strong character versus firm buns? Not likely. Chances are she was too busy wondering whether Jean-Paul Gaultier does anything in a black leather nursing bra. Yes, fellas, it's true:
Madonna
, 37, is already with child. And for the record, the right guy was found a year and a half ago: one Carlos Manuel Leon, 29, personal trainer, sweet, strong-willed, shy, with 7 percent body fat and a tendency toward jealousy. The loving couple, of Manhattan's Upper West Side, are expecting their firstborn in November. And in case the pancake makeup is concealing the glow,
Madonna
is, said her longtime publicist Liz Rosenberg, "deliriously happy."
As for everyone else, they're just delirious—and maybe gasping for breath. In the 13 years since she first thrust herself—belly button and all—onto the public stage, Michigan-born
Madonna
Louise Veronica Ciccone has been called just about every name in the book: brilliant, blasphemous, hedonistic, heroic, a visionary feminist, a feminist's nightmare, a shark in goldfish's clothing. But it is with a jolt of astonishment that the public now ponders her as Mom. "What more could she do to shock America?" asks DreamWorks executive Terry Press, who worked with
Madonna
on 1990's
Dick Tracy
. "We have seen her naked. We have seen her with women. We have seen her with men. She is one of the most self-absorbed people on the planet. A child is either going to ground her or it is going to be a rerun of
Mommie Dearest
."
Okay, so June Cleaver she ain't. In 1992, the sadomasochistic fantasies in her bestselling photo book,
Sex
, elicited groans the world over. And on a
Late Show
appearance in 1994, her stream of four-letter expletives left even the unflappable David Letterman flapped. Still, on the West Side of Manhattan, a Cuban-American couple who have been married 33 years, raised two hardworking sons—and, thanks to
Madonna
, are now awaiting their second grandchild—don't seem concerned. "Everything people say about her is not true," says Maria Leon, a 49-year-old social worker who couldn't be happier about her Carlito's involvement with
Madonna
. "When you get to know her, you know she's very affectionate, very warm. She's a real person, like you and me."
Well, a real person anyway. "She loves Carlos very much," adds Armando Leon, 50, a businessman. "And we love her too."
What exactly makes a couple click is a matter best left to the philosophers (or
Oprah
). But this much is sure: As the most influential female pop star in history—and, with a fortune estimated at more than $100 million, one of the richest—
Madonna
is a tough date. Warren Beatty withered in the glare of her spotlight. Another ex-beau, party promoter Peter Shue, who dated
Madonna
briefly in 1994, couldn't take being her boy toy. "It's like she wants me to just stay with her and don't do nothing," Shue told an acquaintance in a phone call wiretapped, it turns out, by the DEA. (Later, in 1995, Shue was tried for dealing cocaine and the tapes of his phone calls were played in court; the jury couldn't reach a verdict, and officials say
Madonna
didn't know of his alleged crimes.) Even Chicago Bulls bad boy Dennis Rodman, whose fling with
Madonna
ended in 1994, found her perplexing. "She had ways of making you feel like King Tut," he told SPORTS ILLUSTRATED. "But she also wanted to cuddle."
Enter Carlos Leon.
Madonna
first spotted Leon, an avid amateur bike racer, while running with her trainer in Manhattan's Central Park in September 1994. He slowed his bike to say hello. They chatted, and later she managed to contact him again; he managed not to pass out. "Can you believe this?" he asked friends. His parents could not. When Leon told them he was dating
Madonna
, they laughed. "When they showed up, we thought it was a look-alike or something," says Armando.
By November, when
Madonna
accompanied Carlos to Thanksgiving dinner at the Miami Beach home of his great-aunt Adella Sanson, the entire family, gathered for the holiday, embraced her. "Even then she talked about babies," recalls Carlos's brother Armando, 31. "I teased him about it."
But to
Madonna
, motherhood was no laughing matter. Having lost her own mother to breast cancer when she was 5, the singer, one of seven siblings, was left, she recently told Forrest Sawyer, with "a longing, a feeling of emptiness." Unable to satisfy her need to receive maternal nurturing, say those who know her, she learned to offer it instead. "While filming
Truth or Dare
, the backup singers and dancers were like her children," says Robert Leacock, director of photography on her 1991 documentary. "They came to her for guidance and support. And she was giving to them."
She already knew, though, that playing the part wasn't enough. "I think like most women in their 30s," says her close friend, actress, "the desire to have children becomes paramount." According to Rodman,
Madonna
asked him to do the honors when they were a couple: "She said, 'Be in a hotel room in Las Vegas on this specific day so you can get me pregnant.'" He declined—and a few months later she met Leon. But not a single person who knows him believes he is simply a sperm donor. "He's the nicest, sweetest, most lovable person," said publicist Rosenberg. "He's a stabilizing influence."
Not surprisingly, his mother agrees. Raised in Manhattan and educated in parochial schools, Leon, says Maria, "has always been a very quiet person, very hardworking." A variety of jobs—from selling health-club memberships to doing office work in a local law firm—never stopped him from visiting his parents each day. And his relationship with a celebrity hasn't kept him from being a regular guy. "He doesn't want to be known as the person who dates
Madonna
," says Sarah Dent, vice president of Crunch Fitness, the gym where Leon now trains his private clients. Says an employee at Manhattan's Reebok Sports Club, where the couple often work out: "They seem comfortable together."
And then some. In between their regular gym workouts—often after long runs—
Madonna
and Leon, says his mother, are happiest just hanging out with the family. "We see each other all the time," says Maria. Often she invites the couple to her home. She cooks
Madonna
's favorite black beans, she says, "and we listen to Cuban music and talk all night." Last March, when a homeless drifter was tried in L.A. for stalking
Madonna
(he was sentenced to 10 years in prison), Leon provided his admittedly unnerved girlfriend with comfort and strength.
Still, the couple, who live together in
Madonna
's co-op on Central Park West (she also owns houses in Miami and LA.), are not without, as they say on the couch, issues. "Carlos...is very jealous,"
Madonna
told
Cosmopolitan
. "I mean, when I'm looking through a magazine, I'm careful not to comment on attractive guys." According to Leon's aunt Daisy Alvarez, however, neither he nor
Madonna
is slow to express an opinion. "Carlos has a temper," she told the
New York Daily News
. "She likes to boss him around, and I don't think he likes that much."
Nor, predict others, will the fruit of their union. Contrary to a popular myth—one she has had no small hand in promoting—
Madonna
is not in private what she seems in public: a wanton trollop with nothing on her mind but her own (usually physical) pleasure. "I don't think I could get any work done if I was spending all that time in bed," she told the
Los Angeles Times
. What her son or daughter will have to fear, some say, is too much discipline, not too little. "
Madonna
is a perfectionist," says
Truth or Dare
's Leacock. "I hope she won't be too rough on the child." Says
Rosie O'Donnell
: "I have 100 percent confidence she will be a wonderful parent. She is first and foremost not a celebrity now, but a woman who is pregnant."
And one who has a side seldom seen by the public. Like Leon,
Madonna
doesn't smoke, drink or do drugs. She votes regularly, she keeps to-do lists, she looks up words in the dictionary (the spelling of "awkward" stumps her every time), and she believes in warning labels on records and TV to help parents monitor what their children take in. "
Madonna
is a very grounded person," says Bob Merlis, a Warner Brothers Records executive. "She's more in touch with reality than any other superstar I've had to work with. And she really loves children."
Should the expectant mother need any tips now, her pals are ready. Says O'Donnell, who adopted a son, Parker, 11 months, last June: "We'll all do the new mom stuff with advice. What car seat is better? Which Disney sing-along holds their attention the longest? I'm going to tell her Pampers Premium is the way to go."
To what extent
Madonna
and Leon will remain a joint force in their child's life is yet to be seen. Earlier in the winter, when Leon flew to London where
Madonna
was recording the soundtrack to
Evita
, the two reportedly got into a tiff and split up. But soon after
Madonna
arrived in Argentina to start shooting
Evita
in January, he was back at her side. And last week, Leon flew to Budapest, where he planned to spend a week with
Madonna
at the Grand Hotel Corvinus Kempinski while she worked. For the moment, friends say, there are no plans for marriage, but no one is ruling it out. "My son is really in love with her," says Maria. Whatever they choose for their future, she says, to marry or not, is fine by her. "As long as they're happy," says Maria, "that's all that really matters."
KAREN S. SCHNEIDER
LIZ MCNEIL, JANE SUGDEN in Manhattan, CINDY DAMPIER in Miami, VICKI SHEFFCAHAN in L.A., SUSAN MILLIGAN in Budapest
Contributors:
Liz McNeil,
Jane Sugden,
Cindy Dampier,
Vicki Sheffcahan,
Susan Milligan.
Advertisement
Today's Photos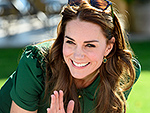 Treat Yourself! 4 Preview Issues
The most buzzed about stars this minute!