People Top 5
LAST UPDATE: Tuesday February 10, 2015 01:10PM EST
PEOPLE Top 5 are the most-viewed stories on the site over the past three days, updated every 60 minutes
Picks and Pans Main: Song
Talking With...
Matthews's multi-platinum major-label debut, 1994's
Under the Table and Dreaming
, stretched the limits of alternative radio with its loose brand of folk fusion. You couldn't mosh to it if you tried, but the CD was an ear-friendly surprise in the narrowly defined pop universe—even if some critics griped that the Charlottesville, Va., group's Dead-inspired jams could come off as a tad too precious and ephemeral. Fortunately for their fans, the Matthews ensemble sounds even crisper on their solid followup and proves that their previous record was not just an intriguing oddity.
Each song unfolds in a relaxed way, propelled by Carter Beauford's airtight drumming and Boyd Tinsley's heavenly violin. The urgent funk of "Too Much" varies the pace, although the Chili Peppers they ain't. Matthews sounds possessed by Eddie Vedder on the sinewy "Drive In Drive Out" but reverts back to his calmer, more serene vocal style on the gentle love song "Let You Down." Leroi Moore's happy whistling at the end of the track sums up the feeling of joy that pervades the album. As alternative music threatens to become just another bland pop category, the Dave Matthews Band successfully redefines it on its own eclectic terms. (RCA)
Joe Henry
Bill Morrissey
Singer-songwriters haven't been such a big deal since 1988, the year Tracy Chapman hot-rodded up the pop charts with her "Fast Car." Girls with guitars are attracting the most attention, but male troubadours like Henry and Morrissey are making beautiful noise of their own.
Syncopated percussion and Henry's weathered, Dylanesque croon propel the spectral acoustic mood of
Trampoline
(Mammoth/Atlantic). Taking a cue from his adventurous sister-in-law
Madonna
—big sister of his wife, Melanie—Henry pushes his quiet riot over the cutting edge on his sixth full-length release.
Trampoline
defies classification, rumbling with industrial sound effects and offering inspired musical touches: "Flower Girl" blooms with bits of opera, and "Let Me Have It All" overhauls and nearly outfunks the Sly Stone oldie.
Bill Morrissey's seventh album,
You'll Never Get to Heaven
(Philo/Rounder), though more traditional than Henry's effort, is equally satisfying. Sprinkling Heaven's fertile folk soundscape with bits of various genres, including a brassy waltz motif ("Hills of Tuscany"), Tex-Mex ("Turn and Spin") and ragtime ("Big Leg Ida"), Morrissey sounds like a wise old bird, offering, in hushed tones, both visionary and more obvious truths like "You'll never get to heaven if you don't stop drinking." Perhaps, but why worry about getting to heaven when listening to these albums is sort of like already being there?
Tina Arena
Besides being blessed with the best pop-star name this side of Courtney Love, Tina Arena possesses some valuable vocal assets: the pitch-perfect clarity of Celine Dion and the girlish sensuality of early Olivia Newton-John. Already A-list in her native Australia, where she got her start as a child TV star (Tina Arena is her real name), Arena is courting U.S. success with the single "Chains." Wrapped in the glow of love, she turns in a muscular vocal on this rhythmic power ballad, effortlessly stretching her octave-leaping soprano. This is the type of number that the repeat button on CD players is made for. The samba flavor of "Sorrento Moon (I Remember)" and "Message," and the jug-band strum of "Standing Up" expand Arena's scope and suggest she's no one-note diva.
If only producer David Tyson hadn't made
Don't Ask
so immaculate. The slick pop trappings of "Heaven Help My Heart" and "That's the Way a Woman Feels" are so processed and up-to-the-second slick that they're bound to sound like ancient artifacts by this time next year. Will fans still love Arena tomorrow? For now, don't ask. Just listen. (Epic)
Julie Andrews
It's unfortunate if many think Andrews's best work has to do with raindrops on roses, whiskers on kittens, and anthems sung with the Alps in the background. Yes, this is the place to hear the title song (and the truly tedious "My Favorite Things") from the hit
The Sound of Music
, along with numbers from Andrews's Oscar-winner
Mary Poppins
and her Broadway triumphs
My Fair Lady
and
Camelot
. But the chief pleasures of this CD are lesser-known offerings like "O the Days of the Kerry Dancing," "This Is New" and "Baubles, Bangles and Beads"—all sung with the signature Andrews purity and crystalline diction. It's also fun to hear her jaunty rendition of Frank Loesser's "Big 'D' " (in a duet with Carol Burnett). But pay particular attention, please, to Andrews's wistful take on Noël Coward's classic "If Love Were All." It's haunting. (Rhino)
>Iggy Pop
STILL RACY AFTER ALL THESE YEARS
No wonder Iggy Pop is so pale. You'd be, too, if you had spent the last 27 years toiling in the rock underground. And though these days he's moonlighting in the mainstream, involved in the score to
Johnny Depp
's upcoming film
The Brave
, Pop is in no danger of going too commercial. The Godfather of Punk, 49, has just released his 12th solo album, the critically acclaimed—and libidinous—
Naughty Little Doggie
(Virgin). Always the rebel, the New Yorker says he's proud of his
Doggie
, explaining its sexy content simply: "How many songs can you stand about the President or 'save the fur'?"
What's it like to be revered as a rock-and-roll icon?
It's fine. You get all sorts of free things, and it's helped draw attention to my music. And records that I made 25 years ago that I couldn't get anybody to listen to, people are now listening to them, and other people are hearing the songs through the various covers of them. These days, when I make a new album, at least somebody listens to it. It took 20-some years, but it's all the more sweet because of that.
What are some of the benefits?
Occasionally I get the "Mr. Pop" thing. I landed in New York yesterday and I was wearing shades and I'm coming through customs and this officer out of
Mississippi Burning
says, "Whadda you do?" And I said, "I'm a musician." He says, "Do I know you?" I said, "Well, I'm Iggy Pop." And he said, "Sir, it's an honor to have you here." He threw away the forms and just waved me through. And then all the cops there started going, "Hey, Iggy!" and I'm thinking to myself, "Oh no, they're going to bust me." But they didn't. I love it when cops call me sir. I really go for that big time.
Have you had any groupie problems?
I didn't use to wear glasses onstage at the gigs, and I pulled some pretty bad-looking people from the audience. I'd put my glasses on in the morning and go, "Oh, my God!" But I've rebounded; I got contact lenses that work real well. I'm okay again now, and I can exercise my taste fully.
Contributors:
Andrew Abrahams,
Jeremy Helligar,
Joanne Kaufman,
Peter Castro.
Dave Matthews Band
Advertisement
Today's Photos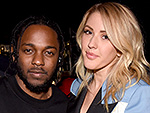 Treat Yourself! 4 Preview Issues
The most buzzed about stars this minute!