People Top 5
LAST UPDATE: Tuesday February 10, 2015 01:10PM EST
PEOPLE Top 5 are the most-viewed stories on the site over the past three days, updated every 60 minutes
Picks and Pans Main: Song
Talking With...
As the title bluntly suggests, Michael has indeed gotten older. And as the music on his first full-length disc since 1990's Listen Without Prejudice Vol. 1 demonstrates, Michael—once the butt-wiggling poster boy of pop—is also a new man, somber, mellow, restrained and, remarkably, dull. You might think that after such a long hiatus he would want to remind us of what a terrific voice he has by recording some fierce pop tunes that showcase his enormous talent. Instead, for much of this 11-song CD, Michael delivers his compositions sotto voce, in a wispy style that makes his early '80s Wham songs sound like Nine Inch Nails. Why is he reluctant to unleash his trademark thunder chops? And where is his trusty swagger?
Beginning with the lumbering "Jesus to a Child," a long-winded bossa nova synth-pop concoction that was released as a single in February, Older is a collection of lethargic, jazz-flavored tunes saturated in easy-listening arrangements. At best, it's suitable make-out music. The album's most vibrant song, "Fastlove"—a paean to one-night stands—is a sexy dance track with a bump-and-grind groove that recalls-the old (not Older) Michael. (DreamWorks)
Cocteau Twins
Having spent 14 years floating through dream pop's misty-blue ether, the Cocteau Twins are finally earthbound. Well, sort of. On their ninth full-length CD, the British trio tighten up their spacious arrangements and adopt conventional song structure, all the while continuing to embrace the airy bliss that so enchants their fervent followers. Although Milk & Kisses feels anticlimactic after the trippy experimentation of the Twins' 1995 Otherness EP, the group's celestial hymn still resonates with the shimmering tremolo of Robin Guthrie's guitars and Elizabeth Fraser's layered vocals. Mostly delivering her opaque lyrics in the same sweeping, unintelligible arabesque, Fraser inches toward the mainstream on "Tishbite" and "Treasure Hiding" by enunciating more clearly.
But she might as well be speaking in Gaelic or Japanese. Like R.E.M.'s Michael Stipe, whose slightly garbled vocals often leave his words indecipherable and thus open to countless interpretations, Eraser defines the mood and leaves the rest up to you. Just don't try to sing along. (Capitol)
Rage Against the Machine
Four years ago, Rage Against the Machine's debut album, which fused heavy metal, rap and political rants, surprised the record industry by eventually selling nearly 4 million copies worldwide. Now the band that counts Karl Marx and Che Guevara among its heroes is vending a new product in the capitalist marketplace. If the politics seem a tad dated in the post-Cold War era, wait until you hear the lyrics about Managua and Oliver North. Then again, the words sputtered by Zack de la Rocha aren't meant to be heard so much as felt, a sonic complement to the grinding thunder of Tom Morello's guitar. A couple of songs stand out from the album's blanketing anger, especially "Revolver," with its insistent cicada-like guitar passages, and "Down Rodeo," a lurching, furious tour of Beverly Hills' fabled drive ("We hungry but them belly full"). But like its title, the Reagan-era phrase for the now-defunct Soviet Union, Evil Empire sounds more quaint than revolutionary. (Epic)
Spin Doctors
Following the deserved drubbing that their sophomore studio effort, Turn It Upside Down, received in 1994, the Spin Doctors were in critical condition. To avoid becoming this decade's version of the Knack, they needed to recover quickly with an impressive third album. Unfortunately, this isn't it. The band relies on the same blue-eyed funk that helped sell 5 million copies in the U.S. of their 1991 blockbuster, Pocket Full of Kryptonite, but most of the songs fail to ignite. The Spin Doctors do an admirable job of blending styles—reggae, folk, blues and ballads—but Chris Barron's frail vocals fail to divert attention from the musical and lyrical mediocrity ("Oh, it's you/ I love the things you do to make me blue.../ Oh, it's me/ You love to watch me speed across the sea"). By the time you get to the last track—a ridiculous remake of KC and the Sunshine Band's "That's the Way (I Like It)"—one wonders if it's a cheeky novelty tune or a desperate attempt to fill space. (Epic)
Syd Straw
On her second solo outing, the prodigiously talented Straw—a cult figure to fans of the art rockers Golden Palominos, with whom she sang on two albums—sends back 14 guitar-drenched dispatches from the trenches of modern romance. She knows it's not pretty out there, and this wonderful collection of melodic gems and antic raveups manages to be at once shattered and wistful, honest and angry. "I'm not the toughest girl in the world since you tore me apart," confesses Straw, who wrote or cowrote all the songs. Expertly supporting her are the renowned Springfield, Mo., bar band the Skeletons, five stalwart guys who know how to make a rollicking Buffalo Tom-type noise and when to let Straw's plaintive lyrics speak for themselves. Rarely does ruefulness sound so rousing. (Capricorn)
>Def Leppard's Phil Collen
THE LEPPARD CHANGES ITS SPOTS
For a band blessed with worldwide career album sales totaling some 40 million, Def Leppard has had an impressive bad-luck streak. The recording sessions of two of the British rock group's multi-platinum discs, 1987's Hysteria and 1992's Adrenalize, were haunted by tragedy: drummer Rick Allen's loss of his left arm after a 1984 car accident and guitarist Steve Clark's 1991 death from a drug-and-alcohol overdose. And even with all five current members alive and well, the making of their sixth studio album, Slang (Mercury), was less than carefree. "I'm going through a divorce," says guitarist Phil Collen, 38, "which is kind of hard because I have a 6-year-old son. Our singer Joe [Elliott] has also gone through a divorce. We get into the studio, and really weird things start happening."
Tastes have changed since 1992's Adrenalize. How do you keep pace?
I don't think there's ever been such a wealth of music as there is at the moment. Some bands I don't think are that great, and others I think are fantastic. So what we've always tried to do is take a bit from everything. A bit of Salt-N-Pepa. A bit of Boyz II Men. A bit of Red Hot Chili Peppers. Just mix it all up. That's kind of what we did here [with Slang]. It's one thing to copy something that's contemporary. It's another thing to actually understand it. That's what we've done. We try to understand the new music and get to like it.
How has Def Leppard maintained such a low profile?
We've been lucky. You see a band like Mötley Crüe, and to a lesser extent Kiss, and all the makeup definitely puts a stamp on it. It says, "I'm from nineteen eighty-whatever." We transcend that because we're ordinary and normal. We try to avoid limos when we can. Some people know our drummer has only got one arm, but apart from that it's just, like, five guys."
Contributors:
Peter Castro,
Jeremy Helligar,
Mark Lasswell,
Lisa Russell.
George Michael
Advertisement
Today's Photos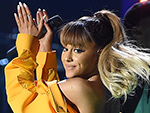 Treat Yourself! 4 Preview Issues
The most buzzed about stars this minute!