People Top 5
LAST UPDATE: Tuesday February 10, 2015 01:10PM EST
PEOPLE Top 5 are the most-viewed stories on the site over the past three days, updated every 60 minutes
On the Wild Side
Oasis May Look Like the Beatles, but Watch Out
Since their first album, Definitely Maybe, became the fastest-selling debut record in British music history two years ago, Oasis—Noel, 28, writes the group's infectious, admittedly derivative pop; brother Liam, 23, sings; Paul McGuigan, 25, plays bass; Alan White, 23, is the drummer; and Paul "Bonehead" Arthurs, 30, plays rhythm guitar—has reveled in comparisons to a certain group from Liverpool that set the standard for pop success 30 years ago. Aping their heroes' haircuts as well as their sound, the neomoptops have turned cheek into platinum with their 7-million-selling second album, (What's the Story) Morning Glory?, and a hit single, "Wonderwall," its title inspired by the 1968 George Harrison LP Wonderwall Music. "Oasis is a one-trick pony," British music journalist Charles Shaar Murray says of the group that regularly closes concerts with a reverent rendition of "I Am the Walrus." "But it's a pretty good trick. I prefer Oasis's Beatles imitations to the [surviving] Beatles' Beatles imitations."
But the Gallaghers and their band-mates are more Johnnies Rotten than Lennon. "We like annoying people," Noel recently told Rolling Stone. "We just like pissing people off." Which Noel did last fall when he told London's Observer Life he wished two members of Blur, Oasis's closest chart competitor back home, would "catch AIDS and die." Now Noel says the Oasis-Blur feud, as well as his own much publicized sibling rivalry with Liam, has been blown out of proportion. "The U.K. press sells a lot more papers when they put us or Blur on their covers. We don't like each other's music. I couldn't care less, 'cause I'm better than them and I know I am."
As for working with his brother, Noel says, "You argue and fight and call each other names and all that. You don't really mean it." So is the bad-boys act just that—an act? Not likely. At this year's Brit Awards in February, the Gallaghers' insulting behavior—Noel accepted a Best Video award from presenter Michael Hutchence, then turned around and called him a "has-been"—created a furor. "Out of all the people we've had on the show," says a researcher for the BBC's Tops of the Pops (she refuses to give her name for fear of hurting her career), "they were the most obnoxious."
The Gallaghers seem to have been crude dudes since adolescence, when only a shared love of mid-'60s-era British rock tempered their zeal for hooliganism. Growing up in a working-class section of the decaying industrial city of Manchester, the brothers have been estranged from their father, Thomas, 53, an Irish laborer and part-time country music deejay, since 1984. They have described him as abusive, and that year, a fight with Noel, then 17, put Thomas in the hospital. Afterward, Liam and Noel, along with older brother Paul, now 30 and a music talent scout, lived with their mother, Margaret, 52, a retired cookie-factory worker. "They all think I'm some kind of demon," Thomas (who tried to sell his life story to a British scandal sheet for $16,000) said in a Daily Mail interview. "I'd love to go and see the band.... If I knocked on their dressing room door, I'd get it slammed in my face."
While Noel worked as a roadie for five years after high school, Liam formed his own band with Arthurs and McGuigan. (White replaced Oasis's original drummer, Tony McCarroll, last year.) Noel signed on in 1992, and two years later the band was being crowned the saviors of British pop.
For Liam, success has meant dalliances with model Helena Christensen and his current squeeze, actress Patsy Kensit. Noel, who lives in London with his longtime girlfriend Meg Matthews, an employee at his British record company, says he plans to devote a brief hiatus between tours to the pursuit of pleasure, proper and otherwise. "We're going to start spending some money," says Noel. The objects of his desire? "A house. A car. A dog. Booze. Drugs. Sex. Anything. Just spend the lot before the tax man comes and takes it off me."
STEVE DOUGHERTY
PETE NORMAN in London and JEREMY HELLIGAR in New York City
Contributors:
Pete Norman,
Jeremy Helligar.
THROWBACKS TO THE DAYS WHEN rock stars behaved like Visigoths rehearsing the sack of Rome, the five members of Oasis have a reputation for brawling—with fans and each other—trashing hotel rooms and getting themselves trashed, royally. In keeping with that spirit, the band startled audiences during their U.S. tour last winter: They behaved themselves. "People are quite polite to us," says guitarist Noel Gallagher, who reciprocated. "They think we're going to cause trouble, so everybody is quite nice."
Advertisement
Today's Photos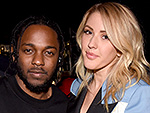 Treat Yourself! 4 Preview Issues
The most buzzed about stars this minute!