People Top 5
LAST UPDATE: Tuesday February 10, 2015 01:10PM EST
PEOPLE Top 5 are the most-viewed stories on the site over the past three days, updated every 60 minutes
Blind Justice
A Minor Arrest Years Ago Surfaces to Haunt An Illinois Schoolteacher
So it came as no small shock when, on the eve of winter break last December, principal Lynda Byrd summoned Maynard to her office. "I regret to inform you," Maynard recalls her saying as he sat stunned, "that I have to terminate you, effective immediately." Byrd assured him the problem wasn't his teaching but an all-but-forgotten incident 21 years earlier. A routine background check by the school—delayed by a bureaucratic mixup—had revealed that Maynard was arrested in 1974 for possession of less than half an ounce of marijuana. A 1979 Illinois law designed to protect schoolchildren from convicted criminals—and expanded in 1985 to require schools to check teachers' criminal records—dictates that schools fire a teacher who has committed any one of a number of designated crimes, including misdemeanor drug offenses. (It does not mention more serious convictions such as murder or armed robbery.) There is no possibility for appeal. "There was nothing to discuss," says Maynard. "I wanted to yell, This is crazy!' But I kept my cool."
In 1974, Maynard was a 20-year-old college student—and, like many of his contemporaries, an occasional pot smoker—when he was involved in a minor traffic accident. Searching his car, police found a plastic bag of marijuana. He pleaded guilty and paid a $100 fine. "I thought it was over and done," says Maynard, now so opposed to drugs that he backed his wife Mary Ann's tough-love approach when she made his 19-year-old stepson, Travis, move out of their house last June for repeatedly using marijuana and other drugs. "I didn't even know it was on my record."
Byrd could do little since she was bound by the law. But the principal—who won't talk publicly about the matter—told him she sympathized, and in a Jan. 3 letter to him she praised his "fine service to the school and its students."
Ironically, the firing came just as Maynard had settled into a career that was giving him a renewed sense of purpose. After graduating from Kent State University in 1977, he earned a master's in public administration from Northern Illinois University and was aiming for a civil service career. He was a substitute teacher at Bloom briefly before working for the state Republican Party—first as a budget analyst and then as assistant to the chief of staff—and then as a general manager of a public-housing project. In 1983, disillusioned with politics, he started his own forklift service and ran it until 1992. Yet he felt something was missing. Mary Ann, 45—his wife of six years and the mother of his two stepsons, Travis and Kyle, 15—encouraged him to try teaching again. "He had a wonderful knack for motivating people, especially children," she says. "And I thought it would be great for him to share his knowledge."
In the fall of 1994, while keeping a part-time job selling forklifts, Maynard became a substitute teacher at Bloom, a public school whose 1,400 students come largely from poor, minority families. Earning $18,000 a year there, he quickly impressed colleagues when he shaped up unruly students by offering incentives like class field trips. When he was assigned one particularly tough class for several months, he says, "it was a wonderful feeling when I started making a breakthrough." Students in the biology class he took over were equally enthusiastic. "He was different from other teachers," says Lavell Griffin, 16, who in the past skipped his share of classes but, thanks to Maynard's help and inspiration, will graduate this summer. "Others were more like, 'Let's get it over with.' He'd break things down, not just according to the book."
None of these positive reviews have swayed local or state officials, who continue to defend the law that has cost more than 100 teachers their jobs since 1985. "Everyone knows if there is a law on the books and you're caught breaking it, there are consequences," says state senator Robert Raica of Chicago, who wants the law expanded to apply to more serious crimes. Says Michael Hernandez, general counsel for the state board of education: "You have to balance the rights of the individual with the rights of children to be in a safe environment." Maynard—now selling fork-lifts full-time again—has sued the local and state school boards as well as the Illinois Teacher Certification Board and has voiced support for a lawmaker who wishes to amend the law to provide for a review board. His lawyer has asked the governor to expunge Maynard's record and grant him a pardon.
Maynard's real goal isn't litigation, however. He would gladly drop the lawsuits if he could be reinstated. He wants his job back, and students at Bloom seem to want that too. "He made a mistake," says Lavell Griffin, "but he was a good teacher."
THOMAS FIELDS-MEYER
BARBARA SANDLER in Chicago
Contributors:
Barbara Sandler.
IN HIS NEARLY TWO YEARS AT BLOOM Township High School outside Chicago, Michael Maynard earned a reputation with students and faculty as the sort of attentive and involved teacher who could motivate even the kids everyone else had given up on. "Mike," says Sheryl Smith, an English teacher, "is one of the rare gems who has a natural rapport with teenagers." Jennifer Prokop, 15, generally a good student, recalls how Maynard, 42, helped when she was having trouble in his biology class by patiently explaining the mechanics of the human heart. "He cared—it was just the way he was," she says. "And our class took to him."
Advertisement
Today's Photos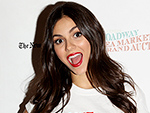 Treat Yourself! 4 Preview Issues
The most buzzed about stars this minute!