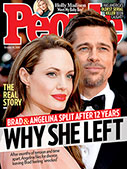 This Week's Issue!
People Top 5
LAST UPDATE: Tuesday February 10, 2015 01:10PM EST
PEOPLE Top 5 are the most-viewed stories on the site over the past three days, updated every 60 minutes
Balancing Act
Diver Mary Ellen Clark's Olympic Hopes Depend on Conquering Vertigo


For Clark, 33, who won a bronze medal in platform diving at the 1992 Olympics and is trying for a place on the team going to Atlanta in July, flubbing a relatively routine dive isn't normally a laughing matter. But even an imperfect dive is something of a triumph. It means that she has, for today at least, conquered the vertigo that affected her sense of balance on and off for nine months and for a time seemed likely to doom her chances of ever diving competitively again.

"I just wanted to get back and dive," says Clark, now training in Fort Lauderdale for the U.S. Olympic trials in Indianapolis in June. "It's just something I love, something I'm so passionate about."

Clark was Diver of the Year in 1993 and 1994 and was all set to begin her drive toward the 1996 Olympics when, abruptly, everything changed. "It came after one dive on the 1-meter springboard," says O'Brien, her coach since 1990. "She went in, rolled over and came out and said, 'I'm dizzy' "

Clark had suffered brief bouts of vertigo—whose cause is a matter of scientific dispute—before, in 1988 and 1990. The earlier attacks, one of which lasted four months, were so severe that she sometimes swam to the bottom of the pool after a dive, thinking she was swimming to the surface. "That's a nightmare," she says. "That's a bad feeling."

This time, she went home with a vague, fuzzy sensation that was all too familiar. "It felt as if you were standing there and someone kind of pushed you," she says. "Things were kind of moving; it was hard to focus." For two weeks, she went to the pool every day, only to have the dizziness return whenever she tried to dive. "She'd come in to see if it was still there," says O'Brien. "It was."

The youngest of seven children of an IBM salesman and a homemaker, Clark, who grew up near Philadelphia, in Newtown Square, Pa., has always loved diving. "I can remember driving [with] Mary Ellen to the pool when she was about 6," says Leslie Roberts, 41, her sister. "She was standing up in the back of my father's convertible in her little tank swimsuit with her first boyfriend, holding hands."

After graduating from Penn State and getting her master's in physical education at Ohio State, Clark began her Olympic push, moving to Florida to train with O'Brien, the renowned coach who trained Greg Louganis, among others. After her bronze in 1992, she continued to compete, improving steadily until the return of her vertigo. "I was just enjoying the ride," she says.

The ride ended when it became apparent that her balance problem, which usually manifested itself only when she tried to dive, wouldn't go away quickly, as it had in the past. "She wasn't driving around dizzy; she wasn't watching TV dizzy," says O'Brien. "But then she'd move her head a certain way and she'd get dizzy."

Clark sought medical help, consulting ear, nose and throat specialists and neurologists. No luck. Then she tried herbal remedies, acupuncture, anything that offered hope. As the clock ticked—Clark had decided that if she were not back in training by the fall of 1995, she would abandon her Olympic ambitions—she consulted John Upledger, a West Palm Beach osteopath. Upledger's techniques, which involve manipulating various parts of the body, started to have an effect. "It wasn't like there was one day when I said, 'Done. Gone,' " Clark says. "I just knew that the good days were coming more than the bad ones."

In mid-October, Clark returned to the pool full-time and, except for a couple of isolated relapses, has been vertigo-free ever since. She even sees her bout with vertigo and the enforced layoff in a new light. "I learned patience," she says. "I've learned to take one day at a time. Even if I don't make it to the Olympics, I just want to enjoy every moment of the journey."

CINDY DAMPIER in Fort Lauderdale


POISED 33 FEET ABOVE THE SHIMMERING BLUE POOL, Mary Ellen Clark looks down, then glances over at her coach, Ron O'Brien. "Dive?" she asks. "Dive," he replies. Obediently, Clark leaps from the platform, her taut, well-muscled body shifting powerfully into an inward 3½ somersault. But that's as good as this one gets: A split second into the dive, Clark botches her first somersault. She hits the water looking like a very well-tanned sandbag. She emerges sputtering with laughter and heads toward the platform to try again.
Advertisement
Treat Yourself! 4 Preview Issues
The most buzzed about stars this minute!