People Top 5
LAST UPDATE: Tuesday February 10, 2015 01:10PM EST
PEOPLE Top 5 are the most-viewed stories on the site over the past three days, updated every 60 minutes
Mission Impossible
Deluged by Images from TV, Movies and Magazines, Teenage Girls Do Battle with An Increasingly Unrealistic Standard of Beauty—and Pay a Price
Demi Moore
,
Julia Roberts
and
Sandra Bullock
. But, he says, "I have never worked with a beautiful young woman who thought she was A) beautiful or B) thin enough."
In Hollywood, such insecurity is not without reason. At last March's Academy Awards ceremony, actress Alicia Silver-stone, 19, the fresh-faced sensation of
The Crush
and
Clueless
, did the unthinkable: She appeared in public despite the fact that, like many of her teenage peers around the country, she had just added on 5 or 10 pounds. Was she congratulated for the self-confidence and assurance it took to be herself? Hardly. The tabloids, noting Silver stone role in the next
Batman
sequel, blared out lines like "Batman and Fatgirl" and "Look Out Batman! Here Comes Buttgirl!" and
ENTERTAINMENT WEEKLY
sniped that Alicia was "more Babe than babe."
Silverstone won't comment on the commotion; Schumacher, who is directing her in the upcoming
Batman and Robin
, says he was startled by the meanness of the stories: "The news coverage was outrageous, disgusting, judgmental and cruel. What did this child do? Have a couple of pizzas?"
In a word, yes. In the moral order of today's media-driven universe—in which you could bounce a quarter off the well-toned abs of any cast member on
Melrose Place
or
Friends
, fashion magazines are filled with airbrushed photos of emaciated models with breast implants, and the perfectly attractive Janeane Garofalo can pass for an ugly duckling next to Beautiful Girl Uma Thurman in the current hit movie
The Truth About Cats & Dogs
—the definition of what constitutes beauty or even an acceptable body seems to become more inaccessible every year.
The result? Increasingly bombarded by countless "perfect" body images projected by TV, movies and magazines, many Americans are feeling worse and worse about the workaday bodies they actually inhabit. The people being hurt most are the ones who are most vulnerable: adolescents.
"There is a tremendous stigma in our society about being fat," says Thomas Cash, professor of psychology at Old Dominion University in Norfolk, Va., and author of What Do You See When You Look in the Mirror? "Kids aspire to be thin, but just any kind of thin isn't sufficient—now it has to be thin and toned. If people compare themselves with these unrealistic standards, they can only conclude they are born losers."
"We're evolving toward an unnatural view of beauty," says Los Angeles social psychologist Debbie Then, "thin women with huge breasts and stick legs like those of a 12-year-old. What real women's bodies look like is labeled wrong and unattractive." Says Mary Pipher, author of
Reviving Ophelia
, the current bestseller about the psychological and physical health of teenage girls: "Research shows that virtually all women are ashamed of their bodies. It used to be adult women, teenage girls, who were ashamed, but now you see the shame down to very young girls—10, 11 years old. Society's standard of beauty is an image that is literally just short of starvation for most women."
In 1972, reports Cash, 23 percent of U.S. women said they were dissatisfied with their overall appearance; today, that figure has more than doubled, to 48 percent. An exclusive PEOPLE poll conducted in May confirms that women are three times as likely as men to have negative thoughts about their bodies (see box, page 70)—and the younger they are, the unhappier they are. Since 1979, Miss America contestants have become so skinny that the majority now are at least 15 percent below the recommended body weight for their height. (Medically, the same percentage is considered a possible symptom of anorexia nervosa.) In the past 30 years, the voluptuous size-12 image of Marilyn Monroe has given way to the size-2 likes of Lois & Clark star
Teri Hatcher
.
But perhaps the most distressing evidence comes from teenage girls themselves. "There's not a second in my life that I don't think about some aspect of how I look," says Sarah Goldberg, 18, a college-bound high school senior from Chicago. The desire for thinness was fueled by "almost anybody I saw in movies," concurs Anne Marie Gibbons, 18, who attends an all-girl boarding school in Troy, N.Y., and who until recently suffered from anorexia. "I always wanted to look like the person on the magazine cover, whether it was Niki Taylor,
Kate Moss
or Sharon Stone."
"I have a friend who's thin and gorgeous, and she's always commenting on how much she hates her body," says Adrienne Seele, 15, of Chevy Chase, Md. "And I think, 'Wow, if she thinks that about her body, what does she think of mine?' "
According to a study recently commissioned by Girls Incorporated, a Manhattan-based organization dedicated to promoting self-confidence in women, of 2,000 teen and preteen boys and girls polled about their viewing habits, 15 percent of girls (and 8 percent of boys) diet or exercise to look like one of the many images they soak up on TV. "My friends and I love
Melrose Place
and
90210
," says 17-year-old Ali Jatlow of Potomac, Md., who will enroll in Cornell University come fall. "We plan our schedules around them. But it's so depressing. I read that
Tori Spelling
, and I'm, like, 'How can she be that tall and weigh so little?' "
Not all young women, of course, compare themselves to the stars. "Just because I see someone on TV doesn't mean I have to feel bad about myself," says Roshanda Betts, a 19-year-old sophomore at Texas A&M. As an African-American, Betts is not alone in her thinking. A 1995 University of Arizona survey of black high school students found that 70 percent of teenage African-American girls are satisfied with their bodies. But according to a 1993 survey conducted by Essence magazine, 54 percent of black women are at high risk for developing an eating disorder. "It's become a generational and class issue," says Audrey Chapman, a Howard University psychology professor. "Many middle-class blacks who are assimilated into the white culture—and teenagers too—want to be thin, thinner, thinnest."
The exposure of more and more nude bodies on cable TV and in movies has raised the stakes for everyone. "There is enormous pressure for teenage girls to be thin," says Shirley Damrosch, a clinical psychologist at the University of Maryland who has done numerous studies on body image and attractiveness. "And early sexual activity doesn't help. If you are naked and having sex, someone saying you have a little surplus can be devastating to young women."
Ad agencies, the fashion industry and magazines clearly play their part. As Diane George of Milwaukee, Wis., asked PEOPLE in a letter last month: "Is it really necessary to include the height and weight of your 50 Most Beautiful People in the World?...Beauty comes in all shapes and sizes."
Another sign that the problem is getting worse is that it's also getting worse for men and boys. "We see more eating disorders in men than we did 10 years ago," says Dr. Arnold Andersen, a professor of psychiatry at the University of Iowa who specializes in eating disorders and body image among men. (The National Association of Anorexia Nervosa and Associated Disorders estimates that 1 million males suffer from anorexia or bulimia.) High school boys, an article in The New York Times noted recently, are skipping showers after gym class. Dr. David Bernhardt, a specialist in pediatrics and sports medicine at the University of Wisconsin-Madison, speculated that the boys, bombarded by images of highly buffed male bodies, were feeling comparatively inadequate and thus more reluctant to let their own bodies be seen. Studies show, he added, that up to 11 percent of high school boys used anabolic steroids. "The No. 1 reason cited by the boys," Bernhardt told the Times, "is body image." Zack Fine, a 17-year-old senior at Francis W. Parker School in Chicago, is into soccer, baseball, theater—and, just now, trying to take a few pounds off his 180 lb., 6' frame. "The men in Calvin Klein ads are Adonises," he says. Though hardly realistic, he adds, "I'd like to look like that."
But even with the added pressure, boys are far more comfortable with themselves than are girls. The PEOPLE poll found that boys expressed dissatisfaction with their appearance at almost precisely half the rate of girls. "Boys are more objective," says Andersen. "They don't buy into the culture of dieting until they're 15 percent above their normal or ideal weight." And the feedback they receive is different. "From the minute genders are assigned, people react differently to boys and girls," says Pipher. "They say, 'Look at those thighs. He'll be a great football player,' to a boy. To a girl they say, 'Look at those eyelashes. She'll really be a head-turner.' "
As Cash points out, while acne and voice changes can get a guy down, when a boy hits puberty he gets muscles; girls get hips. "He thinks, 'I'm getting strong,' " says Cash. "She thinks, 'I'm becoming fat.' " Faced with pressures from every direction, 75 percent of America's teenage girls, by one estimate, resort to diets. "I like thinness," says Wendy Levey, a 17-year-old junior at Manhattan's Dalton School who is a member of the track team and the human rights committee—and weighs 97 lbs. at 5' even. "I'm not happy if I think I look fat in what I'm wearing.
Kate Moss
looks so cool in a bathing suit. I don't know if I'm conditioned [to think this way] or if it's just me," she adds, "but I don't think anything could make me abandon my desire to be thin."
Not surprisingly, there has also been an increase in demand for quick fixes. According to the American Society of Plastic and Reconstructive Surgeons, the number of girls 18 and younger getting liposuction rose from 472 to 511 from 1992 to 1994 (the most recent data available). "The other day a teen came with a picture of the stars on Beverly Hills, 90210," says Chicago plastic surgeon Dr. Anthony Terrasse. "I counseled her on the role of exercise and diet as a first step before considering surgery."
Still, the most alarming response of all to body image anxieties is self-imposed starvation. Nationally, the reported incidence of both anorexia and bulimia has doubled since 1970, according to the American Psychiatric Association. And, say experts, the patients are getting younger and younger. "I have an 11-year-old patient who won't eat because she's terrified of developing hips," says Deborah A. Newmark, a Washington psychotherapist. "She read on a cereal box that if she runs up and down the stairs 15 times she'll burn 300 calories."
Experts are not alone in their concern. In L.A., actress Jennifer Crystal, 23, daughter of Billy Crystal, worries when she returns to visit her alma mater, Brentwood School, and sees "the girls keep getting thinner and thinner." At Northwestern University in Evanston, Ill.,-where she graduated with a degree in performance studies in 1994, bulimia was so common among students, she says, that "the pipes in one sorority house kept getting clogged because so many people were throwing up in the sinks." Director Schumacher says the teenage daughters of his friends are also afflicted; one recently told him she belongs to a bulimia clique in her New Jersey high school. "I don't know what's going to happen to this generation of females," he says. "This obsession with being skinny is insane."
It only gets worse when the desire is to be skinny and buff. Many teens are unaware of the intense work that goes into the physiques they are trying to emulate. Linda Hamilton rigorously pumped iron to get the biceps she made famous in 1991's Terminator 2. Angela Bassett combined a weight-training program with a low-fat diet to sculpt her body for 1993's What's Love Got to Do with It? Even so, some of the most beautiful stars choose or are required to use body doubles for nude or seminude scenes—as, for example,
Julia Roberts
in Pretty Woman. (Shelley Michelle, who stood in for Roberts and runs the casting agency Body Doubles and Parts, told INSTYLE that at least 85 percent of body doubles have breast implants.) "I was shocked when I found out it wasn't her body," says Brandi Dickman, a fitness enthusiast who worked out twice a day to shed 20 pounds before entering college. "Everyone thinks she's so pretty, yet in Hollywood they didn't feel even her body was good enough."
The fact is, stars often battle the beast of body image as fiercely as their fans do. Janeane Garofalo is pretty, but at 5'1", by Hollywood standards she's not tall enough. Silverstone may be tall enough but—at the Oscars at least—she wasn't thin enough. Princess Diana—who fought bulimia for years—is thin enough but, as a supposed ripple of cellulite that recently made headlines suggests, she is still not considered sufficiently toned.
After Gabrielle Carter is of 90210 decided to become an actress 20 years ago, she recalls, an agent dismissed her with the blunt "You're not attractive enough for the world of acting." Comedian Jackie Guerra, who appeared in the WB sitcom First Time Out, had a hard time selling her full-size figure to Hollywood. But she is still amazed when she recalls the producer who told her, "Jackie, I'd rather have you smoke two packs a day than eat more than 1,000 calories a day."
Casting directors say they would like to broker talent but inevitably are forced to factor in looks. "I've always thought of myself as 'essence casting,' to get the actor who evokes intrinsic beauty, love and joy," says Elina De-Santos, who cast Dead Poets Society and such daytime soaps as Days of Our Lives. "But I know she better not be fat, no matter what her essence, because a director just won't hire her."
"People are poised like vultures to attack imperfection," says Lindsay Chag, who cast the sitcom Anything But Love. "I see a lot of actresses who are incredibly talented and very sexy, but if they are not thin enough, I can't bring them further."
Some casting directors, meanwhile, wonder why screenwriters don't create roles physically diverse enough. Thelma & Louise and Something to Talk About screenwriter Callie Khouri is clear on the subject: "I never say a character is thin or fat because she will be cast as a thin person anyway. When you are dealing with the major actresses, all of them together might make up a size 14."
While some power brokers in the fashion and entertainment industry accept some responsibility for the overwhelmingly thin and unrealistic human products offered up for public consumption, the most accountable party, it seems, is the other guy. Model agencies point their fingers at fashion magazines ("It's the editors who book the girls," says Stuart Cameron of New York City's Women modeling agency). Movie people blame television ("Take all the daytime soaps and you'll see actresses who have that body type—very slender with big fake breasts," says Schumacher). Television executives dodge the bullet too. "There are no overweight actresses that come in to read for me," says Darren Star, creator of Melrose Place and Beverly Hills, 90210. "The ones that read for me are very attractive people. Besides, people have always looked at movies and television to create their myths. To confuse the fantasy with reality is a mistake."
Whoever is to blame, Mary Pipher, for one, is concerned. "It makes me angry," she says, "the needless suffering by women who are putting energy into losing weight when they could be focusing on making themselves better people, making the world a better place. We need a revolution in our values. We need to define attractiveness with much broader parameters."
Nancy Friday, author of the recently published The Power of Beauty, agrees. "The quest for superficial beauty really intensifies with no secure sense of self to fall back on," she says. "People are desperate to be around people who are comfortable in their skin. They are hard to find, but after that flash in the pan of gold chains, tattoos and pierced skin, what you really want to be around is people who are themselves, so you can relax and be yourself."
Screenwriters Stephanie Garman and Holly White had just that sort of redefinition in mind a couple of years ago when they wrote a script called Fat Chance. The concept: An aging screen star, whose battle with obesity had made tabloid headlines for two decades, appears on a talk show and announces that she has had it with dieting and has learned to love herself the way she is. Inspired, millions of women across the country follow suit. "No one bought it," says White. Too bad; a lot of women out there would have loved the proposed ending: On a beach one afternoon, a couple of chubby women in swimsuits watch as a super-slim sunbather in a bikini walks by. "Isn't it a shame," says one to the other. "She has such a pretty face."
KAREN S. SCHNEIDER
SHELLEY LEVITT, DANELLE MORTON and PAULA YOO in Los Angeles, SARAH SKOLNIK, ALICIA BROOKS and ROCHELLE JONES in Washington, RON ARIAS, LIZ MCNEIL and JANE SUGDEN in New York City, DON SIDER and MARISA SALCINES in Miami, BARBARA SANDLER in Chicago and MARGARET NELSON in Minneapolis
Contributors:
Shelley Levitt,
Danelle Morton,
Paula Yoo,
Sarah Skolnik,
Alicia Brooks,
Rochelle Jones,
Ron Arias,
Liz McNeil,
Jane Sugden,
Don Sider,
Marisa Salcines,
Barbara Sandler,
Margaret Nelson.
Advertisement
Today's Photos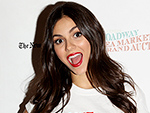 Treat Yourself! 4 Preview Issues
The most buzzed about stars this minute!