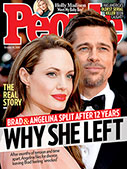 This Week's Issue!
People Top 5
LAST UPDATE: Tuesday February 10, 2015 01:10PM EST
PEOPLE Top 5 are the most-viewed stories on the site over the past three days, updated every 60 minutes
The Mamas and the Papas' Kids
This Extended Rock Tribe Wrote the Book on Playing, Paying and Staying Together
Truly amazing, given the crazy patchwork that was their growing-up years. "We're all like brothers and sisters," says Owen Elliot-Kugell, the 29-year-old daughter born out of wedlock to Mama Cass Elliot, who died of a massive heart attack at 33 in 1974. "There is an unbreakable bond we have. We're bonded by the strangeness of our lives."
The trip began in 1967 when Mackenzie and Jeffrey Phillips, Papa John's children from a first marriage to Baltimore socialite Susie Adams, would visit their dad's L.A. home on weekends, "and the Rolling Stones would be in the living room or the Beatles would be hanging out," recalls Mackenzie, 36. "It was wild." After the Mamas and the Papas released their last album in 1971, Mackenzie and Jeffrey moved in with their dad, who was by then divorced from his second wife, Michelle Phillips, and married to actress Genevieve Waite. Mackenzie would later go on to star in One Day at a Time, while Jeffrey dropped out of junior high. "We lived on drugs," says Jeffrey, 38. "My sister and I would hang on to each other because there wasn't a lot of support outside of us."
If Phillips was the band's renegade father figure, Michelle, his wife from 1962 to 1970, evolved into its custodial Mom. She fought to keep their daughter Chynna, now 28, from the pitfalls of being a celebrity's kid. "From the time she was 4 years old, she begged me to let her do commercials, movies," says Michelle. "But I kept a very tight lid on it. I didn't let her work until she was 18." (Chynna was 22 when her band Wilson Phillips scored a No. 1 hit with "Hold On.") The same rules apply to Austin, 14, her son with actor Grainger Hines of ABC's The City. Though Austin is now living with his father in Manhattan, "He can't model, and he has to go to school," says Michelle firmly. "You can be in show business and have a happy, productive life. But you have to be a developed human being before you can do that." Over the years, Michelle has also reached out beyond her own brood, legally adopting Austin's friend Aron Wilson, now 14, when his mother became unable to care for him. It was also Michelle who in 1987 engineered a meeting between Owen and her father, whose name Mama Cass had never divulged. "Michelle put ads in magazines and the whole thing to find him," says Owen. "She called up and said, 'I found your dad. Here's a plane ticket. Go meet him.' He and I aren't close. But she really did me a great favor because that ended the mystery for me." And in 1977, when John and Genevieve's cocaine and heroin use was spinning out of control, it was Michelle who took temporary custody of the couple's 6-year-old son, Tamerlane, now a singer in a New York City band, and raised him for two years. "I pray for John's kids," says Michelle. "I really do."
Like Michelle, Papa Denny Doherty set out to give his children a stable base. "They have a good, strong family life," says Michelle. "And that's something that most of John's children have never known." In 1975, before the births of his daughter Emberly, now 15, and son John, 13, Doherty made the difficult decision to move with his girlfriend Jeanette back to his native Canada. "I said, 'Enough of this. I want to do other things. I want a life,' " says Doherty, now 54 and the host of a children's TV series in Toronto. An alcoholic himself, Doherty, in 1980, joined Papa John at a detox program at Fair Oaks psychiatric hospital in Summit, N.J., where Phillips was being treated after an arrest by federal agents on drug-distribution charges. There, in a counterculture parody of family togetherness, Mackenzie and Genevieve, both addicted to cocaine, also enrolled in the program, while Denny's wife, Jeanette, Jeffrey, Bijou and Tamerlane all lived nearby in a sprawling rental house and provided moral support. "It was our family goal," explains Mackenzie, who has been drug-free for nearly five years, "because we needed our dad." Over the years, the families have made a priority of soberin up—and staying in touch. "I just made it a point to try and be a part everyone's lives," says Mackenzie, who has a 9-year-old son, Shane, from a relationship with musician Shane Fontayne, and is now touring the U.S. as Rizzo in Grease! Today, the clan gets together for birthday parties, occasional Thanksgiving dinners and, most recently, Chynna's September 1995 wedding to actor Billy Baldwin. "In some ways you think, 'Oh, I want the nuclear family, the mom and dad and brother and sister all under one roof,' " says Chynna, who lives in the same Manhattan apartment building as half brother Austin and is currently in negotiations for her own TV sitcom. "But that's not the way it turned out for us. We have to extend ourselves to be with one another, and we make the effort."
Indeed, the rebellious hippie parents seem to have spawned a generation of domesticated nesters. Jeffrey Phillips, married since 1989 to a medical researcher and the father of Lauren, 6, John Christian, 4, and Shelley, 20 months, works in a San Francisco Bay area branch of a mortgage company. "The story has a happy ending," he says. "I'm an extremely lucky person." Cass's daughter Owen, a singer, lives in Sherman Oaks, Calif., with her husband of five years, music producer Jack Kugell, 29. After her mother's death, she was raised by Cass's sister Leah and her husband, Russ Kunkel, a well-known rock drummer. They divorced when she was 14, and she moved with Leah to Northampton, Mass., where "I got to go to football games, had a boyfriend and wore his ring," says Owen. "It made a big difference for me." Meanwhile, Denny's daughter Jessica, 28, from his first marriage to Linda Woodward, settled with her husband, Michael Woods, in Melbourne Beach, Fla., where she is a homemaker and mother of a 2-year-old daughter.
If any sibling has taken on the role of the family wild child, it is John's 16-year-old daughter, Bijou, by actress Waite. A model who made headlines last fall after posing for a series of controversial Calvin Klein ads, Bijou moved into her own Brooklyn apartment at 15 and has taken her GED. "I went to high school for a year, and that was enough," she says. "I'm in the club scene pretty big, and I like being around people who don't judge me for anything—even if they think I'm totally out of my mind." One who clearly doesn't is Papa John. "Bijou's 16-going-on-40, but she's just a ball of fire," says Phillips. "I have children from 16 to 38," he adds. "It's been a real kettle of fish. But we have a nice bouillabaisse now. And that's the important thing."
SUSAN SCHINDEHETTE
AMY BROOKS, VERONICA BURNS, AMALIA DUARTE and SOPHFRONIA SCOTT GREGORY in New York City
Contributors:
Amy Brooks,
Veronica Burns,
Amalia Duarte,
Sophfronia Scott Gregory.
I've never met a crazier, more dysfunctional family in the whole of Hollywood," says Michelle Phillips—and she should know. As an original Mama of the harmonic '60s rock group the Mamas and the Papas, Michelle, now 52, along with her then-husband John Phillips and fellow bandmates Denny Doherty and Cass Elliot, not only spawned a musical legacy—"California Dreamin'," "Monday, Monday," "Dedicated to the One I Love" and other hits—but also a familial one: a far-flung brood of 11 offspring from eight relationships and marriages. "All of my children are in AA," boasts proud Papa John Phillips who, at 60, is recovering from hip-replacement surgery in the Palm Springs, Calif., home he shares with his fourth wife, painter Farnaz Arasteh. "It's quite amazing how they've all come through, isn't it?"
Advertisement
Treat Yourself! 4 Preview Issues
The most buzzed about stars this minute!