People Top 5
LAST UPDATE: Tuesday February 10, 2015 01:10PM EST
PEOPLE Top 5 are the most-viewed stories on the site over the past three days, updated every 60 minutes
Living Lean
Fed Up with Diets, Iowa's Joanna Lund Wrote a Common-Sense Cookbook That Let Her Slim Down Without Starving
IN THE MIDDLE OF PITCHING A LOW-FAT cookbook to editors at G.R Putnam's Sons in New York City, JoAnna Lund dug into her canvas bag and pulled out a measuring bowl, a whisk, powdered nonfat milk, two boxes of sugar-free Jell-O pudding, a ready-made piecrust and some Cool Whip Lite. Minutes later she'd fashioned her famous Triple Layer Party Pie. "Everybody was very impressed," says Putnam's editor John Duff, "mostly because of her style but also because she made this pie in the middle of our boardroom." And how did it taste? "Good enough," Duff decided, "to spend a lot of money buying the book."
So he outbid eight other publishers, giving Lund, a 51-year-old former insurance underwriter from De Witt, Iowa, a six-figure advance for two books: Healthy Exchanges Cookbook, a collection of low-fat, low-sugar recipes, which Lund had previously published herself (with 150,000 spiral-bound copies sold), and a motivational book, HELP: The Healthy Exchanges Lifetime Plan. Together they've sold more than 185,000 copies. "Who would have believed," she says, "that this middle-aged grandma from the cornfields of Iowa would have the same publisher as the Galloping Gourmet?"
And that's not all: Lund and her husband, Cliff, 44, run Healthy Exchanges, a $1 million enterprise that includes a restaurant and a catering business. Lund also tours the country in a Winnebago (Cliff drives), signing books and telling people how she went from 300 lbs. and a size 28 to 170 lbs. and a size 14. And in January she sold more than 11,000 books in 13 minutes on QVC's Smart Cooking. "I can share my story 50 times a day and never get tired," she says, "because I truly believe folks should lighten up on themselves and not try to be saints."
Lund learned that lesson the hard way. The second of three children of an Iowa factory worker and his wife, Lund married at 21 and had three children over the next 10 years. Her pregnancies, along with the emotional turmoil of an unhappy marriage (she divorced in 1978), led to weight gain and years of yo-yo dieting with methods ranging from thyroid pills to a sweat-inducing rubber suit. "You name it, I did it," says Lund, who always regained any weight she lost.
In 1980, Lund married Cliff, a local grain hauler who gave her a sense of emotional stability. "No matter how much weight I put on," Lund remembers, "he said, 'I love you.' Once it hit me that he loved me for me, I realized I had to do something about my weight." Then came a second epiphany, after two of her children left to serve in the Gulf War. "Based on how I deal with stress," says Lund, "I should have moved my bed up to the local bakery so I could have my daily fix of cake doughnuts."
Instead she experienced what she calls a moment of divine intervention. "I knew instinctively I had to quit dieting. I didn't care if I never lost another pound. If I was going to be 300 lbs., I'd be the healthiest 300-lb. person around. I changed my goal from losing weight to recapturing my health."
Lund started exercising regularly (daily walks) and dreamed up easy-to-make meals that rely on low-fat ingredients. Coworkers at the Iowa Mutual Insurance Co. flipped over dishes like Grandma's Salmon Loaf and urged Lund to publish her recipes; in 1991 she took out a $2,000 loan and printed 1,000 copies of Healthy Exchanges. Not long after, Lund convinced CNN to do a two-minute piece on her, and sales took off.
Lund isn't through yet. She'll host a PBS cooking show this January, would like to franchise her restaurant and imagines a line of Jo's Sinful-Looking Sinless Desserts. Yet she and Cliff still live in the simple bungalow they bought 18 years ago, and she still shops at JCPenney. "We're working-class people," she explains, "and that's where my people shop." Determined never to torture herself over food again, Lund isn't above an occasional sugary indulgence. "I'm not Saint JoAnna," she says. "But I am a woman at peace with myself."
ALEX TRESNIOWSKI
BONNIE BELL in De Witt
Contributors:
Bonnie Bell.
Eating healthy left Lund lighter, naturally
Advertisement
Today's Photos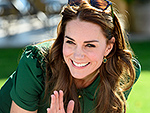 Treat Yourself! 4 Preview Issues
The most buzzed about stars this minute!