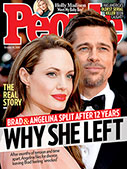 This Week's Issue!
People Top 5
LAST UPDATE: Tuesday February 10, 2015 01:10PM EST
PEOPLE Top 5 are the most-viewed stories on the site over the past three days, updated every 60 minutes
Picks and Pans Main: Song
Everybody Knows
PJ's fourth full-length album invites a game of Name That Influence. The pseudo-mystical leanings of "Sometimes," with its rain and thunder effects, suggest the Doors' creepy classic "Riders on the Storm." The garage-band crunch of "Smile" conjures up Neil Young's "Mirror Ball," and slabs of guitar on "Hail, Hail" suggest punk icons from the Ramones to the Clash. It testifies to PJ's gifts as grunge's most melodic artisans that the Seattle icons can touch these influences while still sounding fresh and vibrant. Mike McCready's buzzing guitar and Eddie Vedder's anguished vocals provide a one-two punch reminiscent of Jagger and Richards in their heyday. True, there are some typically tormented PJ moments—like Vedder's self-indulgent, spoken intro to "I'm Open" (A man lies in his bed in a room with no door/ He waits, hoping for a presence, something, anything, to enter). But his pensive rendering of the ballad "Off He Goes" recalls recent Springsteen. In this tale of an encounter with a spectral figure, Vedder, reluctant pop star, could be examining his own life: "I wonder 'bout his insides/ It's like his thoughts are too big for his size." The quiet power of the song reflects a maturity that secures Pearl Jam among rock's elite. (Epic)
Aaliyah
The title of Aaliyah's platinum '94 first album, Age Ain't Nothing but a Number, suggested the arrival of an ingenue who was 15-going-on-twice-that. But all she did to back it up was coo blankly and strike a street-tough cover pose. Now, Aaliyah's mom and dad must be reeling from hearing their 17-year-old smolder so convincingly on "If Your Girl Only Knew," the hot first single.
At least she's keeping good company. While R. Kelly produced Aaliyah's debut with a one-dimensional musical vision, One in a Million's production posse (which includes Jermaine Dupri and Timbaland) dips into a languid and seductive trip hop on the title track; then stutters jungle rhythm on "Beats 4 da Streets" and "Heartbroken." The young star delivers one subtle, sensuous performance after another. In an R&B world overloaded with teen queens, it's nice to see Aaliyah living up to both her album titles. (Black-ground/ Atlantic)
Travis Tritt
Tritt jeopardizes his rough-and-tumble image with several flashes of sentimentality on his sixth studio album. The tune least like the old "Here's a Quarter..." Tritt is "Helping Me Get Over You," a positively New Age Sensitive Guy song that he turns into a sweet-toned duet with co-composer Lari White. Tritt also agonizes through the romantic "Did You Fall Far Enough" that he wrote with Troy Seals. More characteristic material comes in a raucous duet with Marty Stuart, "Double Trouble," and in "Back Up Against the Wall."
The slight softening might stem from Tritt's coproducing with mainstream pop manipulator Don Was, who has produced more crossovers than Michael Jordan. The result is a bright-sounding album full of effective, never jarring, changes of pace. Tritt and Was also rounded up a model studio band, including pedal steel player Robby Turner, drummer Kenny Aronoff, keyboard mainstay Benmont Tench and the peerless fiddler Mark O'Connor. This is an enviable example of a rising star who isn't too arrogant to vary his approach when a good idea presents itself. (Warner Bros.)
Trisha Yearwood
Wlile not as satisfying as last year's Thinkin' About You, Year-wood's latest batch of sass and sentiment is still a smooth brew. Year-wood continues to shine brightest on ballads. But she is almost as illuminating on the rockers. She wails through the title song (one of the album's strongest) with such conviction that she could be channeling Wynonna. Ballad standouts include "I Need You," about a longtime couple who have drifted apart emotionally, and "Maybe It's Love," featuring the ubiquitous Vince Gill on harmony. Their voices, two of the most refined in country, blend beautifully. Often compared to Linda Ronstadt, one of her idols, for her vocal luster, Yearwood should follow Ronstadt's example and tackle pop standards. But until she goes torchin', her twangin' provides reason enough to cheer. (MCA Nashville)
Contributors:
Andrew Abrahams,
Jeremy Helligar,
Ralph Novak,
Randy Vest.
Pearl Jam
Advertisement
Treat Yourself! 4 Preview Issues
The most buzzed about stars this minute!