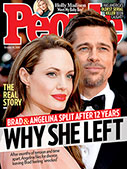 This Week's Issue!
People Top 5
LAST UPDATE: Tuesday February 10, 2015 01:10PM EST
PEOPLE Top 5 are the most-viewed stories on the site over the past three days, updated every 60 minutes
Picks and Pans Main: Screen
Spotlight On...
The original, 1994 installment of The Crow profited from the notoriety surrounding the death of its star, Brandon Lee, during filming. This lame sequel has no such lack of luck, and it can hardly succeed on its merits, unless the sadomasochism crowd turns out en masse. Perverse violence, none of it interesting, and perverse sex, none of it sensual, fill this movie, as does the mumbo-jumbo mysticism that blighted the original. Perez, a bargain-basement Antonio Banderas, is brought back to life after he and his son are murdered by a gang led by Pop, the lapsed punk rocker, who looks even geekier than usual in his biker vest. Brooks, the distinguished original cast member of Law & Order, is reduced to bare-chested strutting as a sadistic drug dealer-pimp. Perez is reasonably athletic but closer to Pinky Lee than Brandon as a martial artist. (R)
Illeana Douglas, Matt Dillon
Douglas, an heiress from Philadelphia's Main Line, moves to Manhattan in 1958 to make it as a pop star. Her dream is to both compose and sing her own material, but producers aren't interested in her voice. She settles for being a songwriter in the famous Brill Building, once home to Carole King and Phil Spector, and turns out hits. This part of Grace of My Heart is lighthearted and quick, and Douglas (To Die For), who has the elegant yet gawky charm of a duckling not quite grown into a swan, is a charmer. At some point, though, writer-director Allison Anders must have fallen asleep. Then Judith Krantz sneaked into the room and finished off the script in grandiose soap-opera fashion. Douglas's love life goes disastrously wrong. She marries Dillon, who plays a mentally unstable rocker. He wigs out, and so does the movie. When Douglas finally sings a meandering ballad summing up her heartache, she sounds more like Barry Manilow than Joni Mitchell. (R)
Lara Flynn Boyle, Peter Dobson, Danny Nucci, Luca Bercovici
Here's a film that tries much too hard. It blasts you with atmosphere, a purposefully goofy film noir plot and irritatingly quirky characters. It's like Pulp Fiction without the violence and with little of the wit. Boyle, the film's heroine, is a hardworking bartender in a Hispanic neighborhood in Los Angeles. Her husband (Bercovici) is a religious zealot who spends his days praying at the local Catholic mission. When she finds out that he has banked a big insurance settlement and isn't sharing the bucks ("Money is the devil's calling card," he lectures her), she enlists a con man (Dobson), who brings in Nucci to help get the cash. The luscious Boyle shows more promise here than in previous film outings, and Nucci displays a doleful sweetness as a leading man. Less effective are Dobson, who seems neither smart nor suave enough for the sharpie he's playing, and Bercovici, who just seems sullen. (R)
Whoopi Goldberg, Gérard Depardieu
It's hard to envision an audience for this peculiar children's comedy-drama. Goldberg, a cranky single woman, becomes guardian of a young boy (Haley Joel Osment) after his mother, her best friend from childhood, dies in an accident. Depardieu pops up as the boy's imaginary friend, Casting the hulking French star as a 7-year-old's inner child was a grotesque mistake. He clops about, twinkling his eyes and grinning for all he's worth. It's Frosty le Snowman! (PG)
>Primary Colors
HELP WANTED
WHILE THE NATION SPENDS THE NEXT two months deciding whom to cast as the next real President, Hollywood has a more pressing problem: Who will play the lead in Primary Colors, the movie based on the bestselling satire of Bill Clinton's 1992 campaign? That question was supposedly settled in February, when director Mike Nichols snapped up the film rights with $1.5 million of his own money and then sold the project to Universal as a vehicle for Tom Hanks. But soon after Newsweek columnist Joe Klein admitted that he was the book's author, Anonymous, Hanks, who had never signed a contract, backed out. He gave no reason, but the conventional wisdom is that the actor, an active supporter of the Democratic Party, had second thoughts about skewering Clinton. The studio, says one insider, "definitely had their hopes on him."
Now, with shooting expected to begin next February, Nichols is meeting with the not-exactly-presidential-but-very-hot John Travolta. His First Lady? Quite possibly, the still-unsigned Emma Thompson. Strange bedfellows indeed.
Contributors:
Ralph Novak,
Tom Gliatto,
Leah Rozen,
Karen Brailsford.
Vincent Perez, Mia Kirshner, Richard Brooks, Iggy Pop
Advertisement
Treat Yourself! 4 Preview Issues
The most buzzed about stars this minute!