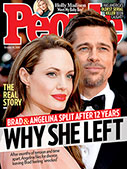 This Week's Issue!
People Top 5
LAST UPDATE: Tuesday February 10, 2015 01:10PM EST
PEOPLE Top 5 are the most-viewed stories on the site over the past three days, updated every 60 minutes
The Max Factor
Ex-Ph.D. Candidate Maxine Bahns—She's the One in She's the One—Graduates to Stardom with Boyfriend-Director Edward Burns
Sure she's an expert now. But not that long ago, Bahns, 25, would have spoken the language of moviemaking with about as much fluency as the average person does Latin—in fact she would have fared better with the Latin. Just two years ago, Bahns was studying for a Ph.D. in classics at New York University when boyfriend Edward Burns asked her to be in a low-budget film he was making on weekends between his stints as a gofer at Entertainment Tonight. When The Brothers McMullen turned into the surprise hit of last year's Sundance Film Festival (going on to earn $9 million at the box office), Bahns said so long to Cicero. "I really thought I'd have a career as an academic," says Bahns, who now stars with
Jennifer Aniston
,
Cameron Diaz
and Burns, 28, in his new romantic comedy, She's the One. "But I love this. Now I just want to be a good actor."
She's on her way. Film critic Michael Medved called her portrayal of Hope, Burns's spur-of-the-moment spouse in She's the One, "warm and luminous." Her peers agree. "Working with Max was wonderful," says her One costar John Mahoney (Martin on TV's Frasier). "She's so open and trusting. She made me remember why I started acting in the first place."
Bahns blushes. "I've got so much to learn," she says. Her assessment of her performance as Audrey, Burns's love interest in McMullen, is blunt: "I was terrible." But then, Bahns was never one to emote. Growing up in San Diego, the daughter of Peter Bahns, 53, a landscapes and Irene, 47, a Hong Kong-born court reporter, she was "a quiet girl who loved to read," says her father. He recalls the only way he and the other members of the family, including kid sister Brandy, 21, could tell she was upset: "She'd start to whistle, like a tea kettle letting off steam."
She kept on whistling when she moved, in 1987, to East Hampton, N.Y., at 16 to live with her father (her parents divorced in 1976). "In high school I was a loner," Bahns says, and she chose classics at NYU as her major because it seemed safe. "The people in the department were older," she says. "You did a lot of research by yourself."
Off-campus, Bahns wasn't alone. In 1989, she was bussing tables in a Hamptons restaurant for the summer when Burns, a Long Island native and then 21, reported for maitre d' work. "I saw this cool, long-haired rebel," she recalls with a grin. "And I wanted him." Burns likes to joke that he "wasn't wearing pants that day," but Bahns insists the chemistry was more cerebral than hormonal. "That night," she says, "we talked till the sun came up."
The two have been gabbing ever since, and have lived together in Manhattan's Greenwich Village for the past five years. Sharing screen time never occurred to either until Bahns started reading lines with actresses auditioning for McMullen. "It became evident," Burns says, "that Max was doing a better job than any of them." And to her surprise, Bahns says, acting helped her to "come out of my shell. Being a wallflower, I'd observe people and learn their tics. Now it's paying off."
Bahns and Burns say they'll eventually marry, but professionally, at least, Bahns says she's ready to fly solo. "I can't wait to work with another director," she says with feigned exasperation. Burns empathizes. "Actors need to be coddled, but Max doesn't get that from me," he says. "I take her for granted a little bit, and it's unfair." Things can't be too bad. Notes Peter Bahns, her dad: "I haven't heard Max whistle for a couple of years."
Advertisement
Treat Yourself! 4 Preview Issues
The most buzzed about stars this minute!