People Top 5
LAST UPDATE: Tuesday February 10, 2015 01:10PM EST
PEOPLE Top 5 are the most-viewed stories on the site over the past three days, updated every 60 minutes
Picks and Pans Main: Song
Spotlight On...
Kurt Cobain, who once lived under a bridge on the Wishkah River in Aberdeen, Wash., is often compared to another gifted, but sadly destined musician, John Lennon. Cobain was a lifelong Beatles fan, and on the way to his funeral, the 27-year-old singer's relatives sang a Beatles tune in his honor. One of Lennon's haunted anthems? No, Cobain's favorite Beatles song: "Yellow Submarine."
As this collection of live Nirvana performances (chosen by Cobain's surviving bandmates, Dave Grohl and Krist Novoselic, from concert tapes recorded between 1989 and 1994) shows, the band was not about despair, even when the lyrics were. Cobain was an exultant paradox, growling bitter sentiments in funny, childlike ditties so pretty they made you glad to be alive. They seemed to make him feel the same way—sometimes. Even the familiar songs sound fresh and kinetic here: the antirape song "Polly," transformed from haunting ballad to stomping rocker, "Smells like Teen Spirit" and "Aneurysm," spat out in a 1991 postfame rage. The rare, '91 recording of Nirvana's first-ever song, "Spank Thru," proves Cobain could howl even as a newborn composer. Wishkah steam-cleans the music and lyrics, enabling us to hear them free of the distinct production styles the studio albums (often gloriously) imposed. This illuminating album reminds us that, judged on his future promise, not his past achievement, Cobain's demise may have been as great a loss as Lennon's. (DGC)
Miles Davis and Gil Evans
By all appearances, they were an odd couple. Jazz trumpeter Miles Davis was flamboyant, irascible and black. Arranger and composer Gil Evans was scholarly, mild-tempered and white. Yet they were soulmates. This six-CD set is a lavish memorial to the two late musical geniuses. It includes three sessions recorded between 1957 and 1960—Miles Ahead, Porgy and Bess and Sketches of Spain—which are among the greatest jazz orchestral works ever recorded. With Evans leading a 19-piece band complete with French horns, tubas and woodwind, Davis takes center stage as the only soloist. The music is moody and introverted, and the finely woven textures of Evans's arrangements provide a perfect backdrop for Davis's reticent phrasing and vibratoless tone.
In addition to the masterpieces, the box set is crammed with outtakes and rarities, which may delight serious collectors but confound the average listener. As musical collaborators, Davis and Evans strived for a stark standard of beauty. Stripping away unnecessary ornamentation, they evoked a painful sense of melancholy without being maudlin. In their best work, less proves to be more. So, not surprisingly, in this collection more turns out to be just a bit too much. (Columbia/Legacy)
Kate & Anna McGarrigle
The title song, which refers to a river in Eastern Quebec, is extraordinary, one of the finest in the 20-year career of the sisters McGarrigle, a French-Canadian folk-pop duo probably best known for writing "Heart like a Wheel." Two teenage lovers breathlessly race to catch the boat that will bear them across the water and on to home. With a melody that ascends, hymnlike, on the syllables of the river's name, "Matapedia" is really about an emotional current that will not be contained. "I could not slow down," sings Kate in a small, brave voice. "No, I could not slow down." The rest of this beautiful album, however, concerns life at ebb tide. "Jacques et Gilles" is a spare, poignant account of a migrant-worker family; "I Don't Know" wavers between a blunt and a tentative dismissal of a faltering relationship; and "The Bike Song" makes a weary (but whimsical) plea to the moon for romantic guidance. All the songs are distinguished by the McGarrigles' fluttering harmonies and bittersweet sensibility. (Hannibal)
Luther Vandross
Let's face it: Vandross, who possesses one of the most distinctive and imitated voices in R&B and who all but defined the genre in the '80s, hasn't pushed himself since Power of Love five years ago. No, Luther delivers just what his fans want: songs of heartbreak cushioned in lush arrangements and delivered with pristine phrasing and nuanced emotion. Secret Love will not fail to please the faithful who have given their hero 10 platinum albums over his successful 15-year career. He shines on a duet with his former backup singer Lisa Fischer, "Whether or Not the World Gets Better." But then comes the clunky "I Can't Wait No Longer (Let's Do This)," featuring a generic rap by Salt-N-Pepa's Spinderella, which is about as hip as watching your parents break-dance. Despite flashes of energy, the singer seems content to cruise at the safest possible speed. (LV/Epic)
The Beach Boys and Various Artists
It's hard to imagine a worse idea: Re-record classic Beach Boys tracks with Nashville musicians, get country stars to sing lead and have the aging B Boys chime the familiar harmonies. Endless bummer.
Intrepid fans will find one or two nice moments: Willie Nelson's lilting take on "The Warmth of the Sun" and Junior Brown's rockabilly "409." But Kathy Troccoli's wan vocal (and the limp production) on "I Can Hear Music" is a pale shadow of Carl Wilson's 1969 reading of the Jeff Barry-Ellie Greenwich-Phil Spector classic. Timothy B. Schmit's simpering "Caroline, No" loses the original's stark beauty in a cloud of melodramatic strings.
Brian Wilson takes credit as co-producer, but these generic arrangements don't bear the mark of the prodigal genius whose recent solo work (particularly his album of reworked classics, I Just Wasn't Made for These Times) showcases the inspiration this lacks. Blame lead singer Mike Love, who not only served as executive producer but also threatens a second volume. What's next, Mike? Surfin' Macarena? (River North Nashville)
>Chris O'Connor
RADAR MAN MAKES WAVES
MIDWAY THROUGH PRIMITIVE RADIO Gods' pop hit "Standing Outside a Broken Phone Booth with Money in My Hand," listeners hear the whoosh of a passing jetliner, a nice effect that helps amplify the song's moody tone of missed opportunities and melancholia. But for the song's author, Gods leader Chris O'Connor, 31, the sound triggers memories of long, stress-filled hours monitoring blips on a radar screen. A Navy veteran who learned air-traffic control while stationed in Alaska and California in the mid-1980s, O'Connor took a full-time gig guiding jets to safe harbor at Los Angeles International Airport in 1990 after his preferred career as a musician hit a dead end. "In air-traffic controlling, I'd drink a lot of coffee and be stressed out all day," he says. "In rock and roll, you can put as much or as little pressure on yourself as you want."
While there was little potential for human disaster in leading a Ventura, Calif.-based bar band, the Rails, O'Connor and his group found it stressful enough that they disbanded after four years of trying, and failing, to land a record deal. "We were definitely burned out," he says. "We'd been through the ringer."
But before jumping from the club circuit to the LAX radar control tower, O'Connor tried to resurrect his music career by recording a 10-song solo demo. When it was rejected by every record label he sent it to, he "decided to pack it in." He did so literally, storing his CDs in his basement. He was still working at LAX last October when he stumbled across the forgotten demos and sent one to a Columbia Records talent scout. Signed in January, O'Connor promptly quit his job and assembled his old band, rechristening it Primitive Radio Gods. Now that "Phone Booth" is a radio and MTV hit and his demo-cum-debut album, Rocket, has shot to Billboard's Top 40, O'Connor says he much prefers recording the sound of air traffic to controlling it. "There is nothing easier," he says, "than writing songs and playing music for a living."
Contributors:
Tim Appelo,
David W. Grogan,
Tom Gliatto,
Amy Linden,
Peter Carlin,
Ken Baker.
Nirvana
Advertisement
Today's Photos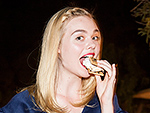 Treat Yourself! 4 Preview Issues
The most buzzed about stars this minute!